Horse party ideas and photos by: Amy from Blair, NE
"Giddy Up Partner! Head on Over to Jacob's Corral for a Horsey Good Time!" Jacob LOVES horses – so it was a must for his 4th birthday to have a horse party! We sent out invites done on MicroSoft PictureIt! Hay bails and red streamers decked out the front porch.
As we waited for guests, we had horse coloring pages available and then bought some time with a few horse story books. Then played Pin the Tail on the Horse (made again from Microsoft PictureIt). The horse was the same as on the invitations, but a hind view; the tail I made on business card size papers with the same software. Another great activity for our party was when we headed outside for stick horse races and drop the hankie before heading in for horsey cake and gifts.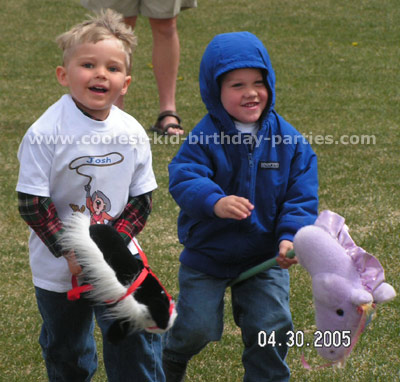 Kiddos came ready to ride a real horse that arrived the last 45 minutes of the horse party. The gal unloaded the horse while we were inside (a great distraction so they didn't want to skip the cake and present time!) Each child took a turn riding! To capture the delight on each face was worth every moment planning!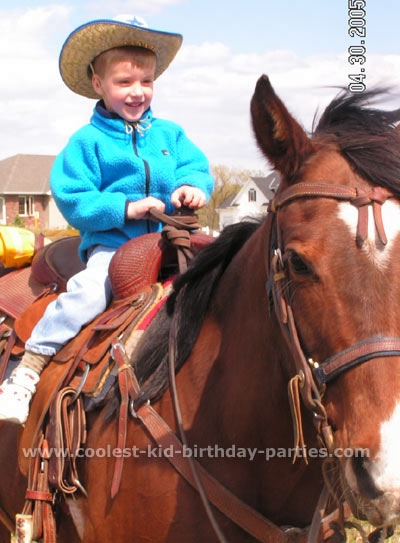 The cake for our party: 11 x 15 Butter Cream (2 cake mixes) I used canned frosting to save on time – Butter Cream for the background and chocolate for the horse. I placed a smooth layer on the entire cake, outlined my horse with a chocolate piping line and filled it in with the tip that looks like "hair" (or grass). I used white frosting for the eye with a black dot of icing smoothed out with water to look glassy. For the mane, I alternated between the chocolate and butter cream in waves. To finalize, use your theme colors (ours were red and blue) for adding a border and Birthday greeting!