My daughter Maya had a hard time deciding what theme she wanted for her 4th birthday party. We sat together and browsed through this site, searching for ideas. At first she leaned towards a Princess party, but we decided to spend some time together and search for more ideas before she made her final decision.
As we continued browsing on to this site's sister site – coolest-birthday-cakes.com, we stumbled upon a frog cake online. And Maya instantly said that she wanted a Frog party. (The Princess turns into a frog – now that sounds familiar.). Maya's favorite book is about a frog (called "The Frog is a Hero") and that's what triggered the sudden change.
Because there isn't a Frog party page on this site, I spent a few hours doing research on the Internet to get the ball rolling. And there isn't much out there as far as Frog party ideas go.
What I did find on the Internet were quite a few cool Frog coloring pages.
Party Invitations
I just used the design of the frog cake as a template for the party invitation. I made a large invitation to put up at Maya's pre-school and surprised her in the morning with it. She asked to decorate it with stickers (buying time before going to her pre-school.)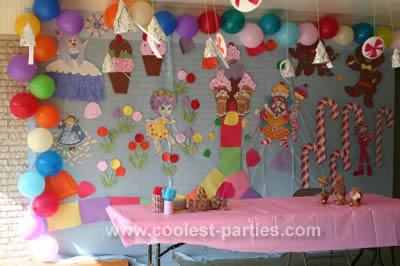 And off we went to Maya's pre-school to put up the party invitation on the notice board so the parents would have enough time to make plans to attend. However…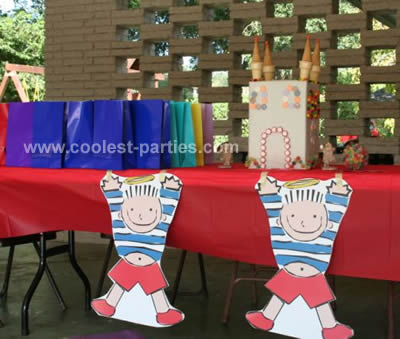 When we got to the pre-school, Maya didn't allow anyone to come close to her invitation and wouldn't let us put it up on the notice board for the parents to see. She insisted it stay in her drawer. Then, at the end of the day she brought back the party invitation and said that she wouldn't give it to anyone – ever. Coaxing didn't work, even bribing was turned down, so we set out to create individual miniature invitations for each and every child. We wrote a short poem and asked everyone to come dressed in green. There were about 30 guests and we made about 60 invitations. Why? One for this child, one for Maya, one for that child, another for Maya.. But we worked on it together, so we ended up having double the fun.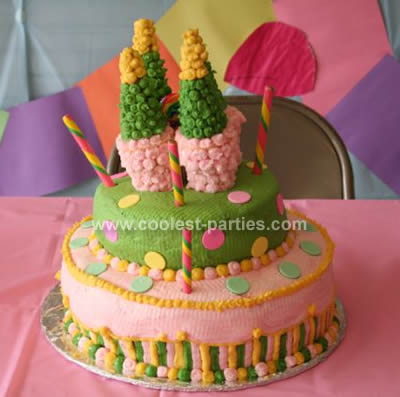 Party Decorations
The dominant color – of course – is green. Mainly green balloons and streamers. There are so many shades of green! My sister, Tamar, the artist in the family, drew a bunch of frogs on fluorescent poster board. We taped them to the house and also to wooden stakes we stuck around the lawn.
We also designated three separate areas in our back yard. The first was the main party area – that's where everyone arrived and where the coloring pages and other craft tables were located.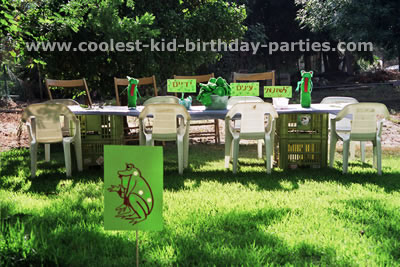 The second area was designated for the Frog Hunt activity (explained below). The third party area was a little Frog Theater where we planned to have a show.
Frog Party Activities
On the craft tables I put lots of stickers, markers and the frog coloring pages.
This is how I came up with all the other party activities:
As I said earlier, I didn't run into many Frog Party ideas on the internet. So, I turned for inspiration somewhere else. I set aside a few hours to walk through the central part of our city where there are a lot dollar stores. The dollar stores are by far the best place to start. Not just to buy things, but to help you think of things you can do during the party.
Frog Hand Puppets
For instance, in one of the dollar stores I found a box of green socks – as if by special order. No other colored socks, just green. So I bought about 60 (I've learned my lesson with the invitations.) and again with the help of Tamar's artistic talent, we created frog sock puppets.
We didn't want to create all the puppets for the children, so this is what we did. For each frog we cut out two green hands, two green eyes and a tongue (out of plastic sheets – I'm not sure what they're exactly called but you can see what I mean by the photo and they're available at any craft store).
To each "body part" Tamar hot-glued a piece of Velcro and then to each sock we also hot-glued a piece of Velcro to where that body part was to be attached. It took longer than expected, but turned out awesome.
The kids not only had a party craft that kept them busy, they also had a cool frog puppet. And we were left with quite a few spare puppets because Maya decided that four frog puppets would be enough for her two hands.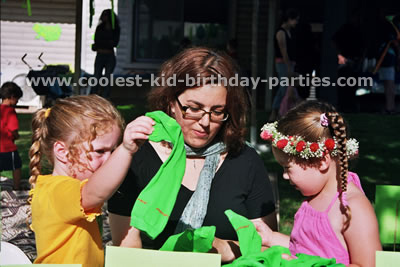 Frog Hunt
I continued browsing the stores and then, again, by coincidence, one of the shops had bags of plastic frogs. Not dinosaurs, not farm animals – just frogs. Great! We'll have a Frog Hunt. I bought about 60 plastic frogs (8 for $1) as the bewildered clerk stared on silently, not understanding and preferring not to ask.
Before the party I designated a Frog Hunt area and bordered it off with streamers. I took the plastic frogs and sprinkled them around, hiding them in the bushes, under the trees, etc. This was our first party activity after the icebreaker crafts so we had all the kids come to the edge of the Frog Hunt area, told them a story about there being frogs and that they had to find them. Then, I set them loose all at once to find the frogs.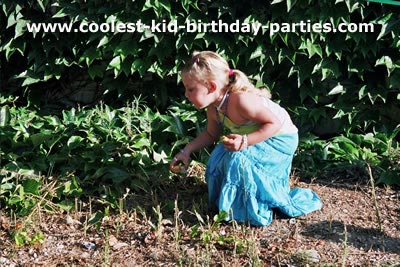 One thing I would have done differently is instead of setting everyone loose at once, I should have let each kid find a frog, come back, put it in a bucket and have the next kid do the same. Maybe even two teams as sort of a relay race frog hunt. This is because the designated party area for the hunt was relatively small and in about three minutes all the frogs had been found and we were on to the next party activity. Also, a few kids didn't find frogs so I had to take a few frogs that had already been found and show these frogless kids that there were "still" frogs – Oh, here's one.
But all in all it was fun, and each child now had a plastic frog to take home!
Bubbles
On to another dollar store for more inspiration – this time in the form of fly swatters. (Four fly swatters for $1.) Frogs love flies, so how about giving each kid a fly swatter and letting them swat flies. Well, I'd rather not have flies around the party, but bubbles can make a great substitute. (Also, four bubble bottles for $1.)
Thus, the second frog party game had just materialized: I'd give the kids Bubblefly swatters, give the parents bubble bottles and let everyone go wild. Now the kids had two more things to take home – a bubble bottle and a fly swatter (always a needed commodity – especially if your little brother is pestering you.)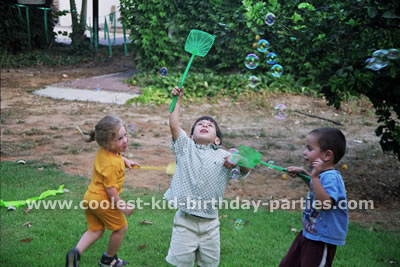 After the bubblefly swatting was over, the kids arrived at our Frog theater in great anticipation for the show.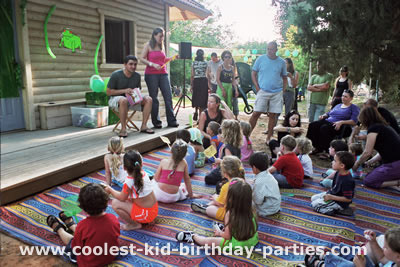 Frog Play
Maya and I decided that we'd play out her favorite book – The Frog is a Hero. Before the party we rehearsed a bit. Luckily, Maya is a stage animal – so there were no worries that a sudden fright would put a damper on the show.
Our lead actress announced (before the party) that she would make an entrance via the bathroom door in the back part of the stage only after I would introduce her. She hid for at least 10 minutes in the bathroom until and everyone was seated and quite, then made a big entrance!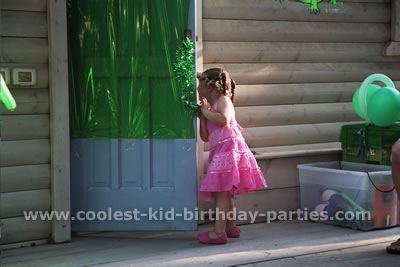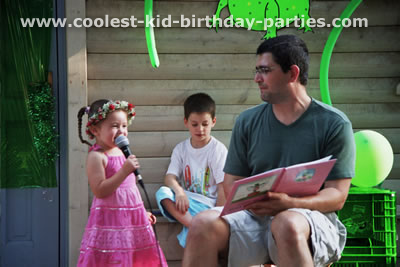 For the play, Maya chose a few of her friends to play the characters (Tamar had made a headband for each character with its distinct ears – rabbit, pig, duck, etc.)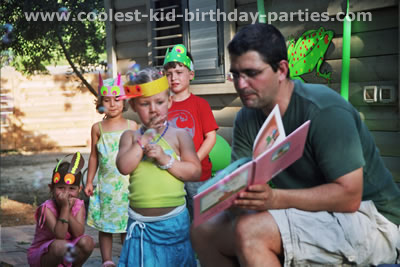 It was great fun, Maya and her pals got a standing ovation and it was on to the food.
Party Food
Until this point, about 50 minutes into the party – no sort of food had been served and because everyone was so busy, it didn't seem like anything was missing.
Frog Legs/Hot Frogs
The first thing we brought out were the "frog legs" or "hot frogs" (we couldn't decide on the name.) Earlier in the week, Naama, my wife, and I had prepared hot dogs rolled in dough with sesame seeds sprinkled on top and baked in the oven. (We used frozen dough available at the supermarkets). The twist was that we brushed the dough with a bit of green gel-based food color – the type used for cakes. To all those anti-food-coloring activists, please don't kill me – I couldn't contain my enthusiasm and if it's OK for cakes I figured I'd get by with it for the Hot Frogs / Frog Legs. The kids (and parents) went absolutely wild for this interesting party treat – especially with the green ketchup.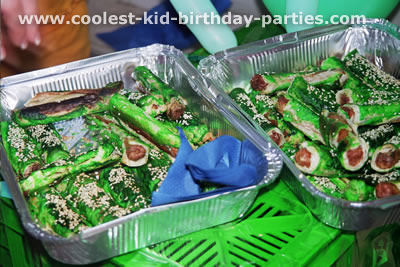 Healthy Snacks
We also brought out all sorts of other (naturally-colored) green foods, like grapes and apples, there was a green salad, we put out raisins and called them flies, and you can just set your imagination loose at this point because there are lots of green foods.
Sweet Treats
As for sweets and munchies – I was hoping to try and get by without any sweets, but at the last moment I chickened out – mainly because Naama was concerned that the kids would go home disappointed that they didn't get any sweets and that's how they'd remember Maya's birthday party forever and ever.
I still think we could have gone by without sweets, or maybe just a little, but instead, just to be on the safe side, we brought out a table full of green sweets – green gummy bears and gummy worms, green M&Ms, and all sorts of other green candy I hand picked at the bulk candy shop (this time the clerk at the candy shop couldn't hold back and inquired as to why I had left him without any sort of green candy.)
Looking back, the candy table was a mistake. Kids at this age don't know how to restrain themselves when they see candy. Heck, us grownups can't restrain ourselves. The moment the table came out, all the kids gathered round and dug in, undoubtedly breaking the Guinness World Record for number of gummy worms a little child can shove into a little mouth.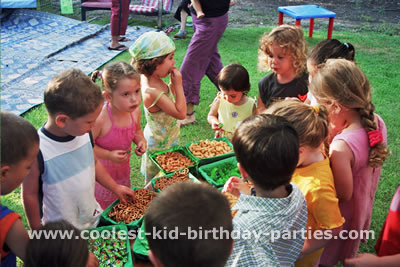 Lesson learned: Make individual plates with a bit of sweets for each child and they'll be just as happy.
Amazing Frog Cake
Then came the birthday party cake – guess what it looked liked. Yep, the same cake we started off with. I sort of went overboard (as I often tend to do). And made the cake out of 2 boxes of cake mixes. It was a humongous frog, but Maya loved it!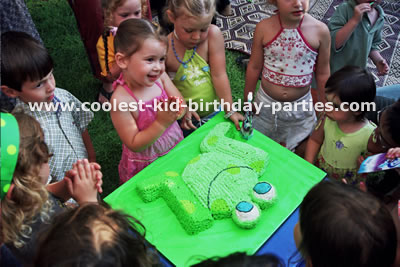 Party Favors
My original plan was to have this frog lunch bag hand puppet craft I found on the internet as an icebreaker. And then, after making it, we'd use the hand puppets as favor bags. But on our end of the world, there are no such lunch bags that have the bottom flap. So, instead, I just found brown bags, printed onto them some frog clipart. Maya decorated them with green stickers and they were more than enough. Inside, apart from all the stuff the kids picked up during the party, they had a few pieces of candy and a small bottle of slime (also at the dollar store). They loved the slime – I told them it was slime from the frog's swamp.
Thank you Notes
I had a friend take photos and asked that she make sure to take at least one photo of each child. We developed the photos, stuck a green peace of poster board to the back, added a few words of thanks and a magnet. And then handed most of them out at Maya's pre-school. This time I came prepared, and when Maya suddenly decided that she wanted to keep all the thank yous to herself, I took out a second set of the same photos and all went smooth.
Party Album
To finish things off, I created an "old fashioned" party album in which I put not only the photos, but different articles from the party. For instance, like the crown of flowers Maya wore, a fly swatter, a puppet frog, a balloon, and anything else that I could pick up.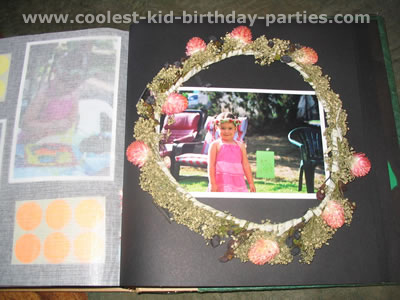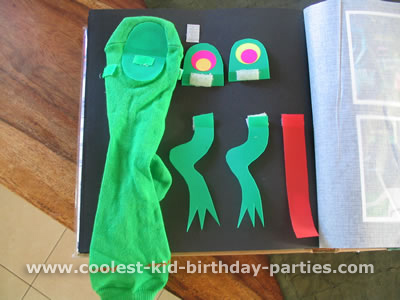 We wrapped up the frog album and gave it to our little Princess as an after-birthday-party gift.
Party ideas and photos by: Elad