We decided to have a combination birthday party with our friends who had a little girl turning four, and our daughter was turning two. We planned the princess party to involve both boys, girls, and adult helpers due to the size of the guest list at 15 kids!
So, we sent out castle invitations and encouraged everyone to come dressed as a princess or knight. In order to keep the princess party very organized, an agenda was created to make sure that we ran on schedule and kept the kids busy! As each guest arrived, we directed them first to the makeup station to have a makeover (plus receive a tiara of choice) and then directly to either making a beaded wand (girls) or crown (boys).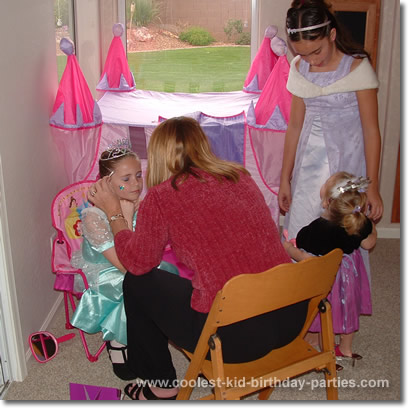 Walking on the Red Carpet Princess Activity
This princess party activity was placed first so that everyone would be present for the Royal entrance ceremony. Everyone was then directed to the foyer and lined up outside the entrance of the castle, birthday girls first. In addition, the castle was created out of a refrigerator box and really lent itself to setting the mood.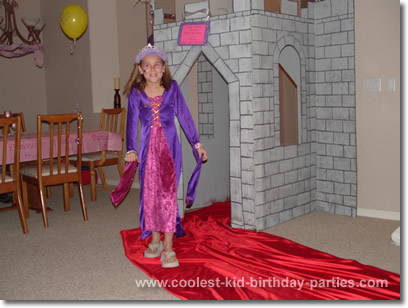 The birthday girls were announced first and came through the castle on the red carpet to the throne area which was created from a decorated lighted wedding arch, balloons, and bar stools. As each child came through, they walked to the birthday "queens", curtsied, and received their beaded wand or crown.
Then, after everyone had been announced, they were split up into 3 groups and proceeded to their first activity station. An adult helper was assigned to each station which was helpful with the size of the group.
The stations were Picture Bingo, Princess & Pea story, and Pin the crown on Cinderella. So, each group was rotated after 15 minutes. If kids needed a break, there were plenty of snacks to enjoy.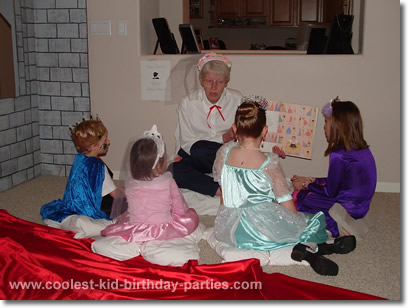 Princess Party Snack Ideas
So, after the activity stations everyone enjoyed a break of pizza and all sorts of creative princess party foods with little signs describing each: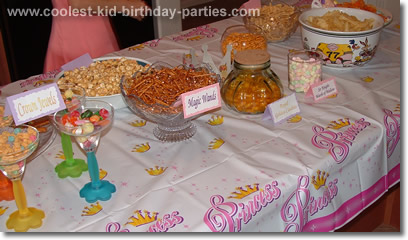 Sir Knight Marsh of Mallow – colored marshmallows
Crown Jewels – hard candy, crunch berries
Red Rubies – strawberries, dried cranberries
Royal golden candies – butterscotch
Gold & Silver treasure – gold and silver Hershey nuggets
Royal golden popcorn – Carmel popcorn
Magic Wands – pretzel sticks, large sticks dipped in white chocolate and sprinkles
His Majesty's Trumpets – bugles
King's Ale – Beer
Queen's Punch – Wine coolers
Water Trough – Water
Knights & Ladies Grog – Juice boxes, soda
Sparkling cider with cake
Princess Picture Frame Favor
Then, after dinner, everyone gathered to make their picture frame and have special pictures taken on the throne.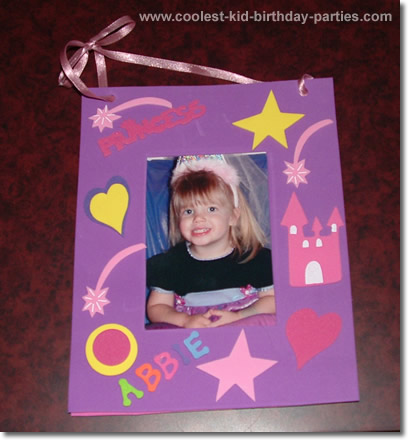 Also, given extra time, more princess theme party activity stations could be added. Upon completion of the frames, castle cake and ice cream was served, followed by the gift opening with each birthday girl on the throne so everyone could see.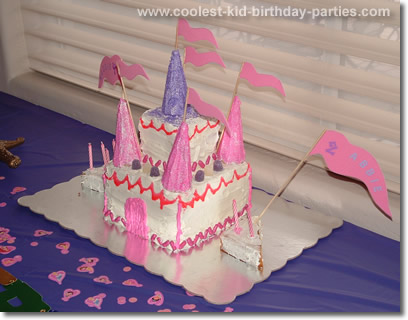 Then it was time to pass out the gift bags, award the pea guessing game prize to an adult and say goodbye. In conclusion, the princess party event was a tremendous success and everyone went home feeling like true Royalty!
The party ideas and photos in this section have been graciously submitted by readers like yourself. If you've got some cool party ideas and photos to share, we'd love for you to send them over. You'll be taking part in creating the Web's ultimate kids birthday party ideas resource that's ALWAYS FREE for everyone to enjoy! Thanks!
Princess party ideas and photos by: Melanie from Gilbert, AZ