Safari birthday party ideas and photos by: Samantha from Pretoria, South Africa
The Safari party was a very easy-to-do theme for my son's 2nd birthday. I opted for e-mailer invites and was able to send nicely designed RSVP reminders etc. as well.
I used a lion's face as a cake idea and put the cake at the head of the table which was set very low that the little ones could sit around it without a chair hazard.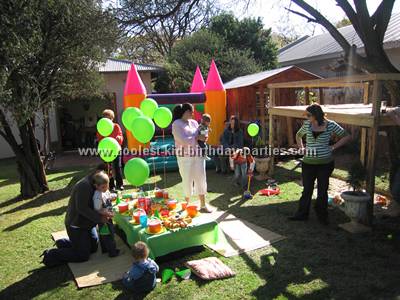 For the "centerpiece" I just spread around some general snacks like chips (as we call crisps), animal biscuits (zoo cookies) and cupcakes baked into ice-cream cone cups with green icing and plastic lizards frogs etc. put on top.
Each child got his own plastic bucket (as a loot bag) with their name added on a big green leaf tag attached with some yellow ribbon. I tied a balloon filled with helium to each bucket and put a picture of a different cartoon animal on each lid.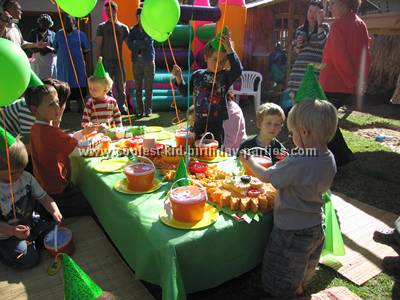 The Safari birthday hats were decorated with hand drawn leaves with an animal printed in a circle hanging from yellow cord from the top of each one. For extra entertainment I rented a jumping castle. After the party I made a thank-you mailer with a few photos that I sent to all who attended (and to those who couldn't make it!)