Spiderman party ideas and photos by: Melissa from Davison, MI
For my son's 4th birthday he wanted a "Spiderman" theme. Spider man stuff was easy to find due to the fact Spider man 2 had just came out that summer but I wanted something unique too.
The Spider man invites were hand made by me using uploaded images of Spider man and the Create a Card Gold program.
Spider man decorations included swags of spider web fabric (from Walmart) a Spiderman head piñata, Spider man motion lamp and red and blue balloons. I made the cool web print on the wrapping paper by drawing on solid blue paper with a Liquid paper correction pen adding my sons name in with the web design.
The Spider man cake was made of two sheet cakes cut and stacked, frosted red with brick design added with piping frosting. The image in the window and billboard were created on the computer. I put his favorite Spider man figure on top.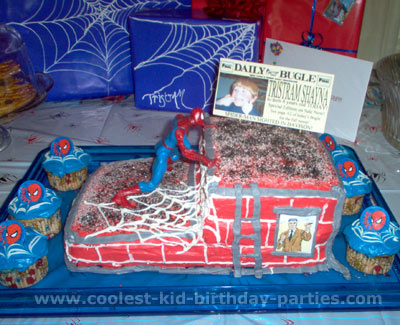 Snacks for the party included Ritz spider snacks (crackers filled with peanut butter, pretzel legs and raisin eyes), cupcakes with Spider man rings and red punch with gummy spiders floating in it.
Spide rman games included pin Spidey on the web (Halloween web decoration with Spidey cutouts) and Spider man piñata.