Teddy Bear party ideas and photos by: Tracy from Hope Mills, NC
We decided to have a Teddy Bear Party for our son Chance's 1st Birthday.
I made the invitations out of cardstock that I purchased at the craft store. I just layered the paper on the front and inside. I used a teddy stamp for the front.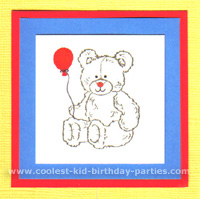 I made two teddy cakes:
A miniature teddy for Chance to eat.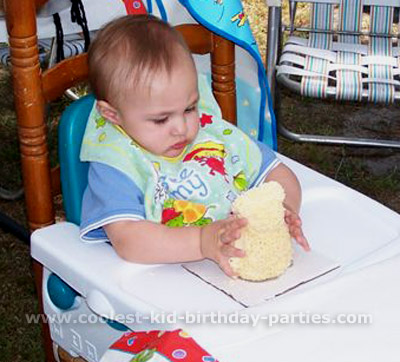 I also made a larger bear cake with a teddy pan for everyone else. I used the grass tip so the icing would look like teddy bear fur.
We decorated with the 1st Birthday Bear party theme and we had 3-dozen balloons tied up all over the yard. We served snack foods that were easy for the little ones to eat: brownies, cookies, honeycomb cereal and goldfish.
I went to the Wish Upon A Bear store at the mall and got teddy skins and stuffing for the kids to make a teddy with. Each child got to stuff their own teddy and then take it home as their favor.
The kids loved the bears! The parents enjoyed helping them bring each teddy to life. It was a great party – everyone had so much fun.