Top Teen Model party ideas and photos by: Mellanese from Upper Marlboro, MD
Gabby celebrated her 14th birthday and had an "America's Next Top Teen Model Party!"
Her invitation announcement stated… "Tyra Mail!" The guests were asked to bring two outfits: Favorite T-shirt Dressy and were asked to wear their Personality outfit.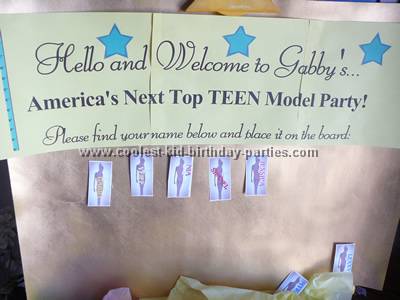 The Teen Model party started off with one of her friend's Mom's doing free (optional) Mary Kay make-overs for them. The 7 teen guests poised with a couple of back drops here for pics here.
When they were all made up I had set up a runway upstairs with some white plastic runner paper with an America banner in the background/backdrop. They modeled to Chris Brown music and two judges graded them while I taped and photographed the models. The winner got a gift certificate to "Five and Below."
Next we took them to the mall for a professional quick-shot type photo studio for some group shots. While they were taking their pics I went to "Debs" (a teen girl clothing store), told them about the party celebration and asked them to judge the girls on their "Go Sees" on cards which I had printed up earlier. The girls had to find their second Go See. They really got into this and were scored on poise, confidence attitude and The Catwalk! The winner won a gift certificate at "Deb's" and second place a Dereon scarf set. They hung out at the mall then we went to "TGIF" for dinner and were given a budget.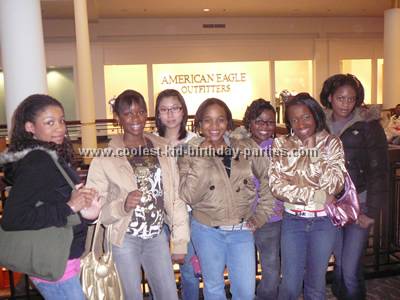 Afterwards we came back to the house for hot-tub fun movies and a sleep over. In between they did some word puzzle and a beauty health test. (They all won dollar store prizes I had picked up prior.) They were picked up the next morning after a continental breakfast around 10:00. I e-mailed their Mom's pics later.