My daughter just loves the Backyardigans, especially Uniqua so I decided to take the theme and run with a Uniqua birthday party! I decided to do the party color scheme in two-tone pink like Uniqua. That way it could be kind of girly. I did buy some Backyardigans decorations plates and napkins at Party City to make the theme flow. I wanted to make her invitations myself. So, I used Photoshop to create them then had them printed on photo paper at a photo processing place.
Sewing a Party Outfits
I love to sew so I wanted to make her a special Uniqua outfit to wear to the party.
I used fabric I bought at Wall-mart in pink polka-dots. So, I made the Uniqua out of solid color fabric and used Wonder Under to iron the pieces together like a puzzle. Then, I satin stitched around it. The outfit was made using a Butterick pattern I think but I changed it a good bit. I bought her a Uniqua bottlecap necklace from a designer off of EBay. She looked just adorable! We even made her 'crazy hair' like Uniqua's!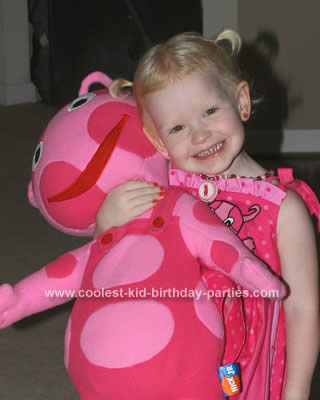 I just couldn't resist making my 4 month old son a Pablo outfit to wear as well. His was really easy; I just cut out a yellow fabric tummy and a royal blue bow tie and used wonder-under to attach it to a blue shirt. Then, I satin stitched it on. I made the hat pattern up myself and used single fold bias tape to trim it and red foam for the propeller.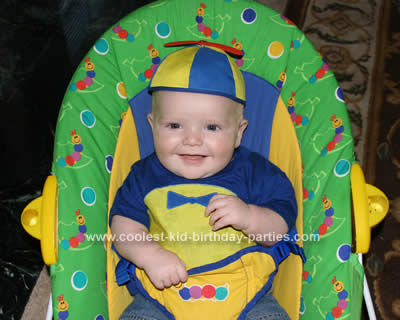 Uniqua Birthday Party Activities
We held the Uniqua birthday party in the back yard (of course) and it was a hit!
We didn't play any games since there was a large age gap form 18 months to 6 years but we really didn't need any. They jumped on the trampoline and in the bounce house played on the swing set and created their own games.
I also made Uniqua treat bags for the girls and Pablo for the boys. I bought solid color pink and royal blue bags and painted dark pink spots on the Uniqua bags and cut out yellow tummies and bow ties for Pablo. The kids loved them!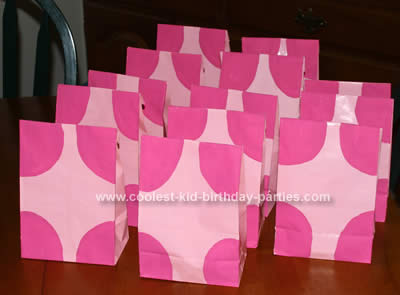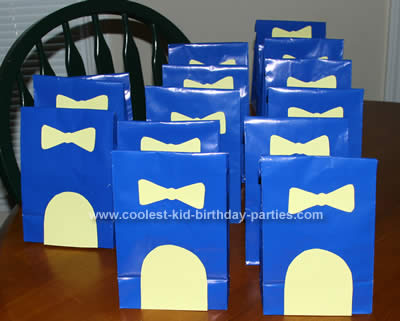 Awesome Homemade Birthday Cake
Now for the cake that we had at our Uniqua birthday party. I can not cook or bake well at all but I think I did well on this. It was my first home made cake, first time using layers and first time with fondant icing. I iced the cake in buttercream and used the fondant for the dots and Uniqua. It was so much fun!! She loved how it turned out!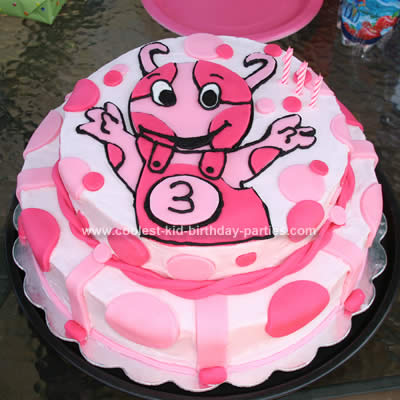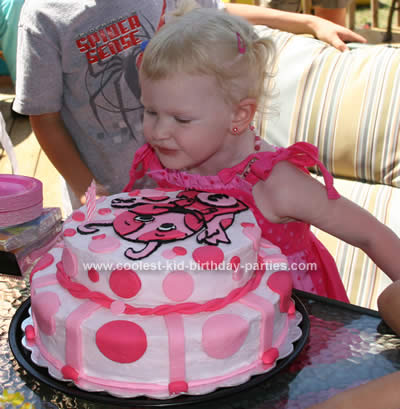 I hope these ideas may help you out. I love to create things and come up with ideas that are a little different and not quite so 'cookie cutter' from the everyday party ideas. Most of all I love seeing my kids smile and she was thrilled with her party! And that's all that matters to me!
Uniqua birthday party ideas and photos by: Caron from Lavonia, GA