Coolest 1st John Deere Tractor Party
by Amy
(Arkansas)
When my husband and I found out we were having a boy, my husband insisted on a John Deere nursery for him. It seemed a natural choice to choose John Deere as the party theme for our son's first birthday. I began planning his party about three months in advance. I found a cute slogan for the party invitations and made them myself.


Homemade John Deer Tractor Invitations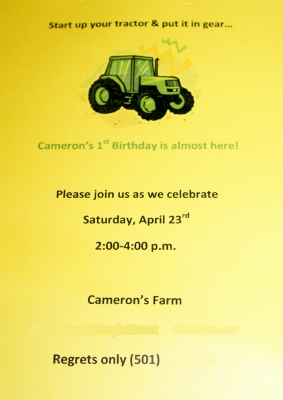 I bought bright yellow cardstock invitations and envelopes at Michaels. The invitations said, "Start up your tractor & put it in gear……Cameron's 1st Birthday is almost here! Please join us as we celebrate, date, time, Cameron's Farm, our address, Regrets only, phone #." I used a green tractor that I found in Microsoft ClipArt on my computer. I also made address labels with the tractor on them and Cameron's name and address. I found several different varieties of John Deere stickers at Hobby Lobby. I used the smaller ones on the sheets as envelope seals.

Since our party was for a one year old, we didn't do any games to speak of. I had plenty of bubbles outside on the patio for the kids that wanted to blow bubbles. A couple of months before the party, I had seen a tractor stand-in online, but it was expensive and required extra shipping because it was so large. I decided I could make it myself for much less. The green display board cost $2.50 at Hobby Lobby. I printed the picture from online and enlarged it to 8.5 x 11" paper. I measured it and converted it to the scale of the 3' x 4' display board. I painted it to look just like the one online except I left off the smokestack because our real JD tractor doesn't have a smokestack. I used blue pinstripe scrapbook paper that I found at Michaels for the farmer's shirt, and added a red bandana. I added grass that I cut out of cardstock paper at the base of the tires. I used a large John Deere logo sticker for the front of the tractor. A hole was cut out where the farmer's face should be. As kids arrived, I took their picture with their face in the hole so it looked like they were driving the tractor. It was a hit! Each kid got a copy of their picture in their thank you note from us. I used the John Deere Thank You notes bought online.


Nice John Deere Tractor Decoration Ideas




At the end of our street, we had a round bale of hay with a sign on it that said, "Cameron's Birthday Party" to welcome our guests.





In our yard, we had a John Deere banner that said, "Happy Birthday Cameron!" We had yellow and green balloons on the sign also.





We used our dining room table for the party table which is right as you enter our home. We had green and yellow crepe paper strung from the four corners to the center of the light over the table.


I made racing pennants from yellow and green cardstock paper and yellow curling ribbon. I used the larger of the John Deere stickers on them. We had them draped in several spots throughout the living room.




I found some really cute tractor plastic border that we put around our columns in the living room and the edges of tables. I also used it around Cameron's high chair tray. I used my Cricut machine to cut out lettering for the "Happy Birthday Cameron" sign that hung from the mantle.





We had John Deere logo yellow and green balloons that I also found online. I also had 30 more yellow balloons that I got inflated at Wal-Mart for a couple of dollars. The table was covered with a yellow plastic tablecloth.




I had John Deere plates and napkins that I ordered online. I had yellow and green plastic forks and additional green napkins and yellow plates. I found a large yellow plastic tub at Wal-Mart that I put a large John Deere logo sticker on the front. I put ice in this and Capri Sun drinks for the kids. I had a punch bowl with lemonade and lime slices in keeping with our yellow and green theme. I had a vase of yellow tulips on the table that worked great with the colors also. I also had a bowl of yellow and green M&Ms on the table.




I used the yellow and green JD party favor boxes as well as a few pink ones for the girls at the party. For the younger kids, I found JD take and toss sippee cups, and for the older kids, I found JD tumblers with straws. For the oldest kids, I had JD green/white logo cups for boys and hot pink/white for girls. Each box had a sheet of JD stickers, farm themed silly band (bracelet), kazoo, and a pack of Kellogg's John Deere fruit snacks that I found at Wal-Mart.





After Cameron had opened all his gifts, we got all the kids out front for a picture by the tractor with my husband and me. The kids enjoyed running around, turning flips, and playing.





I made Cameron's shirt that he wore for the party. I bought a plain white t-shirt. I cut a "1" out of some John Deere material that I had already. (I bought the fabric at Hancock's Fabrics.) I outlined it in green medium sized rick rack. It turned out really cute.




My husband and I wore green John Deere shirts also.





The biggest hit of the party was the actual John Deere 6420 tractor that we had delivered straight from Papaw's farm in South Arkansas. The kids all loved it. My husband tied several yellow and green balloons to it. We had a "Reserved Parking for John Deere" metal sign in front of it.





I found gold and green "Cameron" confetti at Party America that I spread on the table in front of the three tiered yellow and green John Deere cake that I made.




Here's my John Deere cake writeup...




I also made a tractor cake for Cameron and yellow and green iced John Deere cupcakes. I enlisted the help of friends and family with the decorating while I was finishing up the cakes.




As you can see, there was a lot of planning involved for Cameron's first birthday party, but it was worth every bit of it! We had a lot of friends and family present that day to help us celebrate our son's first year of life. I am already brainstorming ideas for his second birthday party!


Return to Coolest Party Tales.