Birthday party planning ideas and photos by: Nicole from York, PA
It was my son's 2nd birthday and I wanted to do something fun birthday party planning. My 4-year-old son helped pick out the jungle animal theme.
I found a huffalump shirt on ebay and we had Happy 2nd Birthday Brady personalized on it. He wore the shirt during the party.
I found the plates, cups, napkins etc. at a party store and they happened to be in the clearance section. I bought one pack of each from the theme and then I chose two colors and in this case I chose Yellow and Green and bought bigger packs of plates, napkins etc. When the plates and napkins etc. were put out the day of the party we alternated the color plates with the themed plates.
I used an orange tablecloth to put under the cakes and a themed tablecloth for the table with food. The kids all wore party hats. I used the invitations from the theme. I enclosed a recent picture of Brady.
His birthday is in August so I thought how perfect to have a big party outside. My birthday party planning wasn't such a great idea; it turned out that the day I chose for the party was the hottest day of the year so we ended up having it inside but some people did go outside to swim in our pool.
Part of my birthday party planning was to make my own cakes. So I bought the animal cracker cake mold by Wilton from Michael's craft store and used box cake mix. Each animal was different flavors of cake and some of the icings were tinted with Wilton icing tint and others are regular icing like the Pillsbury brand.
We taped two pieces of poster board together and cut a tree trunk and grass out of construction paper. I then used my sizzix machine to make die cut leaves (these can also be found at Michaels or a craft store). We then put the cakes on the tree and I made up little cards that read the flavor of cake and icing for each animal.
We served jungle juice, which was green juice, and jungle salad, which was a pistachio salad. We also served hamburgers and hotdogs on the grill, macaroni and cheese (my kids favorite), chips, cheese, crackers, veggies, fruit kabobs (put grapes, pineapples and strawberries on a kabob stick).
For favors: I made monkey chocolate molds in the colors of the theme and tied a banana cut out of construction paper to it which read "Thanks for sharing my special day with me…Brady".
I pulled out pictures of my son from birth till now and made a video with the pictures and music. We showed it at the party and we made one for every family to take home. Even though it takes some time, effort, and lots of birthday party planning, it was a huge hit!
I bought a presentation board and drew the elephant that you put your head through and take a picture. Actually this idea came from this website. The kids really enjoyed this. And I'll enclose a picture of them in their parents' thank yous when I send them out.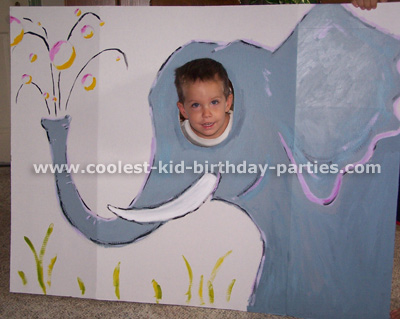 I'm really into scrap booking so I made leaves from my sizzix die cut machine and had everyone sign one before they left. I will add the leaves to his scrapbook and he'll know everyone who was at his party.
We had the elephant that was on the invitations made into a piñata. There was an apple at the end of the trunk but it was already hit off when this picture was taken.
There were three pieces of cardboard used to make the piñata, one for the front, one for the back, and one down the center. Then we put papier-mâché over the top. I then rolled up aluminum foil and put papier-mâché over it (this was how the apple was made).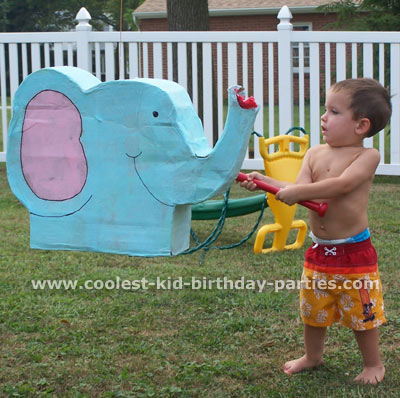 The candy was dropped in from the trunk and then the apple was hot glued on. Each kid received a party bag to put the candy in from the piñata. I always thought that piñata's were better when more kids are there however we only had our two children and two other cousins that were hitting it and they had a blast. It's also easier to keep the kids out of the way of a swinging bat when there are fewer kids around.
I got lots of compliments on my birthday party planning idea and everyone had a great time. I had Brady's pictures taken at Walmart and I bought the greeting cards that have a giraffe on them and reads, "Look how big I am" (I'm using these as my thank you cards).