If your daughter is like mine then Disney's Wizards of Waverly Place is all you hear about. Unfortunately, not many parties with this theme are on the internet yet. There are a few places where you can order supplies online, but a trip to my local party store left me empty handed with character merchandise. I could see that getting a little crafty was necessary.
Wizards of Waverly Decoration Ideas
I went with a color palette of Purple, Light Blue, Orange, and Hot Pink.
For the table I started with a purple table cloth, Light Blue "big" plate and Purple smaller cake plates, topped with an orange napkin.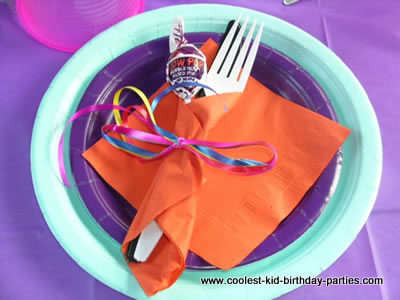 To top this off I wrapped plastic silverware in an additional orange napkin tied with multi colored curling ribbon. I stuck a "CHARMS" lollipop in to go with the theme. I used hot pink cups for drinks.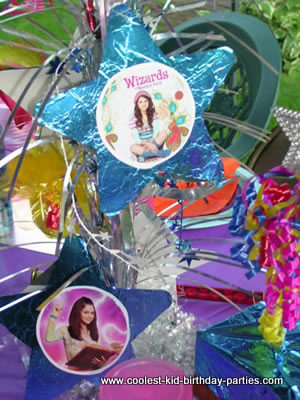 For the centerpiece I used a dollar store Happy Birthday fountain and took off all the decorations leaving just the silver sprays. I cut out some metallic stars and glued printed pictures of the starts onto the stars, then glues to the sprays. I put inexpensive fake flowers in the matching colors in little glass vases and placed on top of big silver decorating stars. I found some little bottles that looked like potion bottles and put some water mixed with glitter in them.
FOOD:
We served sub sandwiches, since the Russo's own a sub shop. I also had used pretzel sticks, and covered the tops in white chocolate and added star sprinkles to look like magic wands. I made purple, orange and pink kool-aid to drink. And we also had the cake.
CAKE:
The cake was tie-dyed on the top layer and vanilla with marbled colors on the bottom layer. I made it at home since the local bakery looked at me like I had two-heads when I said I need a Wizards of Waverly Place cake. I searched online but pretty much came up empty handed. Then I just decided to go with the flow and came out with this. Just a side note the cut-out of Alex came from a stationary set I bought for back to school. I had kept the box and cut it out to keep for the cake. Also, a great find was the shimmer gels used to make the swirls and outline the shapes. They don't show so much in the picture but they were cool in person. Also I found some magic wand candles at the local supermarket and it completed the cake.
ACTIVITIES, GAMES and MUSIC:
We used the soundtrack from the show to play during the party. For a craft I had a craft table set up with all markers, glue, glitter, stickers and wrapping paper, and old buttons. I gave each child a cut 1/2 of a wrapping paper tube (the kind that you can roll smaller, not the circle cardboard) that I had rolled into a tight wand shape. They each covered the "wand" in wrapping paper or ribbon and glued buttons to each of the ends, then they decorated at they felt. I also gave each child a cut-out of a star to be decorated. When they were finished I hung them on a table cloth that I hung up like a banner. In the middle I had cut out the words "Wizards of (insert street name)" and put it in the center, then hung the decorated stars around it.
The children then took turns reading the different spells from the show that I had printed out from online. They danced to the soundtrack music, and for a big finish watched the "Wizards of Waverly Place Movie" which was on TV.
The party turned out great and all the kids.. um Wizards had a good time!