Hello Kitty birthday party ideas and photos by: Lark from Gainesville, FL
My daughter Amelia loves Hello Kitty or as she calls her "Hello Meow Meow." We wanted to do a girly birthday for her since next year and probably for many years she'll be having a dual party with her brother since their birthdays are 11 days apart.
Invitations for the Hello Kitty birthday party: First I made the invitations on my digital scrap booking program (Storybook Creator Plus). I found a coloring book page of Hello Kitty and then just copied the colors from the matching plates I purchased.
Decorations and food: I don't like to spend a fortune on decorations but I like to make it special and go with the theme of Hello Kitty birthday party. The colors were mainly bright pink and bright green. I used green, pink and white crepe paper streamers to decorate the walls. I used green and pink plastic tablecloths along with some 'let's party' banners from her 1st birthday party. We had pink plates with green napkins and Hello Kitty dessert plates and HK hats. Since it was a small/short afternoon party we didn't have a lot of food.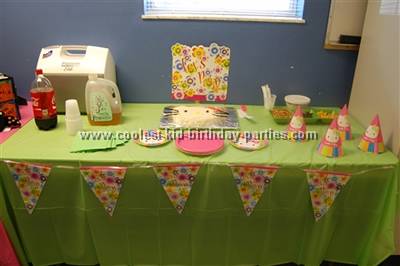 Another idea I had was to display her recent painting artwork from preschool. They were big paintings so it was nice to do something with them and take pictures before they went in the trash. We had latex balloons to match and one extra large Hello Kitty shaped Mylar balloon that she just loved. It was almost as big as she was! I brought in her Hello Kitty pillows for the couches and she was all decked out in her HK shirt and shoes. For the gift table I put pictures of her when she was a baby and included an album of her with lots of pictures growing up. I made a display board using the party colors and put some favorite pictures on using magnets.
The cake for the Hello Kitty birthday party: I made the cake using ideas from the gallery and frosted it using a #16 tip to make her look fuzzy. I used white cake from a box mix and everyone really liked the taste of the white (versus a yellow cake). Plus HK is white; it just made sense to me.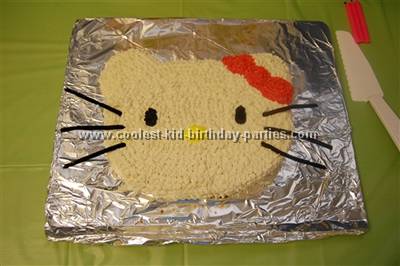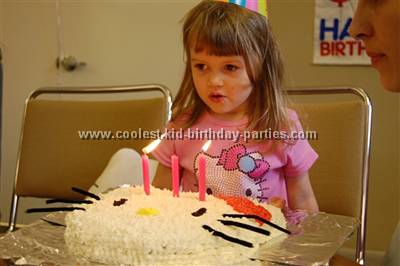 Goodie Bags: I let my daughter decorate paper bags after I wrote the attendee's name on it.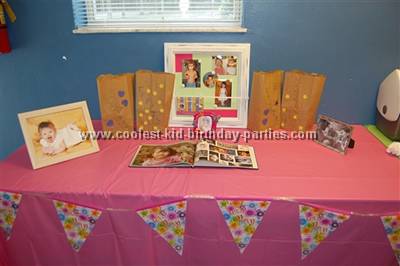 She punched out shapes and glued them on and added her own artwork. Since there were boys and girls at the party I just picked up things that 3 year olds would like instead of getting only HK stuff. So I grabbed some stickers, tub, squirty balls, sidewalk chalk, bubbles, crazy straws and glow stick (Halloween was coming up).
Games: Three is still a little young for organized games. We just let them play outside with sidewalk chalk and bubbles. I considered a game of pin the bow on Hello Kitty.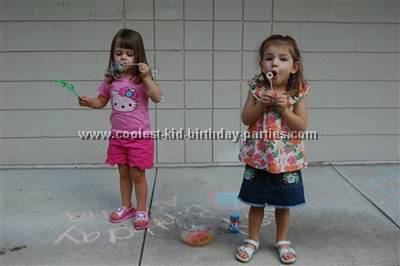 Overall: For a 2 hour party with just a few friends she had a great time and still likes watching the video on TV. We didn't spend a bunch and everyone had fun.