Jungle theme party ideas and photos by: Michelle from Buffalo Mills, PA
For my son Collan's 1st birthday we had a Baby Jungle theme party.
I decorated my living room to look like a safari with inflatable animals, such as zebras, monkeys, tigers, elephants, lions, etc and many plants to give a "jungley" feel.
I decorated the doorways with streamers and leaves to look like the guests were entering a jungle.
I downloaded jungle noises from the internet to play in the background to set the mood! I also downloaded the jungle safari invitations from this site and made "passport invitations" for all of the guests.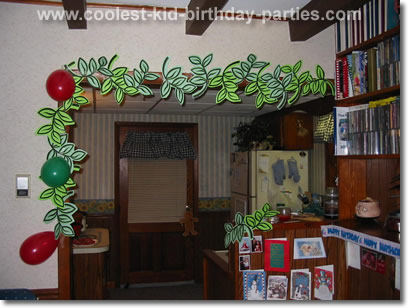 Collan's cake was complete with baby safari animals and he even had his very own baby lion smash cake!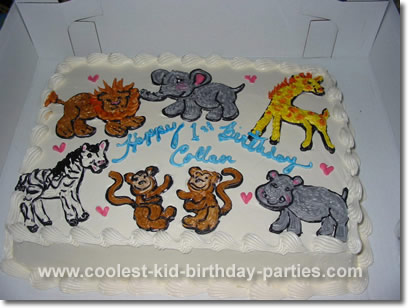 During the party we served "jungle juice" (punch) and "wild game" meatball sandwiches, "jungle pasta salad" and "jungle sticks" (French fries) along with animal crackers & gold fish crackers to snack on!
We played Disney's "Jungle Book" DVD in the background too.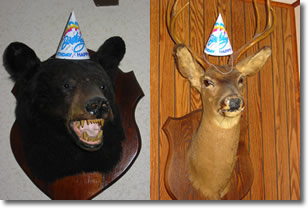 All of the guests had a picture taken with Collan (who wore a safari hat) and the inflatable animals. They each received a copy of the picture and were able to take home an inflatable animal.
We all had a "roaring" good time in our "jungle"!