Madagascar birthday ideas and photos by: Becky from Catonsville, MD
For my daughter's sixth birthday party she wanted a Madagascar birthday so both girls and boys could come. I told her that was very nice of her to do something that boys would like too then she says "And you can make it look like a jungle in here!" Great, just what a Mom with three little kids wants to hear. But not one to disappoint I set off to discover how to make it our living/dining room look like a jungle and to find fun jungle type things for the kids to do for our Madagascar birthday.
We started out by making some vines out of paper bags and green construction paper. They weren't too hard to make we cut open the bags so they were flat and then cut them into three pieces the long way then just twist crunch and tape them together then tape on paper leaves. We borrowed the large paper animals from a friend who made them for something else. They were a tiger, some parrots and butterflies.
The next part was fun making a big lion for the kids to stick their faces in for a picture. I found a picture of a lion that I liked and sketched it the best I could on a large piece of cardboard then we had fun. We finger painted it you can see some brown marks on the lion and in the grass from my 3 year old helping. Then we cut out the hole and made little stands so it wouldn't fall over all day.
I then found some crafts for the kids to do color your own animal masks from Oriental Trading Little Foam puppets at Michael's and Beaded animals from Perler Beads.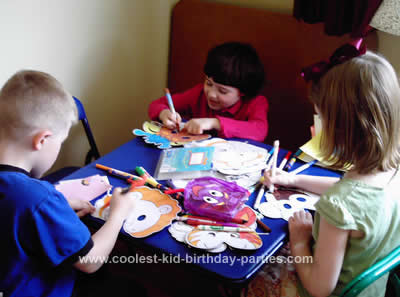 I also made a cake for the Madagascar birthday with Alex and Marty on it and we blew up green balloons with helium and lungs.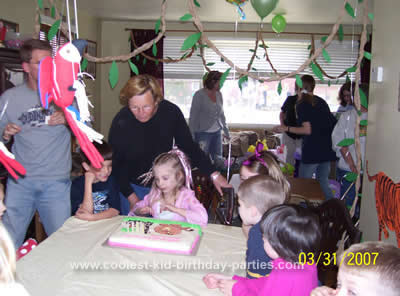 I got stickers', tattoos and animal clappers for goodie bags from Oriental Trading. When the kids got to the house the first thing we did was have them stick their head in the lion and either smile or growl. They all loved it! Then they played while they waited for everyone to arrive. When they were all there we explained the three crafts and set the kids free to pick what they wanted to do.
The beads were the hardest and there were a couple of parents at that table to help out (they needed to be ironed when finished and we made them into magnets).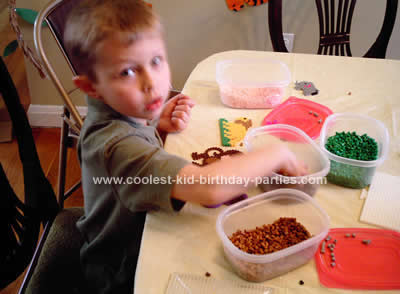 The kids loved making the masks and puppets too.
Meanwhile my husband ran out to find a Kodak picture maker and had all the kids lion pictures printed out. After the crafts were done we quick cleaned up and had cake then we went outside where the kids could run around or watch my daughter open her presents.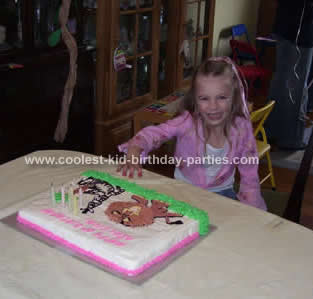 At the end of the Madagascar birthday party the kids all left with their picture crafts and little goodie bags. They all had a great time and my daughter was thrilled because she heard some kids say it was the best party they were ever at and they all talked about how great it was at school.