A Movie themed party lets kids become actors in their very own film.
The birthday child chooses which script to produce then casts their birthday guests in their roles. They arrive in costume, have make-up applied, collect the props, then the Director calls "Quiet on the Set!"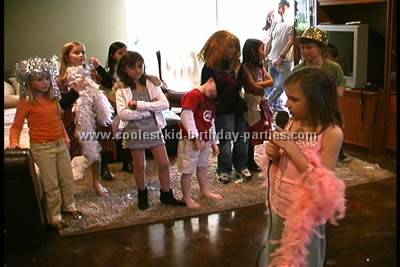 Next using the movie script they shoot the first scene. The actors don't need to memorize any lines. The Director's assistant tells the actor their line then the actor delivers their line (while acting of course!). At the end of filming the Director says "that's a wrap!" The movie is edited with titles, special effects music then burned onto DVD's – one for each actor.
A premier party is the best way to show the movie. Pop some popcorn and get comfortable and see yourself on the big screen!
Movie theme party ideas and photos by: Shelley from Belmont, CA