This paw-fect party theme idea gives the guests a license to bark, roll over and gnaw on bones.
For great Dog party supplies, check out the following links:
Dog Invitations
Check out the dog-themed invitations that we've created especially for this theme:
You can create invitations in the shape of dog bones or dog houses. On the front put a little picture of your kid and have it say:
"[Child's name] is 42! (in dog years, that is.)" – Remember that the way to know dog years is to multiply the number by seven, so in this case the child is actually six years old.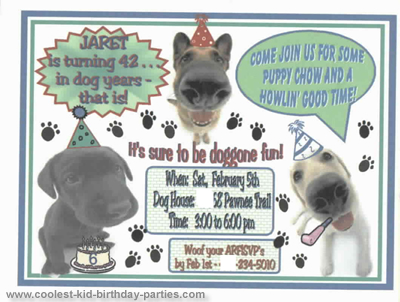 On the back of the invitation write something like: "Come join us for some puppy chow and a howlin' good time. We'll frolic in the sun and it's sure to be a "pawfect" day and some doggone fun!"
Then write the needed information: "Time, date, dog house (or "kennel" whichever you prefer), Woof your ARF!SVP's!!".
The finishing touch can be a paw print on the address label.
Dog Decorations
A great party theme idea for decorations is to cut out giant dog bones from white poster board and hang them from the ceiling around the party area. On your balloons you can draw more dog prints and even make each balloon look like a dog face by taping ears and drawing a face, nose and mouth. You can also twist dogs from long balloons – here are simple balloon twisting directions.
Use brown chalk to draw paw prints leading to your house and cut out paw prints and hang all over the walls and floor. Here's a a *life-sized* paw design to help you create paw prints. Just click on the image to print the full-sized prints.
Put up lots of signs around the party area in dog language and possibly make up a translation and write it in smaller letters underneath the word: "Woof", "Arf", "Bow-Wow", "Ruff-Ruff", etc. On the front door you can put a sign saying "Kennel".
Another cool party theme idea is to stamp your tablecloths with paw-prints so that it seems like dogs and puppies have walked all over the tablecloth. On the table (and around the party area) you can put lots of stuffed animal dogs as centerpieces.
Pitch a tent and put a sign above the entrance saying "Dog House". You can also build a dog house from a big refrigerator box. It's pretty straightforward. Just cut the top off and make it into a triangular roof, then cut out a rectangular door. Paint the body white and the roof a different color and then put a sign on top of the door saying "doghouse". You can have the kids decorate it as part of the icebreaker activity.
Check out the following Doggie-themed print-outs you can use for decoration:
At the entrance to the party area, set up a table with a sign above it saying something like "Fifi's Grooming Salon". As the kids arrive, give them dog ears, a dog tail, dog collars, dog tags and paint on them a dog nose.
You can make your own doggie ear headbands by gluing on two pieces of felt or faux fur (ears) on the tops of headbands. For dog noses and whiskers, use black face paint or an eye liner.
You can also have an area that's called the "Veterinarian's Office" with medical equipment and stuffed dogs, and also a "Pet Shop".
Another cool party theme idea is to have dog music playing in the background. Some songs that fit are: "Who Let the Dogs Out", "How Much Is That Doggy In The Window", "B-I-N-G-O", "Wags the Dog" (The Wiggles), "You Ain't Nothin But a Houndog", the Clifford theme song, etc.
Costumes
We've created this paw print doggie cone hat.
You can have your kids give you a hand, just cut around the half circle, roll into a cone-shape, and staple.
Then use a string or type of band so that the guests can fasten it to their head.
It's rather easy and fun to create a homemade Dog costume for the birthday child.
Take a look at all the coolest homemade Dog costumes.
Dog Icebreaker Activities
Fun Pet Shop Activity
Set up a pet shop/pet adoption center in the party area. Make a dog house using large cardboard boxes and then paint it white with a red roof. Buy or collect about a dozen assorted dog stuffed animals (or print pictures of a variety of dogs from the internet) and display each of them in a box and dog crate (separating them by breed). Then print dog facts for each breed on a piece of paper and glue on stock paper (it's easy to find these facts on the internet or go to the library). Above each stuffed animal hang their fact sheet (the facts included Breed, Color, Weight, Height, Personality, Grooming Tips and Exercise Requirements).
Then when the kids arrive, start with this icebreaker activity – each child selects a puppy to adopt. Then each child receives an "Adoption Certificate" (print these from a computer, create them before the party and put lots of puppy graphics on them). The certificates included the Breed, Date of Birth, Height, Weight, Gender and an open space so that the kids can write the full name of the dog (they give them a name). At the bottom also write"I hereby promise to give my dog lots of love, feed my dog daily and give my dog a safe and happy home". Also leave an open space at the bottom that should say "Belongs To" and a "Signature Line" for the new Owner. Add another line for the Witness Signature and Date (any adult can sign as the witness).
Once the Adoption Certificate is filled out, each child receives a Dog Collar (you can buy or make these). Each guest then goes to a Grooming Area to have their new dogs bathed. It's nice to make a sign for each station. The birthday child stands under the Grooming Area sign and gives the puppies a pretend bath, wraps them in a Dog Paw Print Towel and put initials on the Adoption Certificate under "Bath/Groomed".
From there, each child goes to the Vet (assign someone to be the vet and put a "Veterinarian" sign up so the kids know where to go). Each guest brings their puppy to see the Vet. Once the Vet examines the puppy and gives them their (imaginary) shots, the Vet puts their initials under Exam/Shots on Adoption Certificate. Once the adoption phase is over, all the kids can go play with their new pet. You can get a few doctor's kits and the kids will havefun examining their dogs. Put all kinds of combs, little blankets, little shirts, etc. that the kids could use to groom and dress their dogs up.
Dog Coloring Pages
A great ice-breaker for all parties are Dog coloring pages! You set a table with markers, crayons, or anything else the kids can paint with and let everyone color in coloring pages until all the guests arrive.
We've created free and original printable Dog coloring pages, check them out!
Dog Tags and Collars
Here's a cool party theme idea. Have the kids create their own dog tags by cutting out the bottoms of aluminum plates, punching a hole to put a string, and carving with a point the name of child's name. (Write the child's name backward on the tag's reverse side so that the type is embossed). Make sure to bend the tag's sharp edges. For the collars, use strips of felt with Velcro and have the kids glue plastic beads and jewels to their collars.
Mini Doghouses
Have the kids make their own little doghouses out of small milk cartons with a triangular top. Have them cut out a door and decorate their dog house with markers, crayons, glitter, glue, stickers, etc.
Dog-Bone Biscuit Bakeshop
Before the party, use Dog-Bone cookie cutters to prepare several sugar cookies (bones). You can let the kids knead the ready-made dough and then write their name with chocolate chips. Then they can frost their own cookies with vanilla frosting. Prepare several different kinds of sprinkles and decorations. This can be added later to their favor pack or eaten during the meal.
Dog Cups
Here's a fun-to-make and creative party theme idea. Take brown plastic cups and make them look like a dog. Use a black marker for eyes (or even better, glue on googly eyes), a nose and mouth. Then cut out brown floppy ears from felt, paper, or any other suitable material and tape to the top of the cups.
Homemade Dog Cakes
Take a look at all the coolest homemade Dog birthday cakes.
Dog Party Food and Drink
Dog Party Theme Idea for Food
You can place many of the foods and snacks in little dog dishes and even give out dog dishes instead of cups and have the kids eat and drink out of them. without using their hands. Heck, it's a dog party, isn't it?
Hot Diggety DOGS
Corn DOGS
Dog Bones: Use a dog-bone cookie cutter and cut bones out of refrigerator dough bread sticks baking it according to package directions. While the bones are still warm, use a little butter or olive oil and brush the tops with it. Then sprinkle the dog bones with a good amount of parmesan cheese. Pour spaghetti sauce or marinara sauce into individual bowls and give them to the kids so that they can dip and eat their yummy doggie treats!!
Dog Burgers: Use that same dog cookie cutter to create hamburgers in the shape of bones. Cool!
Raw-hide Bones: Take refrigerated breadstick dough (like Pillsbury), they are about 10″ long, halve them and twist a knot on each end, sprinkle with parmesan, bake and they look just like little rawhide bones!
Raw-hides 'n' Cheese: You can find pasta shapes that look like twisted rawhide sticks (Barilla brand has these). Kids love mac 'n' cheese, so they're sure to go barking up a tree for raw-hides 'n' cheese.
Dog Party Theme Idea for Drinks: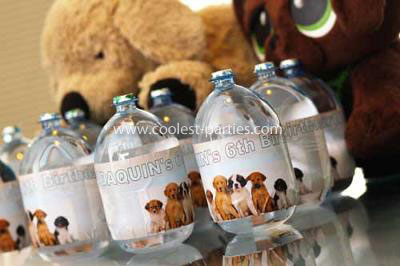 Dalmatian shakes: Use chocolate chip ice-cream (or simply buy vanilla ice-cream and put chocolate chips in it).
Dog Party Theme Idea for Treats:
Homemade Puppy Chow: Take one package of chocolate chips, half a cup of peanut butter and a fourth cup of butter, and microwave on high for one minute. Then stir, microwave half a minute more until it's smooth. Then add one teaspoon of vanilla and pour over a large bowl full of 9 cups of Chex and stir. After this, pour everything into a large Ziploc bag, add half a cup of powdered sugar, seal the bag and shake. Then spread evenly on wax paper to cool. This treat resembles dog food and so you can serve it in little doggy dishes.
Doggie's kibbles and bits: Any mix of dried cereals like Chex.
Doggy bones made out of meringue
Doggy Faces: Out of ice cream make little dog faces. Take a large scoop of ice-cream for the head, a melon scoop for the dog's snout, Oreos cut in half for the ears, M&M's for the eyes, and a mini marshmallow for the nose. You can use chocolate-chip or cookies and cream ice-cream (Dalmatian ice cream).
Tip: decorate a cereal box and it's label to look like "Canine Crunches", "Bonzo", "Puppy Chow", etc. to refill the puppy chow during the party.
Birthday Doggie Bags
Brown paper lunch bags can be used as doggie bags (stamp paw prints all over them or make ears on the bag and a dog face).
Another cool dog party theme idea is to put all the goodies in Dog Bowls with the names of the kids written on the bowls.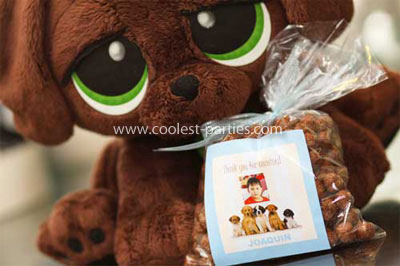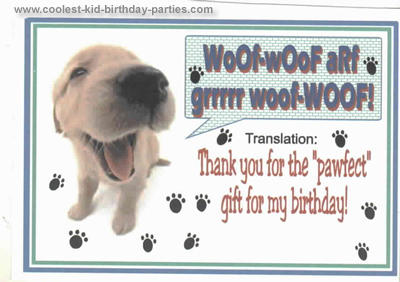 A great party theme idea for Dog thank you notes is to use dog language!? Here's how:
Print out a picture of your child on the front of the thank you card with a cartoon dialogue balloon saying: "Woof-woof arf Bike grrrrr woof-WOOF! Rrrr, (kid's name)", and at the bottom write "Translation inside".
Inside write: "Thank you for the great Bike for my birthday! Love, (kid's name)."
Also check out these printable Dog thank you cards:
Dog Games and Activities
Here's an entire page with the coolest party game idea for a Dog theme, such as:
Doggie Drink Race
Dog Bone Balance
Barking Contest
and many more (including visitor-submitted game ideas)…
You should also read these VERY important tips to help you survive (and enjoy) birthday games time!
Your Dog Parties and Ideas
Some of our visitors have gone the extra mile and written up their complete Dog party story with photos and everything they did. We call these stories "Party Tales" and they serve as a great inspiration! Take a peek at other people's Dog theme Party Tales and you're sure to find lots more outstanding Dog party ideas:
---
Kid Birthday Parties › Kid Birthday Party Ideas › Dog Party Theme Idea