I had this "Medieval-type" Princess party for my daughter Elizabeth's first birthday because most of her child guests (cousins, brothers) were boys. I had all these princess birthday party ideas for girls but I figured the boys wouldn't appreciate getting boas and tiaras so I incorporated the knight appeal into the party but left it as mostly "princess" themed.
We didn't have any games as it was mostly adult guests and the children who came varied in age from 0 – 13. So I just made sure the kids had things to play with and the adults just visited.
Invitations
I bought old-looking "scroll" paper off eBay and printed my own invites from one of my princess birthday party ideas. They read: Here Ye! Hear Ye! Her Majesty Princess Elizabeth Emmalyn requests your presence at her royal FIRST birthday celebration! All knights and fair maidens shall arrive at the (last name) Castle at one o' clock in the afternoon on Saturday October sixth two thousand and seven. We hope to see ye there for a royally fun time! R.S.V.P. to Queen (mom's name) ###-####
Medieval Princess Decoration Ideas
For the Happy Birthday banner I found foam crown cutouts at Wal-Mart and wrote one letter on each one with a black Sharpie. Also, I added some glitz with glitter glue as well and stuck them to the window in my living room.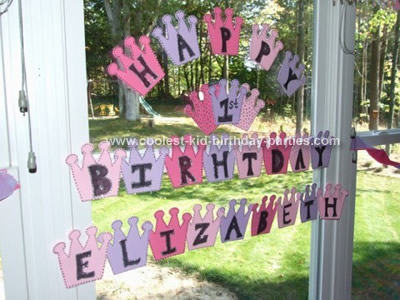 I used a lot of things from Elizabeth's room (stuffed bears, fairy wings, dress up things, photos of her dressed up princess/castle, toys, little pink shoes and dolls) that were pink or girly just to splash the color around the house.
In addition, pink and purple plates, napkins, cutlery, streamers, paper lanterns and table cloths were purchased from the local Dollar Store. Plastic armour and swords and tiaras were also found at the Dollar Store and doubled as décor and party favors.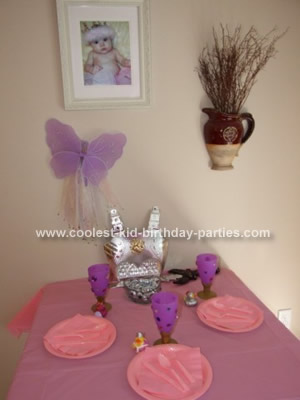 Balloons! Don't underestimate how much festivity they can add to your party environment! I usually get an array of color-coordinated balloons to tie to chairs etc and a themed mylar to tie to the birthday child's chair.
Prettiest Princess High Chair
In order to make a "throne", I taped a piece of iridescent plastic fringe to the front of Liz's highchair and threw a piece of inexpensive shiny pink fabric over the back. (The same fringe is hanging from the top of the window and door in the photos.)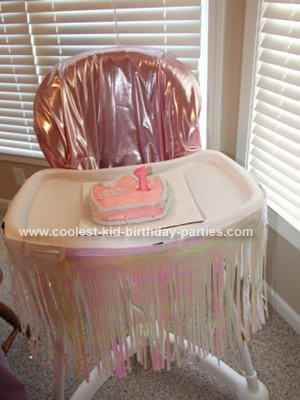 Awesome Play Castle
My husband used 2 empty range boxes (your local appliance store will usually gladly give them to you!) to create the most realistic play castle for the kids.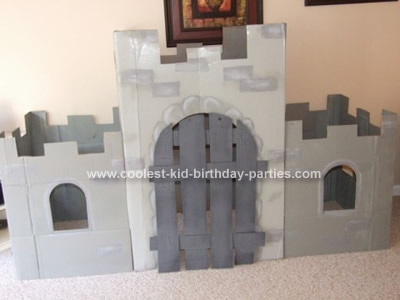 I bought plain purple plastic goblets online and hot-glued rhinestones to them for the kids. It added to the décor and once again doubled as party favors. I also hot-glued rhinestones to clear glass bowls found at the dollar store and used them as Hershey kiss-filled centerpieces or bowls for dips etc. Little medieval rubber duckies (prince, princess, knight, horse, king, queen, dragon, Fair Maiden) were found at orientaltrading.com and doubled as décor/party favors.
So, I made a princess hat out of felt and covered it with the same material as used on her "throne". I hot-glued marabou to the top and bottom added a tulle train and satin ribbon chin straps. Everything was carefully hot-glued together and I used self-adhesive Velcro dots on the straps. Of course after burning my fingers and spending a lot of time on this she wouldn't wear it. So it was used as décor as well. You can see it on the pink bear sitting on a chair in the photos. I threw a $1/yd piece of fabric over a plush "Thomas" chair for use as a gift opening seat.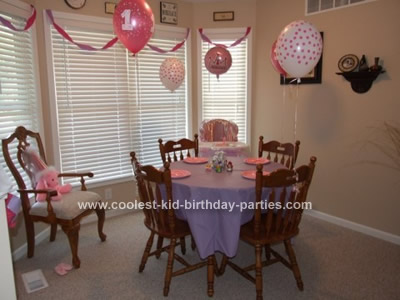 Food
Other princess birthday party ideas was to go with an array of hors devours for the food. We had: Cheese tray and crackers, Bread Bowl with spinach dip, Bacon-wrapped water chestnuts, Meatballs Shrimp, Veggie Tray, Chicken tenders and Cheese Dip with nacho chips. The cakes are shown in the photos. In addition, I made Elizabeth a crown-shaped "smash" cake by cutting the shape from an 8×8″ square cake.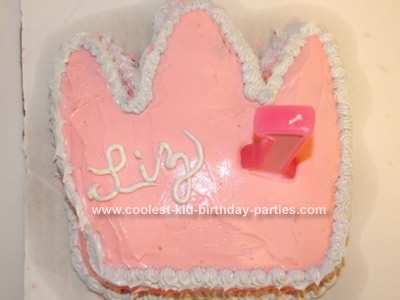 Coolest Homemade Castle Cake
The castle turned into an all-day project. The bottom is four 13×9″ cakes stacked. So, I made two 8×8 square cakes cut them down a bit and stacked those on top. The "towers" are a regular ice cream cone with an upside-down sugar cone on top. Then they were frosted and dipped in pink sugar. The doors/windows are Pepperidge Farm Milano cookies (windows cut in 1/2) and the pink M&Ms are Breast Cancer Awareness M&Ms. What you won't see in these photos is that eventually my cake started to fall apart. I spent all night trying to piece it back together before finally giving up the morning of the party. So, I sent my oldest son to his room to look for some plastic knights (like the little green army men type) and the little cannon from his pirate set. Then we strategically placed these items on my crashing cake.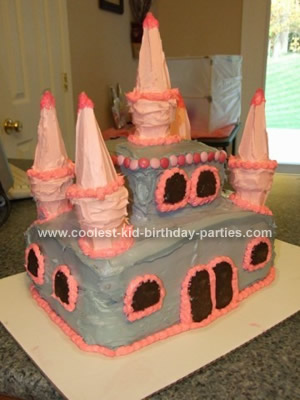 When the guests saw this I told them the "Romans had invaded overnight". And we all got a good laugh out of that. The cake still looked awesome and it was a conversation topic.
Medieval Favor Pack Princess Birthday Party Ideas
I bought 4/$1 paper sacks and cut/drew them to look like a castle. On one side was a castle; on the other was "Fair Maiden Alyssa" or "Sir Jackson" for each child guest. Inside were the following (see photo): Little wooden sequined "treasure chest" with generic life savers called "Royal Rolls" (Dollar Store), Princess or Knight toothbrush/paste set (Dollar Store), Sword Bubbles (Oriental Trading), 2 types of Ring pops (Dollar Store), Candy jewels (Dollar Store) and bath fizzies (Dollar Store pk of 4 for $1). Also each child took home either knight armour/sword (boys) or a tiara and jewelry (girls), a rhinestone-studded plastic goblet and a medieval duckie as mentioned previously.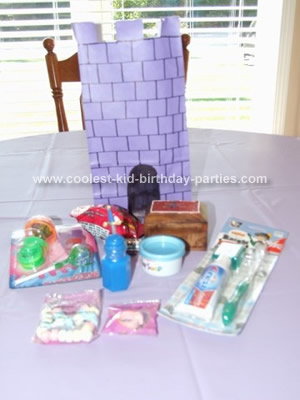 In conclusion, all the princess birthday party ideas were a real hit! The party really was beautiful! Don't forget to get a special princess dress for the lady of the hour also!
Princess birthday party ideas and photos by: Bethany from Ludington, MI