Finding the perfect birthday party theme for a particular child tends to be more art than science, but our Kingdom Festival for my five-year old son Davis turned out better than he would have ever dreamed. The thrills we receive as parents in seeing the beaming grin on our child's face throughout the party and including the afterglow are tough to parallel. Davis still talks about his medieval party now months afterward, and I expect he will for years.
Birthday Charity Tradition
One focus of our children's parties for the past three years is that rather than having our children receive presents for their birthdays, we've raised money for charitable causes in which we deeply believe. Because we won't be dealing with mounds of gifts, it's easier to justify inviting more friends, classmates, and acquaintances. The more kids, the merrier! Also, more money is raised for the charity, so everybody wins! We've also found that our children don't miss the presents. It's the party they desire – so we go all out. They are involved in all the planning, which is loads of fun, truly making the party their day.
My oldest son, Carson, started this routine on his fifth birthday when he threw a St. Jude's Benefit for his birthday. Over $1,500 were raised. Davis, my younger son, wanted to be like his big brother and raise money to help sick children. For Davis' charity we collectively decided on the Birmingham (Alabama, USA) Children's Hospital.
Birmingham Children's Hospital
The excellent cranial neural and facial doctors at Birmingham Children's Hospital had performed successful surgery on Davis for sagittal synotosis when he was three months of age. Therefore, the Kingdom of Davis festival this year would contribute to Birmingham Children's Hospital, specifically benefiting Dr. John Grant (who performed Davis' surgery) and his dream to provide free neural and facial surgery for children who cannot afford or don't even realize they can get treatment.
A child doesn't have to select a Children's Hospital, they can provide dog/cat food to a local animal shelter, toys to the local Christmas drive, school supplies to the child's school, really anything to help out in the community where they live. Or, they may decide to help other local kids that are less fortunate. The really neat part is to engage the child in determining where he or she may want to help out. Provide choices and background information and then let them make the decision." If you go the hospital route, they usually have a certificate they will send your child which can be added to their 'trophy' collection and makes a lasting impression.
Planning for such an occasion is never easy, and the more work accomplished ahead of time the greater the reward when party-day arrives. Davis determined the theme, games and festivities and party favors. As time got closer, the party continued to grow.
Medieval Knight Party Invitations
Although much of the pre-planning had already been done, invitations went out two weeks ahead of time. Borrowing the Medieval party invitation idea from Melissa from Luxemborg's Medieval Knight Celebration Party Tale – and MANY thanks to Melissa, herself, for her much-appreciated willingness and help in coming up with the perfect invitation that set the stage for our extraordinary party. We sent out seventy Medieval party invitations, including those to Dr. Grant as well as one to a local Children's fundraiser.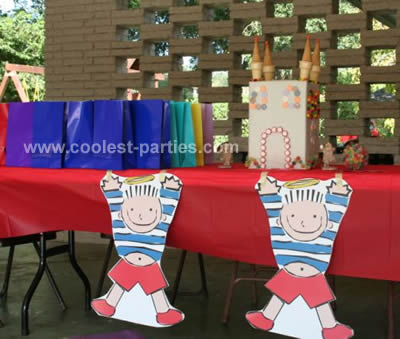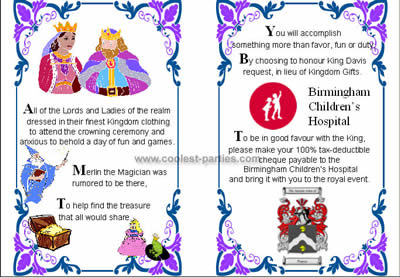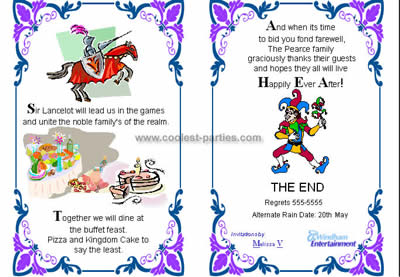 Additional work ahead of time on our Medieval party included getting a banner and placard check denoting "Children's Hospital," obtaining crowns and tiaras for each child, and pre-printing royal certificates proclaiming each attendee as either "Lord" or "Lady." Further, I hired Sir Lancelot, Merlin (the Magician), and two damsels from a local entertainment/theater group, Windham Entertainment, to help facilitate party events. Lastly, we pre-ordered pizza for the party, which because it was a benefit, came at a much-reduced price.
Amazing Medieval Party Castle Cake
One of my good friends had offered to bake Davis' cake, and after plenty of correspondence beforehand, she came over the night before the party to decorate what we deemed as the Great Castle Cake.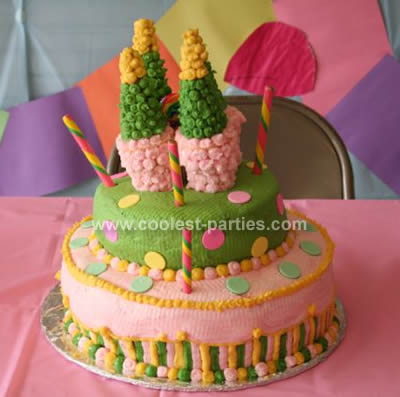 This wonderful cake contained every kind of candy and cookie imaginable. Davis and his cousin, Sydney, had a blast sampling the candies and placing them on the cake. In the end, they created a unique masterpiece.
While the cake-planning was going on, my husband and nephew – after collecting boards, refrigerator and washer/dryer boxes, and purchasing roofing material, butcher paper, and paint – spent the week prior to the Medieval party constructing a castle with turrets, drawbridge, and portcullis included. They finally finished it off not two hours before party-time.
Medieval Party Entertainment
Fifteen minutes before the Medieval party started, Sir Lancelot (Darin Windham) and crew arrived. They looked terrific and were more than willing to take the bull by the horns and lead the party events. Briefly, I discussed each phase of the party with Sir Lancelot. As I finished the last minute items, Lancelot, whose magnificent voice carried like the Wizard of Oz, went out as a greeter. "Welcome to the Kingdom of Davis" he would announce as each child and parent entered through the back gate.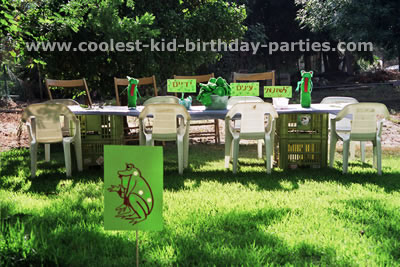 The eyes of nearly every child coming into the Medieval party bulged when they saw the castle, knights, damsels, and throne. Instantly, they became transformed by the magic of the day. A treasure box had been set out on a table for donations. Next to the box had been placed a book on castles, which was to be a keepsake for Davis. We asked each child to sign their name and write a message about the day in the book.
Over forty children showed up at our Medieval party, and including parents, Dr. Grant, and family, approximately eighty people celebrated with Davis. While the invitees strolled in, the damsels provided face painting and spun fairytale yarns. Meanwhile, a basket had been filled with capes, armor, swords, and shields, and many of the kids began dressing up or played at slaying dragons.
Crowning the King
Once the guests had all arrived, Sir Lancelot, in full armor and wielding a real sword – which both perked the curiosity and amazed the children – called for a meeting around the throne (which consisted of a high backed chair with a red table cloth thrown over it) in the middle of our backyard. A red carpet (two plastic table cloths) had been rolled from the foot of the throne across the yard. Resting on the carpet only feet from the throne was a purple pillow.
There, with our son kneeling upon the pillow, Sir Lancelot first crowned Davis as King. Davis then took the throne. Following that, each birthday guest was knighted, while bowed down at the pillow, as either a Lord or Lady of the Realm of Davis. Fittingly, this was an excellent time to photograph the children, one-by-one. Upon rising, the new noblemen and noble women received a crown or tiara, respectively. Personally, I was amazed at how seriously all the children, even the older ones, took the dubbing. Most important of all, King Davis thoroughly loved the whole ceremony.
The Magic Show
After the royal ceremony concluded, Lancelot announced that Merlin and his magic act would perform in front of the Castle of Davis. The magician was first-rate. "Magic" such as cut rope reforming, articles disappearing or turning different colors with a sleight of hand, pulling a tied roll of sausages from his mouth, and a host of other tricks baffled the onlookers. With many in the audience participating, the fifteen minute show awed the children, both young and old. Even the parents enjoyed the spectacle.
Treasure Hunt
Next on the Medieval party agenda, as announced by our good knight, was a treasure hunt. Prior to the Medieval party, we hid a treasure box of plastic jewels, gems, and necklaces under a patch of hosta in one of our gardens. Every kid in the kingdom sought for the royal bounty across the entire backyard. Remarkably, the treasure chest had been hidden better than we thought, for it took the kids about ten minutes to find it. Once located, the box's riches were dispersed by King Davis to each of the royal subjects. Following this, Merlin the magician made balloon swords for some sword-fighting. Several children engaged the Arthurian champion, Lancelot. More face-painting and castle-playing followed.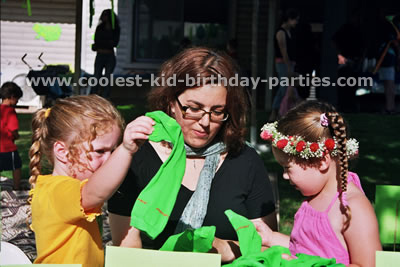 Presenting the Check
A little later on during our Medieval party, we rounded the kids up for a party picture in front of the castle with the Children's Hospital banner hanging from the drawbridge. Immediately after that, King Davis presented the poster check of $1,000 (the true total was in excess of $1,200) to Dr. Grant to the delight of all participants. The royal doctor of His Majesty bowed before King Davis and humbly accepted the King's donation. For us, amid the numerous other Medieval party highlights, this act trumped them all, for the guests really saw how much one Medieval party could do for a charity. Hopefully, that light will shine for others to continue the tradition!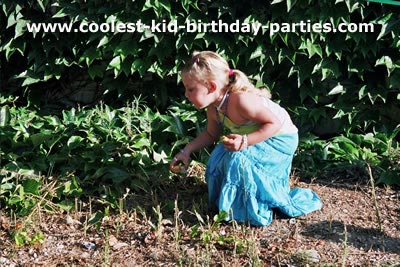 Refreshment Time
Finally! "Pizza and cake!" proclaimed Sir Lancelot to further cheers. King Davis' royal hosts served the guests pizza, chips, drinks, and other assorted goodies. A few minutes later, the Great Castle Cake ceremony commenced, and the magnificent cake was unveiled. Appearing like a castle version of the witch's cottage in the Hansel & Gretel fairytale, the cake received both applause and an instantaneous line for a portion of its delicious riches. Children jousted, stormed the castle, received balloon animals from Merlin, and generally had a blast for the remainder of the party time. As they were leaving, the Lords and Ladies received their official knighting certificates as well as castle sticker set and other parting gifts along with their crowns and tiaras.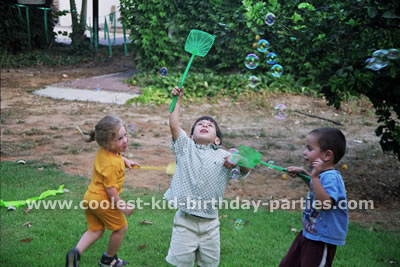 Party Reactions and Conclusions
I think I can state without reservation that every guest, child and parent alike, had both an unexpected treat and an unbelievable time enjoying the Medieval party. It stirred my heart to hear kids exclaim, "Mom! That party was so fun!!!" as they walked away. And, one mom later told us, "Davis' party rocked!" It was a fantastic memory for everyone! What makes it even all the more heartwarming was watching my son, striding through the backyard in crown, royal cape, king pants, and boots, with a continuous grin so big that we could see down to his toes. My little King Davis loved it with all his heart, and that's the best gift I could ever give him. And, we're still talking about the Medieval party now, even months afterward.
The Magic of Generosity
What a truly magical day it was for Davis! As a mom, I don't feel like my child missed anything by not receiving presents at his Medieval party. On the contrary, Davis learned a vital lesson about helping other boys and girls who are less fortunate than himself but not less deserving. He learned how a little boy that is only five years of age can make a difference in this great big world, and he was able to share this experience by getting his friends involved.
Not only that, but he and all of our guests will remember how gracious Dr. Grant was for the receipt of the Children's Hospital donation. That a doctor from Birmingham would make the hour and a half drive to Huntsville… that a Children's hospital fundraiser would set aside his weekend time… that he would come to spend his entire Saturday afternoon at a five-year old's birthday gala shows just how meaningful one party can be.
Yes, everyone felt great about their part in raising money for Children's Hospital, but hopefully that giving won't stop after our party has ended. Rather, we hope that Davis' party serves as an inspiration for others to think about children less fortunate than we are, and not only to think but also to take action for them. With all the other grand memories made from the Kingdom of Davis birthday party, that one would be the greatest gift of all!
---
Dr. Grant Added
"One editorial change is related to the terminology of what we do. It's OK to use Brenda's words since it is her story, but the true discipline is Craniofacial Surgery as opposed to "cranial neural and facial" but this is probably semantics. Still, I see a value in Brenda's words remaining her own.
"I'd also prefer that there be mention that we have a team if possible. I do all of these operations with a Pediatric Neurosurgeon. In fact I couldn't do it without them. We also have about 15 other specific medical disciplines engaged in our team, so that they are all available if needed by a given child.
"Thanks to the generosity of Davis and others like him, we should be kicking off our first free surgery weekend in the spring of 2007."
Medieval party ideas and photos by: Brenda from Huntsville, AL