Childrens birthday party ideas and photos by: Mona from Yorktown, VA
I just got finished throwing a Surprise Pirate birthday party for my 10-year-old son. Adults and all the kids HAD A BLAST! And I am sure that this childrens birthday party will be hard to beat, if I am ever foolish enough to attempt it.
I started out by looking around for pirate themed items. I went to the local maritime museum for a couple of things, but most of the stuff I found online. At a very reasonable price, I might add. I got bandanas, plastic gold coins (doubloons), cutlasses and eye patches, foamie parrot craft kits, and a 100ft. string of pirate pennants.
The childrens birthday party invitations were pirate maps (with an X that marked the spot of the party) that I designed using a home publisher program on my computer. Then I cut brown packaging paper into 8 X 11″ sheets and printed them with my printer. I crinkled them up and burned the edges a little to make them look "old". Then I rolled and tied them with twine and distributed them to the invitees!
The childrens birthday party cake was decorated with a beach and sea scene. I added a Lego Pirate ship to the "sea" on top of the cake and some plastic gold coins scattered along the "beach" (that I got from mail order to the cake too). Then I crushed a few Nilla Wafer cookies for sand and sprinkled them on the beach.
The childrens birthday party menu was just regular food, with "piratey" names. Chicken Planks (chicken strips), Aztec Gold (Mac'n cheese), Ram rods (celery and carrot sticks), cannon balls (black olives), goldfish crackers, and hot dogs with sails made from white paper and bamboo skewers so that the hot dogs in buns looked like pirate ships. We had Cheerwine for the crew (for those of you who have ever been in North Carolina , you will know what that is! It's kind of like Cherry Dr. Pepper, I guess- anyhow.we bought some on our last trip through NC and saved it for the party), and we also had a selection of Bilge water (Mountain Dew), and Black Pearl Brew (Cola). If you wanted "Ocean spray" you had to go to the sink and get it from the faucet yourself!
I used Black, White and Red as my childrens birthday party color scheme. I went to the party outlet and got black plastic tablecloths for 99 cents each. I got red and black streamers, and red and black balloons too. I also purchased a disposable helium tank at Wal-Mart. I used Mardi Gras Beads that I had around the house to scatter around the party area. I used the plastic gold coins for scattering around too.
For childrens birthday party costumes: I outfitted each pirate in a bandana, a plastic cutlass, a spy-glass (that I made from paper towel tubes, celowrap and twine) and an eye patch. I had asked each of them to come dressed as pirates when I sent out the invitations.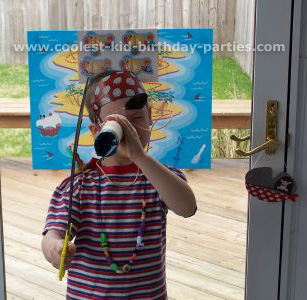 I put the foamie parrot kits together a couple of days before the party. I added some colorful feathers that I had in my craft supplies to the foamies birds to make them look a little more "real". Then I attached each parrot's feet to a wooden spring-type clothespin so that we could clip the parrot on each Pirate's shoulder. (Just one quick note- make sure you put the parrot on the clothespin with the parrot facing away from the small end of the pin. Otherwise it is hard to attach the parrots so that they will sit right on those pirate shoulders!) AND USE GOOD GLUE! There's nothing worse than a parrot that keeps falling off his perch!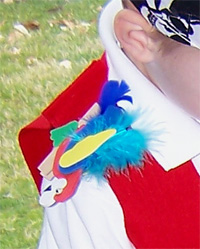 I am one of those people who likes to do things in "stations". It keeps the kids busy, and keeps them from being bored. Plus, if they don't like one childrens birthday party activity, there is always something else to do.
The only thing that I "required" was that everyone had to cheer for everyone else during the games in PIRATE-SPEAK. They really got into that! They really like cheering for each other and saying "Aaargh!"
For the childrens birthday party games and activities at the party, I decided to use things that I already had, and just rename them instead of trying to come up with something 'new'.
I used the "Toss Across" game for the "3 X's marks the spot" game. The players had to get 3 X's on the board in order to win their "booty bags". I didn't require them to get 3 in a row- that could have taken quite a LONG time. I used a ring toss game for "Ring the Parrot's Peg Leg". The kids just had to get one of the rings on one of the pegs in order to "earn" their shoulder Parrot.
I used a bucket filled with water, a small sauce dish (or you could use a large shot glass) and pennies for the "Doubloon Drop"! The kids had to stand on a stepstool (from the kids' bathroom) by a bucket of water. In the bottom of the bucket was a small glass dish. They had 10 pennies each to try and drop into the dish at the bottom of the bucket. We had prizes for 1st, 2nd, and 3rd place on how many pennies they got in the dish. They earned plastic gold coins for that game. Boy! Did those kids LOVE those coins! And they weren't even chocolate!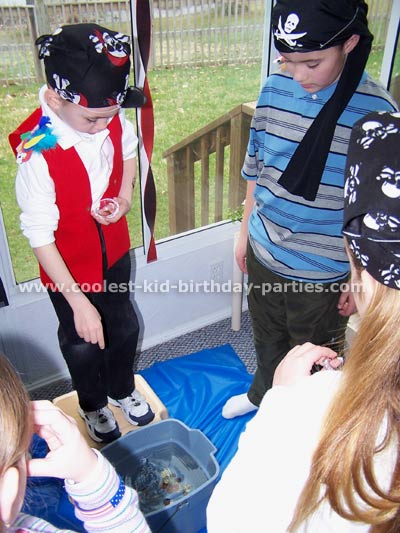 We also played Pin the Pirate on the Map game (pin the tail on the donkey PIRATE-style!).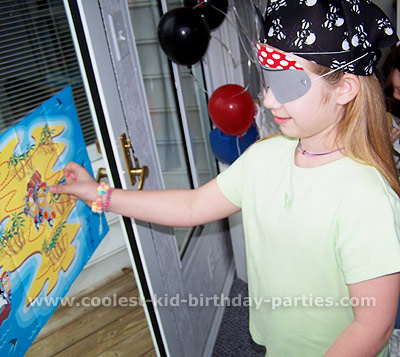 We had a "Tattoo Parlor" with Pirate temporary tattoos from the local party emporium. The "Parlor" was just a separate small table with a couple of stools beside it and a sign that said, "Get yer Tattooin done 'ere, Matey!" I had one of the adults from the party run the shop for me. The kids LOVED it!
A great childrens birthday party craft we did was a "Decorate your Plunder Chest" table. I purchased small wooden 'chests' and had a bunch of decorations in my own craft supplies for the kids to glue on to their treasure chests. But I also bought a small bag of jewels for them to put on their treasure chests.
I also had lots and lots of beads (pony beads, faceted beads, animals shaped beads, etc) in my craft supplies. So I put out some plastic laces and let the kids string beads till their hearts were content. Since there were also girl pirates at the party, this "Make A Treasure" station was a BIG hit with them.
The boys (all ages) strung beads for necklaces too. I even had adults gathering around the big bowl of beads so that they could make a 'treasure" to take home.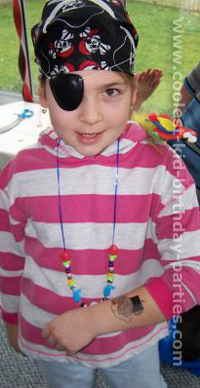 I made sure that I got a "portrait" of each kid at the childrens birthday party. I had them pose and give me a big Pirate growl and then I snapped the picture. With all of their regalia on, the tattoos and the parrots, they looked really "authentic"! Then when my son sent out his thank you cards to all of his friends, I also tucked the Pirate Portrait of each child in their childrens birthday party thank you card.