Here's Ryan's Pirate Birthday Party (5 years old )! Let me first say, I got a great deal of my ideas from this website. Thanks!
Our pirate invitation was a map, with the edges burned and rolled up and placed inside of a plastic Coke bottle. On the outside of the bottle, I stuck a photo of Ryan in his Pirate garb and used it as an address label with each child's name (I was able to hand deliver all of mine into mailboxes). Also, I found the map online from this website.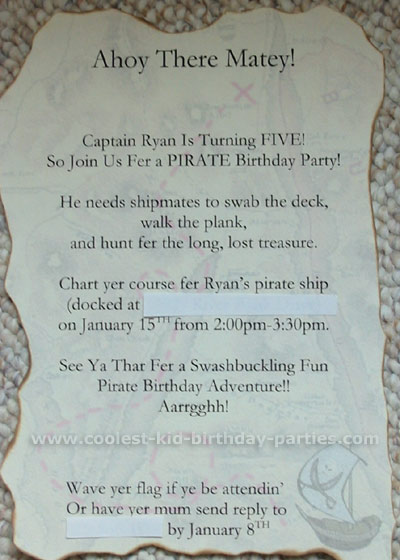 Our swashbuckling pirate birthday adventure began with a craft. I used treasure chests which I spray-painted black and glued on some gold ribbon. I had cut out felt pieces in assorted colors for the kids to choose for the bottom of their chest. Then I put each child's name on the top (ex. "Ryan's Treasure Chest"). The kids glued on gems/jewels and gold coins. I also got some of the self-adhesive girls earrings to use as gems. In addition, during the craft, the children got tattoos.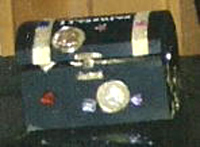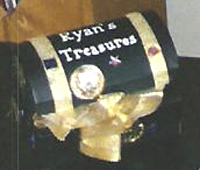 Party Birthday Party Games
Becoming a Pirate
Pirate party games included "Becoming a Pirate": As we played games, I gave out different pirate garb to help each child become a pirate. The first game that we played was "Pin the X on the Island ". I used a hand drawn map and made "X"'s for the children to attempt to tape their X as close to the one on the map. So, each child was given a pirate hat upon completing this task.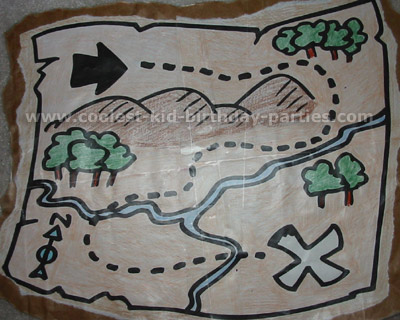 Feed the Shark
The next game was "Feed the Shark". I had painted a shark's mouth onto cardboard and cut out an opening for the mouth. Then I had 3 beanbag fish that I had each child take turns throwing through the mouth. After each child fed the shark, they received an eye patch and earring and took a picture in the shark's mouth.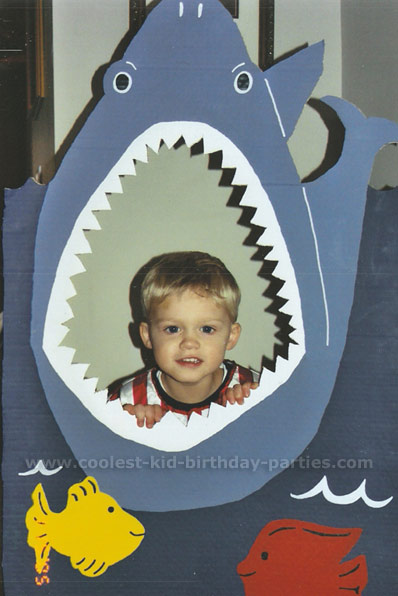 Musical Islands
The third pirate party game that I attempted was " Musical Islands " which was played like musical chairs but instead, I used brown felt pieces cut out in the shape of islands and placed them in a circle on top of a blue blanket (representing water). The loser of each round was to walk the plank.
Walk the Plank
This led to the next pirate birthday event, which was to "Walk the Plank across Crocodile Lake ". I laid a blue plastic tablecloth on the floor (cut in the shape of a lake) and used a 2×4 (8′ long), which was held up by a plastic milk crate on either side. I placed little crocodiles all over the "lake" – which I made with clothespins painted green and google eyes. Once across, each child received a red sash, which I made and a little black skull bag.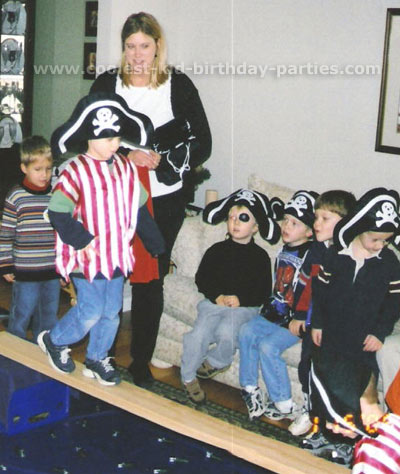 Skull Cave
The following event was to enter " Skull Cave ". The cave was a tent covered with a black plastic tablecloth. It was filled with small balloons and had skeleton lights strung across the entrance. Each child went in individually and retrieved a little skeleton, skull ring and a mini pirate telescope. These items were placed in their little skull bags.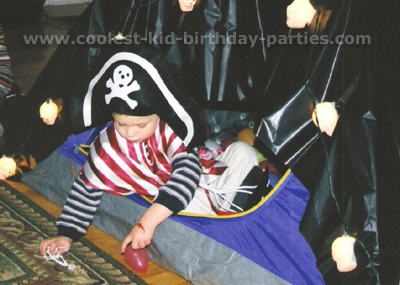 Pirate Birthday Cupcakes
In the center of the table, I placed a Playmobile pirate ship and stuck papers to the sides which read "Happy 5th Birthday Ryan". Surrounding the ship were mini islands (cupcakes). The cupcakes had chocolate frosting and each was decorated with plastic pirates and a miniature treasure chest, filled with mini M&Ms & snowcaps.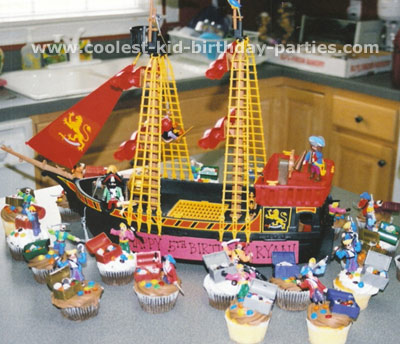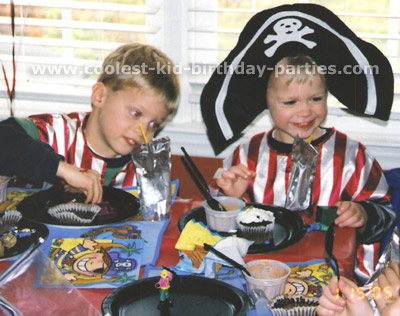 After the pirate birthday cupcakes, we played "Sink the Ship". In order to make a pirate ship, I used boxes I found at BJ's wholesale store. I used plastic fishing poles for the masts and added paper pirate flags and made an anchor for the side of the ship, attached by a string. Then I filled a bucket with cannon balls (plastic golf balls which I spray painted black). The children took turns throwing cannonballs into the ship, to try to "sink" it. Once all of the balls were emptied out of the bucket, the first treasure hunt clue and map was found on the bottom of the bucket.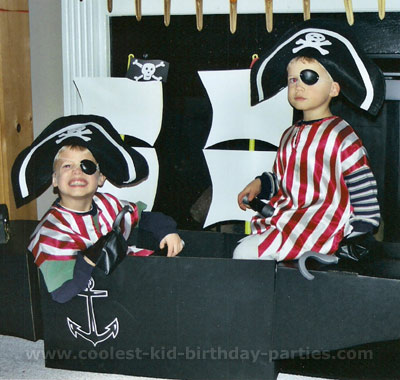 Here is a detailed description of our Pirate treasure hunt.
Pirate Birthday Goody Bags
I used white bags and cut out a ship to glue on one side and the other side had their name on a red "X" which was used to glue the bag shut. Each bag read: "Thank you matey for helping me find the long, lost treasure and for celebrating my 5th birthday with us! Your Captain, Ryan". In addition, the bags were filled with a mini compass, a telescope, a hook hand, glow in the dark stars, chocolate coins, & Rolos.
Pirate Birthday Decorations
In order to decorate, I used black and red streamers and black, red and white balloons. I also made signs that were throughout the house: "Welcome to Ryan's Pirate Birthday Adventure!" "Beware of pirates", " Skull Cave " & "Pirates Cove".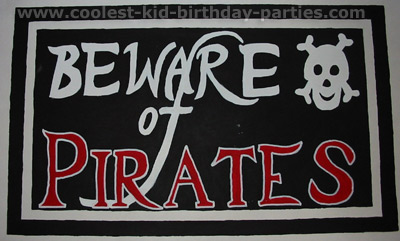 Also, I had black plates and utensils and found some cute pirate napkins.
Pirate Birthday Thank You Notes
So, I made these with cardstock using the group photo and the sentiment, "Friends are the best treasure of all". On the inside, it read: "Thanks for joining in our pirate adventure!"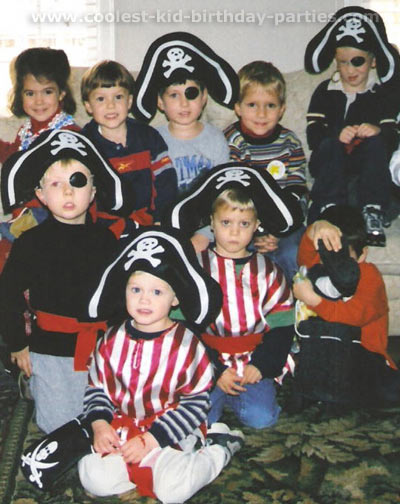 I hope you found our pirate birthday helpful!
Pirate birthday party ideas and photos by: Janine from Raliegh, NC