My Son was turning 9 years old and really wanted to have a big birthday bash. We had around 15 kids total attending this party. We went with the royal knight party theme. I ordered online plastic swords, goblets for the king (my son), a king's crown and robe. I sent out online invitations to friends and family.
Knight Party Decorations
The decorations were amazing! We have a large "sunroom" which I decorated with plastic backdrops to look like the castle walls, windows and doors.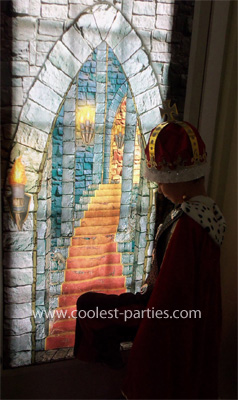 All were ordered online. The walls were covered with cardboard cut outs of the king, queen and knights with shields. From the ceiling hung blue and gold dangling stars from Wal-Mart, which hung above the "round" (rectangle) tables. The tables were dressed with goblets, ring pops, candy necklaces, blue plates, red plastic table clothes and sparkling soda (to look like wine bottles).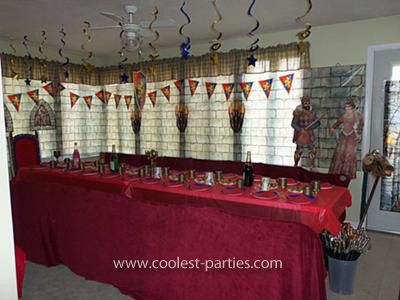 On the table there were golden bowls filled with cherries, strawberries and grapes with little sword tooth picks inserted in them for easy pick up and bugles chips (dragon claws).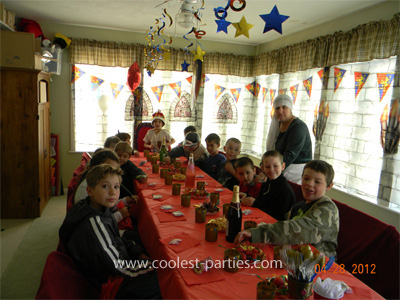 I had 17 spare chairs lying around my house (odd I know). I placed them side by side on both sides of two rectangle tables, and covered them with a cranberry colored fuzzy couch covers. It looked a lot better than just metal chairs lined up at the tables. I downloaded a bunch of medieval songs from the Internet and played theses songs throughout the party.
I made a huge cardboard castle with working windows and a door from a stove box and some silver spray paint. The kids had a blast with this.
To form a throne for the King, I took one of my wooden chairs and covered it with lots of cardboard and clear packing tape. I then covered the backing of the chair with red glittery felt I had in my craft box, added some blue and white ribbon and lots of shinny sequins with brown paint.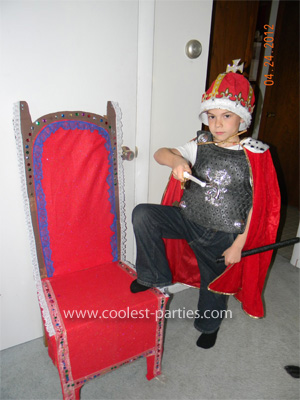 The king was very excited to see and sit on his very own throne. I used the leftover red felt as drop clothes under the cake and a small red carpet.
Knight Party Costume Ideas
The kids were asked on the invitations to come dressed up as their favorite knight, princess, queen, servant, etc. Some showed up as dragons, and others showed up as knights.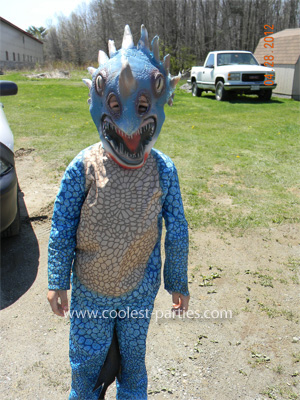 The only two girls who came did not dress up. My son, the birthday boy was dressed up in plastic knights armor (dollar store), a robe and crown (bought online) and carried a sword. My other son dressed up as a knight with helmet and gear from the dollar store. My Mom dressed up as a servant and I dressed up as the king's mother (the old Queen-lol).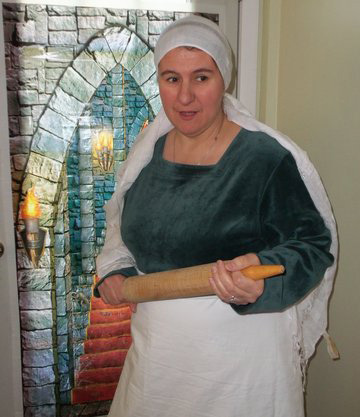 My mother found a plain green dress at the thrift store and then added a white sheet and white scarf to make it look like an apron and headwear. She looked amazing, and all the kids loved it. The queen's dress was an old dress I wore at my sisters wedding, a Halloween vampire cape, a plastic tiara and wand to top it off.
My Mom, "the servant", cut the cake and served it to the guests at the "rectangle" table and she was also in charge of meeting guests and taking their gifts to the party room. Nice touch that made my son's day.
Knight Party Favors
Each kid took home candy from the pinata, their drinking goblet, a plastic sword, and great memories. There were also small trinkets like golden coins and bugs inside the GUTZ (bravery test) game.
Knight Party Games
While waiting for all the guests to arrive, the kids had a sword fight using a few swords we had around the house and even sticks. When all the guests arrived, we began a series of tests to see how worthy these kids would be as knights.
The first test was the leadership test. They all lined up with hands on each kids shoulders in front of them – my son was the head of the dragon and another boy was the tail at the end… they had to stay connected and chase the tail (Dragon chase game).
Next we played the BRAVERY test. This test was to see if they had "GUTS" to be a knight. The dragon had eaten the coins and it was their job to be brave and retrieve them. In this test, the kids had to reach inside a big bowl of cooked-cooled-ooey-gooey spaghetti (covered in veggie oil to make it slimy) to find two golden coins hidden inside the "dragon's guts". Inside the spaghetti there were little bug toys, hot wheels, snakes toys, grapes, and two gold plastic coins. Each guest got five seconds to reach in and grab something the two kids that found the gold coin won a special prize, a wooden building kit. I had towels and hand cleaner ready for each guest to clean the guts/goo off! This was very helpful as the spaghetti was very gooey.
The next game was the horsemanship and target test. Prior to the party, I took scrap wood and screwed two Frisbees – one on each end of the board (yellow and red). This was the jousting target area. It was attached to a tree at kid height. This game was fun to watch. I split the kids into two teams – the red and the yellow teams.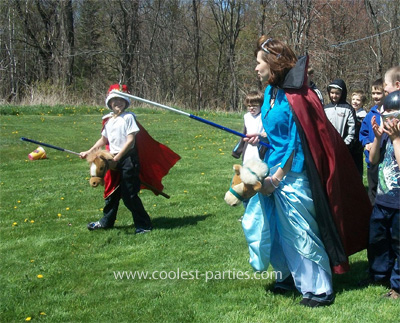 They lined up in front of the target but far from it, and the first team to get all their members to gallop the stick pony joust and hit the target won. I had acquired two stick ponies and used plastic poles (lightweight) as the jousting poles.
Our last game was the Intelligence test, because all knights in our castle have to be smart to outwit the dragon. The king (my son) made the announcement that he lost his treasure. He read the first clue of ten clues, which led the kids to a giant rock in our lawn. Then on the rock it had the next clue and so on until finally one clue led the kids to the "treasure box", a cooler covered in tin foil and a gold candy mold. The treasure box was empty but inside was a tin foil envelop with a note saying that the dragon stole and ate the treasure yet again and they must run to the dragon (pinata bought online) as quick as they can and slay it to get back the treasure.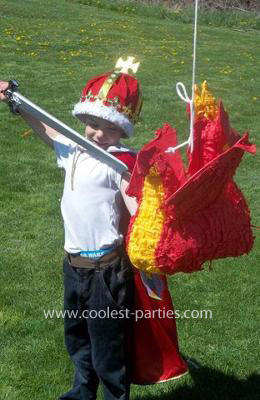 This led all the kids to a dragon pinata hanging from my clothesline pole. Every kid got a chance to slay the dragon as they hit the pinata with a heavy-duty plastic sword. I must say the pinata ordered was really tough and it took a long time to get it opened. Inside was lots and lots of candy ring pops, necklaces, knights toys, plastic sword tooth picks, tattoos, stickers, animals toys, etc.
After all that, the king (my son) called everyone to the porch stairs where he told them they all were becoming knights for passing all the tests. He lined the kids up, and then "dubbed" each guest sir Logan, Sir Hunter, Princess Kaylee, etc. by tapping them on each shoulder with his plastic sword while they were kneeling down in front of him. After dubbing each guest, the king presented each Knight/Princess with a plastic sword, which they could take home. Since they all passed the knights' test, the king then invited the kids to join him inside for a royal feast (cake, ice cream, strawberries, cherries, bugles, grapes and "wine"). I had music playing all through the games.
Knight Party Castle Cake
I made a yellow 3D castle cake using plastic knight and horse toys we already had. The cake was four layers using two different size square pans. I used the Wilton castle kit, which was very helpful in creating the towers. Mini marshmallows were sprayed with black food coloring and inserted to the top of cake edges with toothpicks. I used blue piping gel for the moat and a Kit Kat bar for the drawbridge. Gray frosting was a little harder to make than expected but just for reference… green and red make a nice grey. Just a heads up when I mixed black and white frosting it looked more greenish. All butter cream frosting!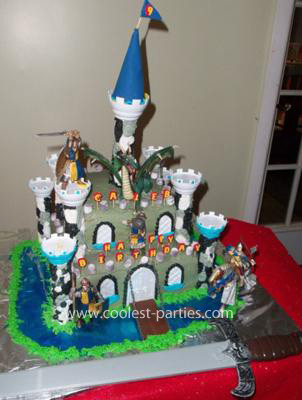 We held a contest for the best costume with the prize being another building kit (I'm a scout leader LOL and had a few unopened kits lying around).
At the end of the party, there were several kids saying "this was the best party I have ever been to" and a few wanted me to make them a cake just like my sons.