Robot party ideas and photos by: Emily from Durham, NC
I had a hard time finding ready made Robot birthday party items, so I ended up making everything. I got the robot design from a woman online who made robot mix and match cupcakes. They were adorable and the robot was an easy design to carry over because of the straight lines.
I made the invitations by dividing an 8 1/2 by 11 sheet into thirds. The headline read: CHARGE YOUR BATTERY, GET IN GEAR, ITS TIME TO CELEBRATE John's 4TH YEAR. I printed out the party details on each section and drew the robot on each section as well. I got it copied onto yellow (my son's favorite color) cardstock. The invitations were less than $1.50.
For the party I made a "pin the battery on the robot" game.
I also made the cake. I decorated a cake mix, filled layers with buttercream and then covered the cake in yellow fondant. It was time consuming but pretty easy.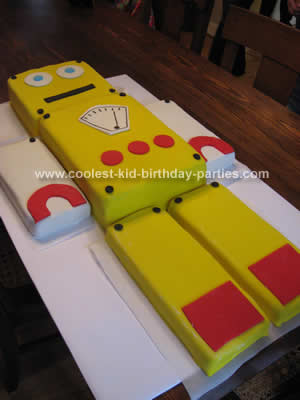 Lastly in lieu of candy or toys I ordered about 20 small t-shirts online from a shirt supplier. They were $2.30 per t-shirt. I ordered pink for the girls and yellow for the boys. I bought a fabric pen and drew the robot design on each shirt. It took less than 5 minutes per shirt.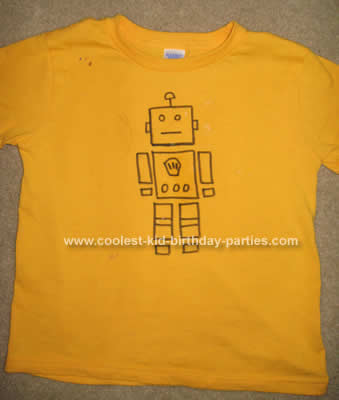 My son wore his during the party and got so many compliments (it was nice that it matched the cake too). But it made me feel good to send the kids' home with something from the robot party that the parents thought was so cute. The shirt project cost approximately $60.00.