Superman party ideas and photos by: Rigel from Tulsa, OK
For my son's 4th birthday he wanted a Superman theme party and conveniently enough was also going to be Superman for Halloween. I took pictures of him in his costume then uploaded them onto the computer.
I cut him out in PhotoDraw and created different backgrounds. The invitation was a comic book page layout. There were developed as a 4×6 photo which made them cheaper than store bought invites ($4.25 for 25 invitations).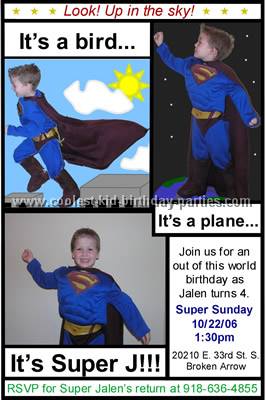 For the cake at the Superman party I grew green rock candy (it was too expensive to buy and fairly easy to make if you have the time). You can find a recipe online and add whatever flavoring and color you want. I also poured hard candy into pouches made out of aluminum foil to make the dark green Kryptonite shards on the outside of the cake.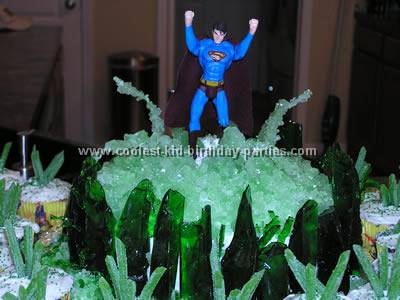 I frosted the cake, laid the rock candy strings out around the Superman toy in the center then sprinkled the rest with rock candy crystals. For cupcakes I cut up sour punch straws and stuck them in for Kryptonite as well.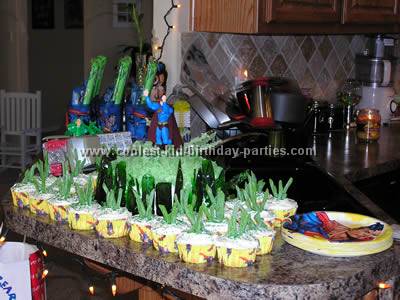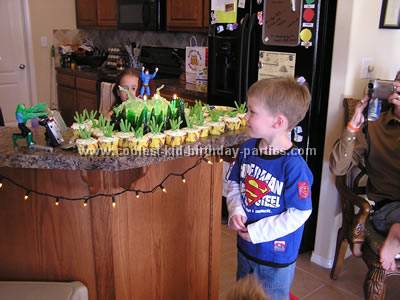 Snacks consisted of chips, dips, veggies, a green jelly belly assortment, green licorice, green jello and even green candy corns.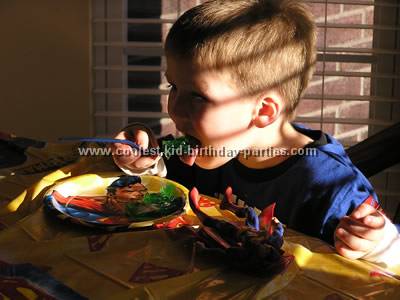 For games we used Superman theme music and played keep away from the Kryptonite. There was also a pin the "S" on Superman game. The kids got to try and fly like Superman while bouncing around in a Jupiter jump (found a neighbor that rents them out for pretty cheap).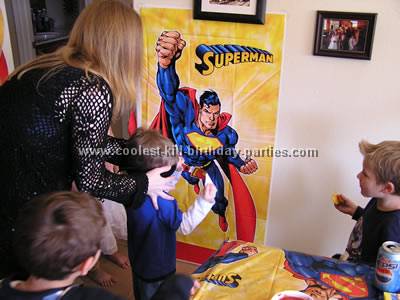 For goodie bags we used plastic superman cups filled with Superman fruit snacks and green sour punch straws. That way the kids could take home a souvenir from the Superman party that they would actually keep and use. The kids had a great time and were completely exhausted by the time it was over!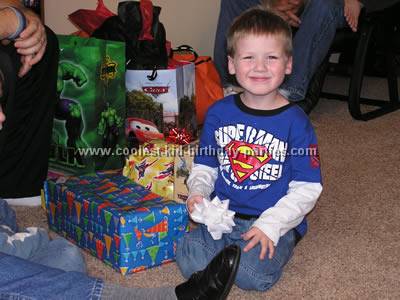 The birthday ideas and photos in this section have been graciously submitted by readers like yourself. If you've got some cool party ideas and photos to share, we'd love for you to send them over. You'll be taking part in creating the Web's ultimate kids birthday party ideas resource that's ALWAYS FREE for everyone to enjoy! Thanks!