Willy Wonka party ideas and photos by: Laura from Spring Lake, MI
When my 3-year old decided that he wanted a Willy Wonka party I thought I was getting away easy! Then I realized that Willy Wonka was a popular movie but not a popular birthday theme! The one thing I knew from the beginning was that there needed to be lots and lots of candy! Candy became the main theme of our party.
For decorations I created a sucker tree as the centerpiece of the table.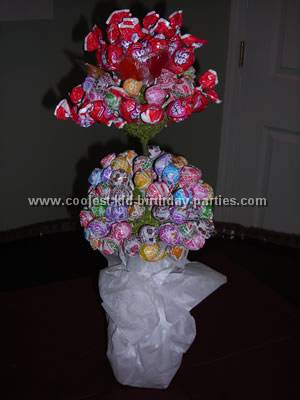 I purchased 'topiary'-sort-of foam tree from our local craft store and inserted dum-dum suckers and blow-pops around the entire top and bottom foam balls. I then placed it in a pot and wrapped white tissue paper around the bottom to hide the pot and finish it off.
For wall decorations I used large cardboard circles and covered them in colored shrink-wrap and added a thin dowel to create large lollipops. I also used cardboard circles painted in a red swirl and covered in clear shrink-wrap to create large candies. Primary colored helium balloons in bouquets sporadically throughout the house finished off the decorations.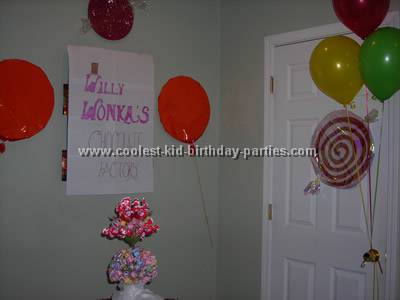 I was lucky enough to find plain brown plates, napkins, cups, silverware, table coverings and table skirts to use as party ware. The main attraction of the party was a candy store that I created by using different tiers of cardboard boxes taped together and covered with wrapping paper. I then created a sign that said Wonka's Candystore. I purchased glass candy jars from IKEA and filled them with lots and lots of different kinds of candy. A local candy store supplied me with small white candy bags which I labeled with a Wonka clipart and "Thank you for coming to my party" Guests could then fill their own "gift party bags" with the candy of their choice. The candy store also doubled as our party gift.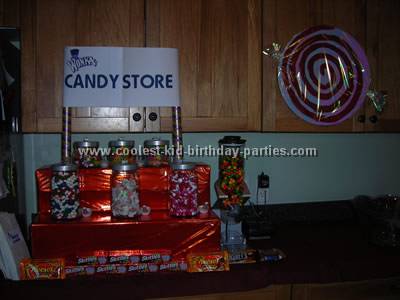 The food was fun since Willy Wonka's factory is full of surprises. We decided to carry that theme over into our dinner. I created a two layer meatloaf "cake" frosted with mashed potatoes for our main dish. Since we had many guests I also prepared mini meatloaves in cupcake pans and also frosted them with mashed potatoes. Rolls a veggie tray with purple cauliflower and a fruit tray rounded out the meal. For the fruit slices I hallowed out limes, oranges and lemons and filled the peels with the respective jello colors. When the jello was set I cut them into slices.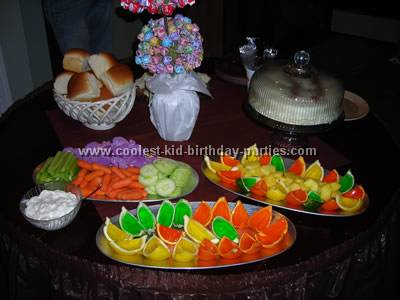 For drinks I froze different colors of Kool-aid in ice-cube trays and set them out with directions to make "Fizzy Lifting Drinks" For the punch I mixed equal parts of Sprite, Pineapple Juice and Pineapple Sherbet. Guests then placed the colored ice-cubes into their drinks.
For the cake I created a "chocolate mountain" using a 12″ chocolate cake for the bottom 2-9″ chocolate cakes for the middle and 2-6″ chocolate cakes for the top. I frosted the entire cake with chocolate frosting and added Hostess Cupcakes, Little Debbies, Chocolate Donuts and Hershey Cocoa Reserve squares.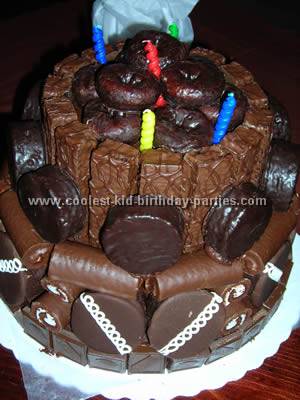 Overall it was a very fun birthday theme and my son couldn't have been happier. Guests are still talking about it!