Army theme party ideas and photos by: Christine from Palm City, FL
A lot of my inspiration for this army party came from this website! What a great source of information!
The fun started when the recruits arrived.
They were issued dog tags and field glasses.
A good game of tug-of-war with a muddy puddle in the middle for the losing team was a great way to start off the army theme party.
Then an obstacle race through an obstacle course: Running through the tires like football players up and over a wall crawling on their stomachs to "avoid enemy fire" and finally up a rope ladder to grab a flag.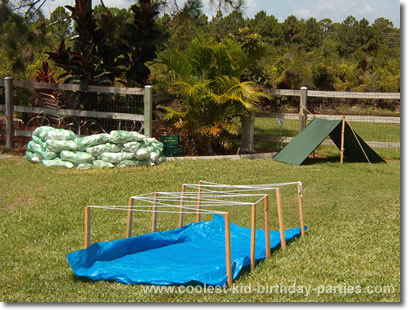 For army party "props" I set up pup tents all around the yard made out of some rope bamboo poles (from across the street) and some fabric I bought on sale. The one thing I must say everyone loved the most was the tank I made out of some cardboard boxes!
I'll tell you finding the right-sized boxes was a bit difficult but I was DETERMINED to have something like the tank I saw on the website and just as determined not to pay $$$ for it! Some masking tape a box cutter and a couple of cans of spray paint later.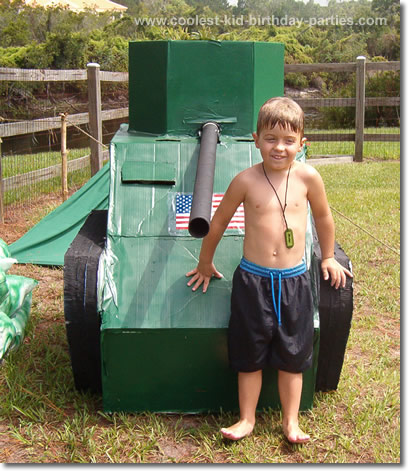 You all know how much kids LOVE boxes. They loved getting in it (had a door in the back) and had a trap door in which to pop up their heads to see out the gun. Each child got a picture of themselves in front of it as they were leaving as a thank you in addition to their loot bags full of soldier-related items like paratroopers, compasses, army planes, etc.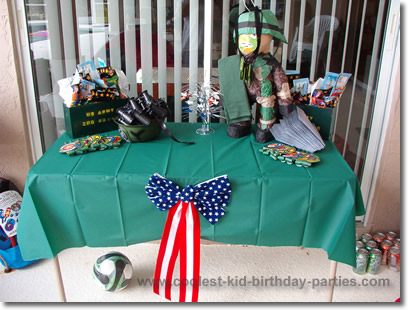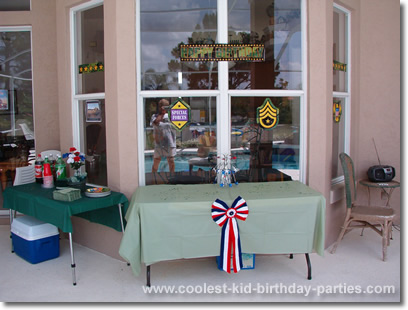 The finale of the army party: I sprayed old boxes green for ammo boxes and stenciled "US Army 200 rounds" on the fronts. I used them for "props" but also inside of a lot of these boxes were water balloon hand grenades! We divided the kids up in two teams one on each side of the yard putting them in bunkers I made from sandbags. Each team planned their attacks. We even set off some smoke bombs during the battle to make it a more realistic battle field!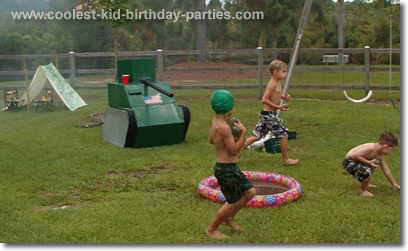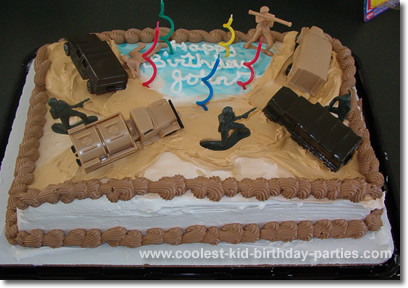 All in all a GREAT time was had by all at our army theme party and I couldn't have done it without this site! This year it's going to be an overnight camping pirate party…Arrrr I hope you have another contest because this one is going to be GOOD!