Sit back, scroll down every few moments and you'll be amazed how this child theme party magically materializes before your eyes…
Abracadabra,
Open Sesame,
Check out these awesome Magic Party Supplies:
Magic Invitations
On the invitation you can write something like: "You have been invited to APPEAR at birthday… you're sure to have a MAGICALLY good time!! You can also add sparkle glitter into the envelope to add to the effect.
A cool child theme party idea for an invitation is to write all the party details with a white crayon on white cardstock to make the invitations appear blank. Include a color crayon with each invitation, and tell the kids to color over the paper to magically reveal the party details!
Another similar child theme party invitation idea is to buy invisible felt-tip pen sets and write the party details on white sheets of paper with the invisible ink. With each invitation, enclose the pen that makes the invisible writing appear (tell the kids to color over the invitations to read the surprise information).
And yet another magical idea for 'magical' invitations: Take a balloon and blow it up. With a black marker write all the information down and then deflate the balloon (The kids receiving the balloon will have to blow it up first to see the information). You can then put the balloon in an envelope and possibly write on the envelope or on a tiny piece of paper ("air needed" or "blow up for info")….
In each invitation you can put a magic trick for each kid to rehearse so that they can perform it at the child theme party.
Magic Decorations
Decorate the child theme party area with balloons and streamers in black, white and silver.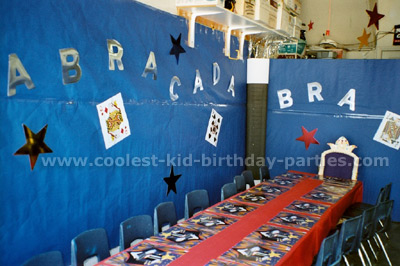 If you are planning on having a separate area for magic tricks (either by a magician or by the kids themselves), then create stage curtains by running a thin rope from one side of the room to the other, and hanging drapes from the rope (this creates a sense of excitement as the magician is preparing behind the curtains). On the floor of the child theme party area you can put a huge carpet or many small ones and call them "magic" carpets.
Cut out from construction paper classic symbols of magic, such as wands, hats, and rabbits, and decorate the walls. You can also take decks of cards and put them all around the child theme party area – possibly taping them to furniture, hanging from the walls, scattered on the floor, etc.
Black, white or red table covers will fit for this child theme party. For a table centerpiece you can put a black magician's hat with a stuffed rabbit and scatter playing cards all over to decorate the tables. Because these top hats are so inexpensive, you can find lots more uses for them. For instance, you can serve dry snacks inside of them, hand them out as favors with goodies inside. You can also hand out a top hat to each guest that arrives.
Costumes
For the guests, along with the black top hats mentioned above, you can hand out a home-made cape that's made out of cotton fabric and get this inexpensive pack of magic wands
Take a look at all the coolest homemade Magic-themed costumes.
Magic Icebreaker Activities
As the kids arrive, invite them into your magical child theme party area.
Wand Making
Purchase wood dowels and have the kids paint them using black and white paint (have them leave about 2 inches from one end to paint white). They can add gold or silver glitter glue to the end of the wand after the white end has dried.
Magic Tricks
Instead of putting magic tricks in the invitations for the kids to learn and rehearse at home, you can also have them learn and rehearse them while waiting for everyone to come. Later you can have a show and all the kids can perform their magic tricks.
Homemade Magic Cakes
Take a look at all the coolest homemade Magic-themed birthday cakes.
You can make magic rabbit ice cream balls. First, make a large ice cream ball for each of your guests. Roll each ball in coconut flakes and set it on a flattened cupcake wrapper. Use black jelly beans for the rabbit's eyes, a red jelly bean for its nose, and for the ears use halved sugar cookies. Then store them in the freezer until you're ready to serve. These treats are sure to disappear fast!
For magic cupcakes, use Pop Rocks!! Simply make your favorite cupcake recipe and after your cupcakes have baked and cooled, frost and then sprinkle with Pop Rocks. When eaten, the candies will crackle and pop in everyone's mouth!
Magic Party Food and Drink
Ideas for Magical Child Theme Party Food:
Here are some magical child theme party food ideas. (Remember to write little signs explaining what some of the foods "really" are so that the guests understand that this is magical cuisine that'll disappear if they don't eat it fast…)
Rabbit-shaped sandwiches – Use a rabbit cookie-cutter.
Levitating balls – Falafel or meat balls
CLUB sandwiches
Heart, Spade, Club and Diamond-shaped hamburgers
Magic Wands – Chicken fingers, fish sticks or hotdogs.
Ideas for Magical Child Theme Party Drinks:
Magic Potion – What you will need is one pack of (0.13 oz) of unsweetened drink mix (you can chose any flavor and try bright colors). Mix each pack of drink mix with one and a half cups of water and pour into an ice cube tray to freeze solid. When serving, pour chilled lemon-lime flavored carbonated soda into clear glasses and put 1-2 flavored ice cubes in each glass. The ice cubes then dissolve and the drink will magically change color and flavor before the kids' eyes.
Spellbound Magic Drink – Your guests will be spellbound when they witness your ability to turn an ordinary beverage into an enchanted drink that crackles! Just add pop rocks to the beverages and… Viola…
Ideas for Magical Child Theme Party Treats:
Magic Playing Cards – You'll need graham crackers, vanilla frosting, chocolate frosting and red frosting. Frost the graham crackers with vanilla frosting. Use the red frosting to create diamond and heart shapes. Use the chocolate frosting to create club and spade shapes.
Magic Wands – Take pretzel rods and dip them into chocolate frosting (it's best if you microwave your frosting until it melts). After dipping, roll pretzel rod in sprinkles and put them all on a cookie sheet and refrigerate for 30 min. Then, take vanilla frosting and dip into it the end of each pretzel. Let the wands stand until the frosting sets.
Fortune Cookies, Bazooka Joes and Cracker Jacks to reveal fortunes and surprises inside….
Bunny-shaped chocolates
Magic Beans – Take all kinds of different jelly beans and call them MAGIC beans.
Tip: you can serve dry snacks in upside-down black magician hats.
Magic Party Favors
If you're putting together your own favors, you can use a magician hat as the favor bag and put inside magic tricks, decks of cards, magic wands, white magician gloves and lots of other magical trinkets.
Magic Games and Activities
Here's a whole page with the coolest Magic party games, such as:
Magic Bean Taste
Sneaky Magician
Hat Trick
Disappearing Kids
and many more (including visitor-submitted game ideas)…
You should also read these VERY important tips to help you survive (and enjoy) game time!
Your Magic Parties and Ideas
Some of our visitors have gone the extra mile and written up their complete Magic party story with photos and everything they did. We call these stories "Party Tales" and they serve as a great inspiration! Take a peek at other people's Magic theme Party Tales and you're sure to find lots more outstanding Magic party ideas:
Share your kid birthday party ideas here…
---
Kid Birthday Parties › Kid Birthday Party Ideas › Magic Child Theme Party