For my oldest's 3rd birthday he chose a 'dinosaur' theme. What a fun theme to put together! I'm big on the little details so there was a lot of work that went into his party.
For the invitations I chose a T Rex image since that is his favorite dino. I used clip art images & my paint program on my computer & made a simple invite in the colors of his party (blue, orange, green & red).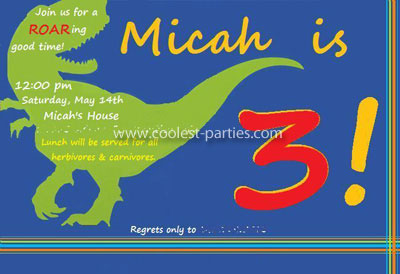 I wrote "Micah is 3! Join us for a ROARing good time!" with all the important info. I also put "lunch will be served for all herbivores and carnivores". Micah loved them and they were so easy to make up! I used snapfish when they had a print sale and printed all the invites up as a photo and they turned out great!
For his birthday outfit I just searched for a shirt with a T Rex on it. Luckily, we live on a military base and at our Exchange we found a Carter's outfit that was perfect!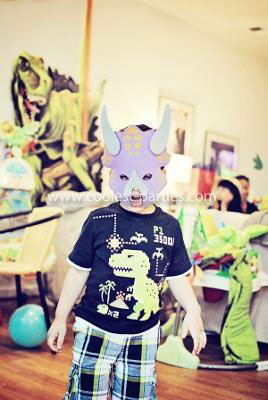 Blue shirt with a T Rex on it in green & orange! Even had cute little plaid shorts to match! For his baby sister, I made a green, orange & blue tutu and matching hairbow.
For the party decor I wanted to really go all out. I found a 4ft tall T Rex cardboard stand up cut out at Oriental Trading. I figured with a bunch of 3 year olds it would get ruined, so I opted to nail it to my wall. I used construction paper in our party colors and had Micah help me draw a T Rex footprint template and then cut out TONS of footprints.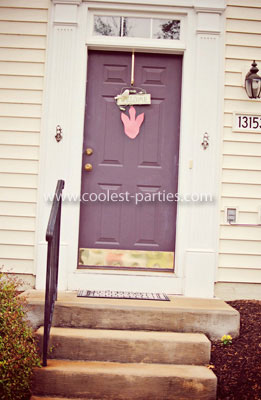 I taped one to our front door to greet the guests, & then I put the rest leading from the floor in front of the door, up the wall and across our living room (the party space) leading to the T Rex as if he had walked in our door and climbed across our wall.
It was great because it was a LARGE display so it really helped add to the effect at the party. I found a set of 6 blow up dinosaurs at Oriental as well & blew those up and placed them around the house.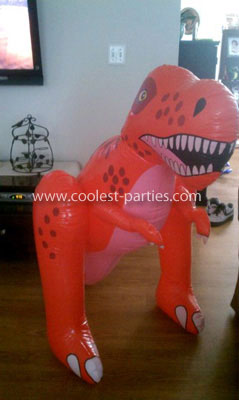 It included a pterodactyl so I used fishing line to hang him from our play room ceiling. It looked kind of cool! I also purchased a 4ft tall inflatable red T rex and placed him in the corner across from the front door for the kids to play with. He was definitely a hit!
We hung paper streamers in orange & green from the corner of each room to the center light in each room & hung streamers coming down the wall in each corner, as well. I blew up lots of balloons in blue, green, orange & red and let them float around all over. At the dollar tree I purchased several very large punching balloons that said "happy birthday". I found some in our colors so I decided to blow them up & hang them from our curtain rod above the food/cake table. They were a nice, large, cheap color statement.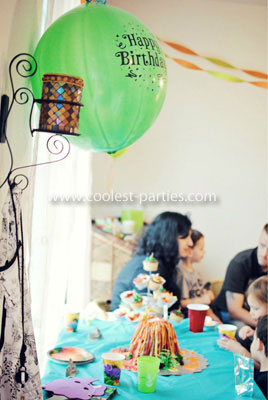 For centerpieces I found large honeycomb volcano centerpieces from OT. I got two of them for our tables. They were about two feet tall with a honeycomb volcano & then a ring of cardboard around them that cardboard dinosaurs stood on. Very cool and very cheap! There were matching ceiling swirls that we bought, as well, & hung those above our food, in the playroom and the archway between our play room & living room.
For the cake, I had to make myself. My son has an egg allergy so we have to be creative with how we make certain things… cake included. He said he wanted a volcano cake. It was my first time attempting a cake in 3D so I had to do a little research, but it worked!
I took a can of sprite & a box of cake mix (triple chocolate & vanilla-times 3) and baked the cakes in three pyrex bowls of different sizes. I then froze them in saran wrap. After they were frozen I took them out & shaved them down, layered some frosting & stacked them to look like a volcano. I frosted the whole stack in chocolate frosting. Once stacked I took an empty, cleaned green chile can & cut out a spot for it in the top layer & stuck in it. I frosted the top of the can so you could no longer see the rim. I then took decorator's frosting in glittery red, orange & yellow and drizzled lines of frosting down the sides of the cake to look like lava. I pooled a bit of it around the bottom, as well. I took new, washed plastic dinosaurs & plants from the dollar tree & placed them around the volcano like they had been trapped when it erupted. I also took a larger plastic pterodactyl & sat him right on top of the volcano. I wrote "Micah 3" on the cake board & also had a number 3 cake candle for the party. At the start of the party I added some dry ice to the green chile can & poured a bit of water in it (dry ice was from Shopper's foods). It made the coolest smoke effect for the volcano! The kids were amazed, & I'm pretty sure the adults were impressed, too!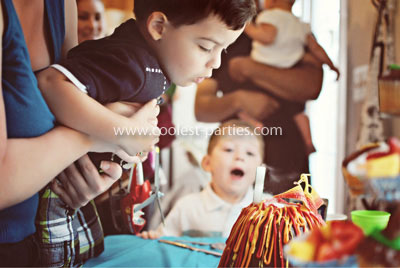 Here's the complete writeup for my cake…
To go with the cake I also made a few vanilla cupcakes with chocolate frosting. I wrote "3" on some in yellow frosting & then added green frosting grass and a plastic dinosaur on others.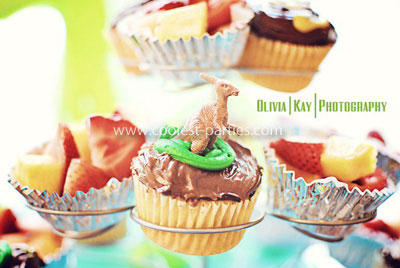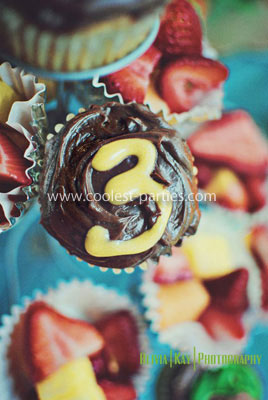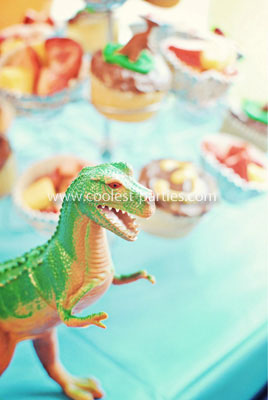 They sat in a cupcake tree alongside foil cupcake liners filled with cut strawberries, pineapple & canteloupe. It was a very pretty and colorful yummy display!
As for food, it was left up to the three year old. He said, "I want pizza and fruit! And popcorn!". Soooo, pizza it was! I ordered a ton of pizzas in lots of choices. Spinach & mushroom, bacon & pineapple (YUM!), pepperoni, plain, cheesesteak, sausage…. something for everyone! I made a white chocolate chex mix with cashews, rice chex, cheerios, m&m's, kettle corn and white chocolate. It was delicious! A party guest called it "candy crack" because it was rather addictive. For the 'herbivores' I also had the cupcake liners with cut fruit as I mentioned above (great because it's single serve size & can be on display in a cupcake tree so it adds color to the party table). I made bbq & buffalo wings, as well, for those carnivore Daddies that were at the party, too! We had lemonade, peach tea, juice boxes, coca-cola, sprite and waters for drinks for all those thirsty little Dinosaurs. And, of course, for the 'sweetivores' we had ice cream to go with the yummy chocolate & vanilla cake!
I played "Land Before Time" quietly in the background for the little ones who needed a bit of a break (sometimes parties are just too exhausting for the little tykes!). For our game we played "Pin the skull on the dinosaur skeleton".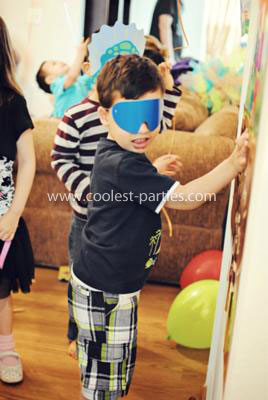 It was fun & easy for the kids, especially since there was a larger age range. Winner received a dino skeleton toy & lollipop.
For favors I really tried to stick with the theme. I got paper bags in green and used tissue paper in orange, green & blue. I wrote each child's name as a dino name (Micahraptor, Kirahdactyl, Johnnysaurus Rex, etc) on each of their bags.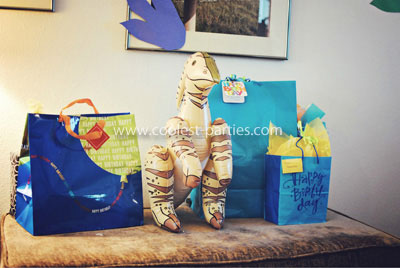 In the bags I put a dino egg that you soak in water overnight & it hatches into a dinosaur (it really cracks like a real egg!) that I found at Michael's in their party favor section for a $1. I put a dinosaur Silly Band, dinosaur stickers, dinosaur tattoo, a glow bracelet, a dinosaur coloring/activity pad and a chocolate dinosaur lollipop that I made myself in the colors of the party.
The lollipops were SUPER easy! I bought a mold for $2 at A.C. Moore (like Michael's), candy melts in blue, orange and white, lollipop sticks, lollipop bags and ribbon in blue, green and orange. You literally just melt the candy melts, pour into the molds with a stick in them, wait for it to set and then package it up. They were delicious and adorable. Each child also got a dinosaur mask (Oriental Trading)at the start of the party.
I strung them on a ribbon and tied it onto my stair banister with a loop over the end pole for easy removal. Each child got to choose which dino they wanted to be. SO cute to see them all in their masks through out the party!
All in all, it was a good time! There were approx. 30 people there. We talked, ate, played the game…. the kids were younger so it's hard to really do too many activities with them when there was so much going on so they played with blocks and cars and other toys together.