Dinosaur birthday ideas and photos by: Bethany from Ludington, MI
Here are our ideas for a Dinosaur birthday party for a 5-year-old.
Invitations: I found a t-rex skeleton clipart online and put it at the top of my invite. I just made them up in Word and printed on green paper. The invite read: JACKSON IS TURNING FIVE! Please join us for a dino-mite celebration in his honor! Where: Jackson's cave (address) When: Saturday January 12th from 1 – 3 Snacks will be served and games will be played! Don't be extinct! Please R.S.V.P to Jackson's Mamasaurus @ (phone #)
Décor for the Dinosaur birthday: Table Cloths, cutlery streamers – Dollar Store. Balloons – Various coordinating colors were tied to the chairs with a special mylar tied to the birthday boy's chair. I twisted green crepe paper together, scrunched it in my hands and ripped it a bit to make "vines". Houseplants with little stones and mini plastic dinos were centerpieces. We also had a Happy Birthday banner flag banners, plates, cups, Mylar and pin the horn on the triceratops game and pinata (doubles as décor and game!)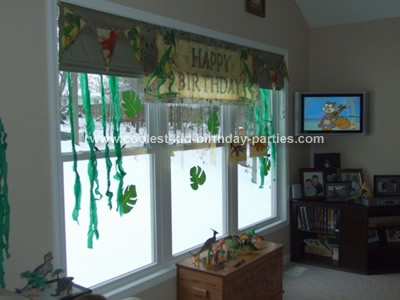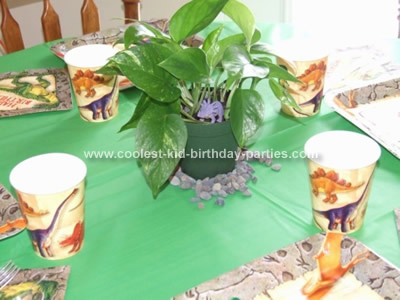 I added tropical leaves, rocks, palm trees inflatable t-rex and used anything "dinosaur" that my sons owned and also put out photos of the birthday boy. Party Favors: Each child took home a dino grabber, several mini dinos, pinata candy, dino mask and a favor bag (from local party store) with the following: Dino mug, 2 dino tattoos, Rock-like Bouncy ball, Lava Rock Bubble Gum, 2 dino stamps, 2 mini dinos (bought locally) and a Dinosaur-shaped crayon.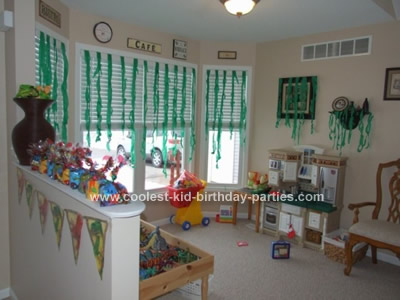 Food for the dinosaur birthday: (Everything was labeled accordingly; I explained to the kids what each thing was and they got a kick out of it!) Sandwichsaurs (PB&J's cut with dinosaur cookie cutters purchased at dinosaurcorporation.com), Boulders (Tator Tots), Dinosaur-shaped chicken nuggets, Brontosaurus eggs (Big Marshmallows), Dinosaur Bones (Different pretzels mixed together), Triceratops Horns (Bugles), Pterodactyl nests (Red cabbage leaf w/ green and purple seedless grapes on it), Jellosauruses (lime jello cut w/ the cookie cutters), Dinosaur cookies (sold at Meijer), Lava juice (orange Hawaiian punch).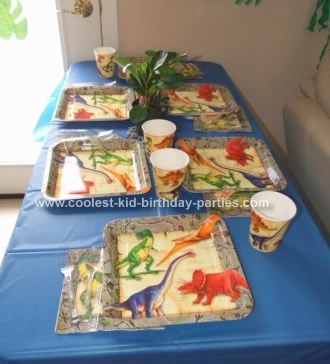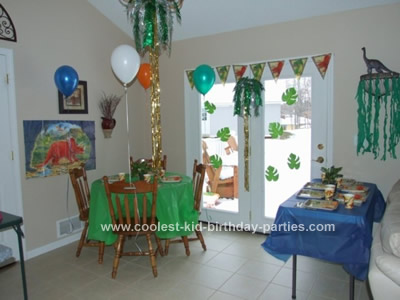 Brontosaurus-shaped cake (homemade). Store-bought cake I ordered and decorated myself with the little dinos Games/Activities.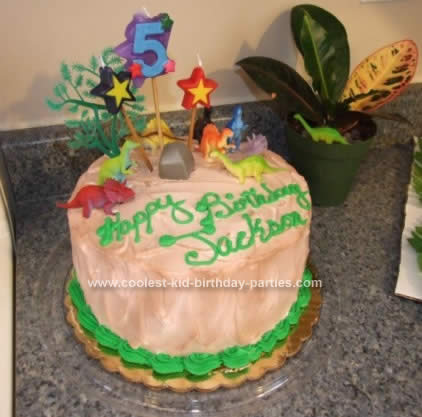 Prehistoric Tattoo Parlor I purchased a bunch of dino tattoos from oriental trading and taped them to a sheet of foam core that I'd written "Prehistoric Tattoo Parlor" on.
Each guest that came to the dinosaur birthday party got to put on a dino tat upon arrival. Pin the horn on the triceratops which also doubles as a poster. I would recommend having a different mask on hand as the one that came with the game fell apart. Prize = dinosaur fruit snacks (just for participating), Hatch the Dinosaur Eggs (I put mini dinosaurs in helium-quality balloons and let each guest "hatch" two eggs by stomping or sitting on them). They kept the dinos as a prize. Pinata – I would recommend putting a small tear or something in it first because I swear this thing was indestructible! The prize was the candy of course.
Our dinosaur party was only two hours…it should have been three as we were running a bit behind toward the end. I did plan to play "Pass the Dino" (Hot potato) with a stuffed dinosaur but there wasn't enough time.