Cowboy party ideas and photos by: Sandra from Peoria, IL
When our son Karl turned 4 the only choice for a party was a cowboy party. My mom made him a vest out of cow print fabric. To complete his outfit we went to Wall-mart and got a cowboy hat, holster and guns and a cowboy print bandana. We went to a local farm park and took photos of him in his cowboy outfit. I used these for the invitations.
I added the party information in western fonts found at fontfreak.com. They turned out to be great keepsakes even after the party!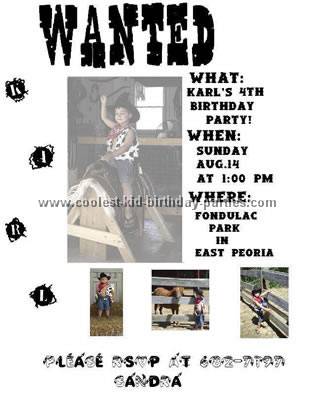 For decorations I made wanted posters of Karl. I use more of the photos taken earlier and the western fonts and some clip art to make them on MS Paint. Everyone loved them! I also used the photos to make stickers for Karl to hand out to the adults at the party.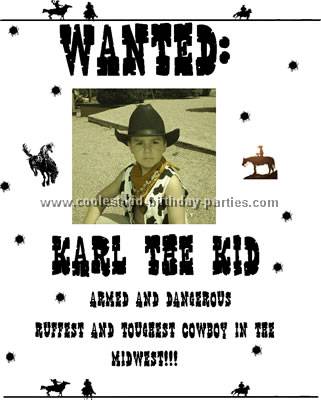 We played country music in the background (mostly about cowboys!). To start the cowboy birthday party I printed some coloring pages with the western theme and set out crayons.
After they were done coloring it was time for cake! For the cake I used a cowboy and Indian set from Wal-mart and let Karl set them up on top of 2 frosted sheet cakes.
The kids played pin the badge on the sheriff. We hung up a cowboy decoration and let the kids take turns pining a homemade star onto it. The one that was closest won a sheriff badge and a cowboy hat.
Next was a piñata. We made our own using a cowboy hat as a mold for paper mache. After it dried we spray painted it black. We filled it with candy, plastic badges and small squirt guns.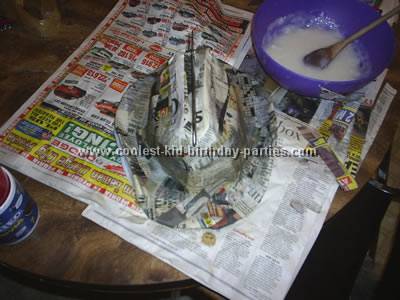 For goodie bags I printed a Dollar sign on brown paper bags. We filled them with candies, a craft to make at home and a cowboy and Indian set.
This party was one of our favorite parties. Not only did the kids have a great time but it was easy to plan and very affordable!