Fear Factor Party ideas and photos by: Sandra from Peoria, IL
My boys wanted a Fear Factor party for their birthday last year. I made the invites on our computer. The basic yellow and black from the Fear Factor logo, some clip art and all the important party info.
The first game we played was the dog bone race. I took small dog food bowls and placed them at the finishing line. I took a large bowl filled with different sized dog treats at the starting line. Each of the kids started with one treat in their mouth. At the start they would crawl as quickly as they could to their bowl, drop the treat and crawl back to get another. At the end of two minutes the one with the most treats in their dish wins!
The next game was the Eating Challenge. I placed a paper plate in front of each of the kids. Then I went to each one to put on their food. The first on the plate was anchovies in tomato sauce. They looked gross and smelt even worse. The second was Sardines in oil. Then came the dog food (I empted a can of dog food and washed out the can at home. Then filled it with canned hash mixed with potted meat. Placed the lid back on and acted like I opened it at the party). The smell and texture was very convincing.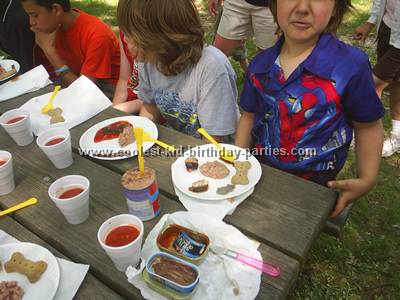 A homemade sushi roll was next followed by a gummy rat, a homemade dog bone (I made thick peanut butter cookies in the shape of dog biscuits). To wash it all down with we served "pigs blood" (which is tomato juice with bacon bits added). We gave them 5 minutes to see how much they could eat. Much to our surprise just about everyone tried everything. They may not have finished it but they did at least taste it (some found out that it wasn't really as bad as they thought either). We even had a few parents get in on the fun!!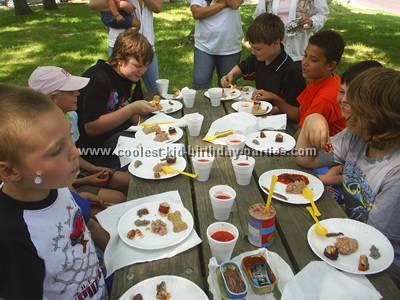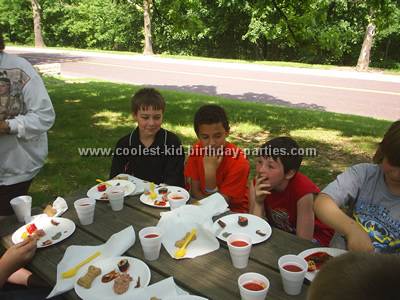 Then it was off to cut the cake. I baked a chocolate cake and put it in a kitty litter pan. I frosted the cake with white frosting and covered it with crushed vanilla wafer cookies to look like kitty litter.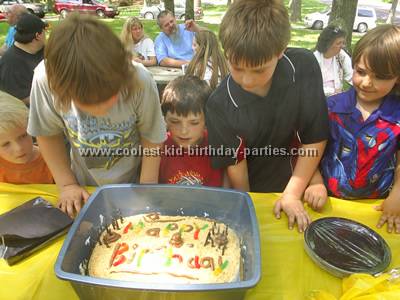 We used gummy worms and tootsie rolls to write out happy birthday. We molded mounds of kitty poop using hot tootsie rolls. This is very easy to do. Unwrap a tootsie roll and microwave it for 5 seconds (depending on how hard it is). Then roll it and stretch it till it makes the form you want. We used black candles to fit into the theme.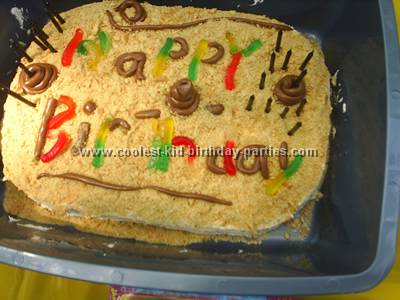 The kids loved it! For favor bags gave out cookies shaped like dog bones, chocolate shaped like different bugs, gummy eyes and other Halloween type candy.
The kids really loved party. It was the talk of school for a long while. It was also perfect for our large age range. We have people from 1 year to 15 plus adults at our kids' parties. This seemed to have something for everyone