First birthday ideas and photos by: Elad from Israel
There are already a bunch of great 1st birthday ideas on this site.
For our latest first birthday for Noa, I came up with a few new first birthday ideas while planning the party.
1st birthday parties are a challenge, primarily because the guests are usually a mix of grownups and kids. For us, it's mostly family, so it was important for me that Noa's party not just be another one of those weekly family gatherings.
Here are a few of the ideas we had at the party (everything was prepared the night before as I'm terrible at preparing in advance.):
Instead of balloons, I created balloon pacifiers with a surprise inside. They were very easy, and I must say fun, to make. (It's one of the coolest first birthday ideas if your child is "addicted" to a pacifier.)
To make 12 pacifier-balloons, I started off with 12 large (30 ½ in. x 20 ½) sheets of fluorescent paper. I folded each in half and stapled the sides (so that it would be easier to cut later on). I then took one folded sheet, traced the pacifier shape, cut it out, and that was my template for the other sheets. After they were all cut, I glued the edges. I then poked a hole in the middle with a pencil.
From the leftover paper, I cut circles and glued two circles of contrasting colors on each cut-out pacifier (as you can see in the photo above.)
I inflated a balloon, tied it, and poked its end through the hole. I used plastic balloon cups to attach the balloon on the back side of the pacifier. Then I inflated a long balloon (those you twist into animals and shapes), twisted both ends to meet and tied them also to the plastic balloon cup. To finish it off, I used double-sided adhesive tape to fasten both sides of the long balloon to the back side of the pacifier.
Now, here was the surprise part of the pacifiers: Before I inflated each of the round balloons, I put inside a keychain holder with Noa's picture inside (printed at home). During the games part of the party, as the final game, I told the kids that they had exactly 60 seconds to pop all the pacifiers and hand out the surprises inside. This turned out to be one of the best first birthday ideas.
The kids especially enjoyed this part as all the grownups cheered them on and everyone got a little gift to take home. Instead of buying separate gifts for the kids I made the keychain holders for them also, so that they'd feel they were getting grownup gifts. And it worked like a charm. During the rest of the party they were busy playing with their keychain holders, opening them up, swapping photos (I had printed out a few extra photos.), etc.
(You could think of these as miniature pacifier pinatas… which brings me to think that a real pacifier pinata would be one of the coolest first birthday ideas if you've got more older-aged kids in the crowd.)
The grownups were quite apprehensive about playing games (as grownups usually are), but when I brought everyone together and asked each child to choose a grownup – they couldn't refuse and they ended up enjoying the games even more than the kids. There are lots of first birthday ideas for games, but I didn't plan too many because I just didn't want to push my luck with this group.
For the first game I prepared three baby bottles with 40 ml of Cola. Each child chose a grownup and then we had a contest to see which grownup finished their bottle first, being fed by the child without use of hands. The first grownup to finish the bottle AND burp – won.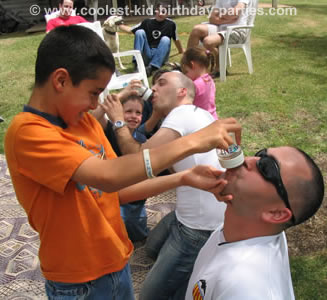 The second game was also fun and again the children chose a grownup. This time each grownup was given a pacifier and had to twist it inside their mouths 180 degrees. Sounds easy. Noa did it without a problem.
It was hilarious and even those grownups that weren't selected to play gave it a shot. Not even one of the grownups could do it!
Then we played charades with words and sentences that had something to do with Noa's first year and finally the kids popped the pacifiers. The whole games part took about 20 minutes and was just enough.
Then came the cake. I browsed through lots of first birthday ideas for cake and decided to do something that I hadn't seen before: A pacifier cake. I'm not a master of cakes, but since starting the new site – www.coolest-birthday-cakes.com, I decided that it was about time I learned.
During the week of the birthday, as practice, I made my real – first-ever – birthday cake – a ladybug cake (instructions taken from the birthday cakes site…)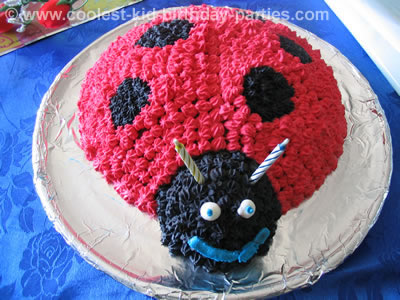 Then I tried my hand at sculpting the pacifier cake using fondant. It took me a while to figure out the pacifier shape. I drew a blueprint, froze the cakes after baking so it would be easier to sculpt, then went ahead and put the pacifier together with BBQ skewers. Working with the fondant was a bit of a challenge, but I even managed to roll it out and cover the cake with it.
Then I looked at my pacifier cake and it didn't look like a pacifier any more. I dare not say what it did look like.
I took a photo of the cake then trashed it in a moment of utter fury I'm sure many cake makers have experienced somewhere along the line. No one ever saw the cake and I didn't want to include the photo here as not to embarrass myself, but what the heck, if you don't try, you don't learn. Here's my pacifier cake. Don't laugh ;-)
With no cake and only a few hours left until the guests were to arrive, I quickly baked a #1 cake. And after we brought it out, I announced – to the utter dismay of my wife – that we now had a new birthday tradition. I placed the cake in front of Noa, stripped her down to a diaper, and let her dig in. This is one of the very best first birthday ideas!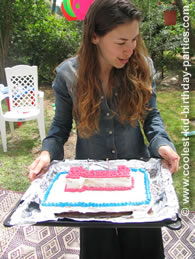 As you can see by the photos below, she had a wonderful time. And so did everyone else.