Hawaiin Luau party ideas and photos by: Sandra from Preoria, IL
My son wanted a Hawaiian Luau party for his 9th birthday. We made our Luau invitations on our computer. I found a photo of a volcano for the background and added some clip art around it.
For the luau decorations I hung paper parrots from the trees, I added leis to the tables as well as shells and small sand dollars.
We had a volcano cake that we made together. I made a strawberry sheet cake that we frosted with blue (for the water) and green (for the grass). I then stacked strawberry cup cakes to form the volcano. We frosted them with chocolate. Then poured red frosting to make the lava. We added sparklers to the volcano. This helped hold it all together plus looked really good when we lit them.
When the Hawaiian music was turned up loud, all of our party guests joined in for the luau limbo. The prize was a giant beach ball.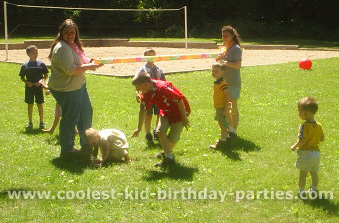 We had a shark-shaped piñata filled with candy and beach gear (sand shovels, goggles, etc.).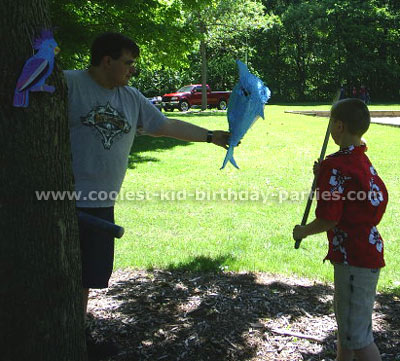 For Hawaiian luau treat bags we used plastic sand buckets filled with shovels, sand molds, shells, and lies.
For thank-you notes I found a web site that translated English to Hawaiian. I wrote his notes in Hawaiian on one side and translated it on the other.