Hawaiian party ideas and photos by: Odena from South Hamilton, MA
My daughter was turning three and I wanted to have a fun party atmosphere so I decided on a Hawaiian Party.
We sent out invitations that I made on the computer. We put a picture of a Luau girl on the front.
We had a lot of decorations. My husband took some plywood and cut out some sea shapes (octopus, fish, sharks) and we painted them in fun colors and hung them up. We also used florescent colored streamers and balloons, bought some parrots hangers, and original and fish shaped beach balls. These balls were great as Hawaiian Party decorations, as an activity in the pool and as take home gifts.
I home school my children and in planning for this party we did a couple weeks where we learned about sea animals. Each day we did projects including a fish mobile and fish jewels in hair jell in a baggie to make squishy bags. These homemade decorations made the children really enjoy the Hawaiian party because of all the work they put into it.
We also decorated the food table with some pretend lobsters. We bought some seashells to hold the food in and we had a bright hibiscus flower tablecloth and hibiscus flower plates, napkins and cups. When people arrived we gave them a lei to wear. I found some hawaiian music on a Lilo and Stitch CD and played it.
The children attending were all under five so I needed some fun easy Hawaiian Party games. I hid seashells in the sandbox and let them dig for the seashells.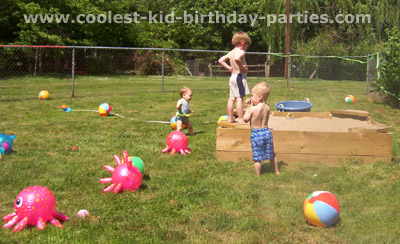 We had the kiddie pool and the balls.
The children also got to break a Hawaiian Luau fish pinata. We gave the children sand buckets to collect their candy in. The games were simple but this is perfect when there are twenty children under five.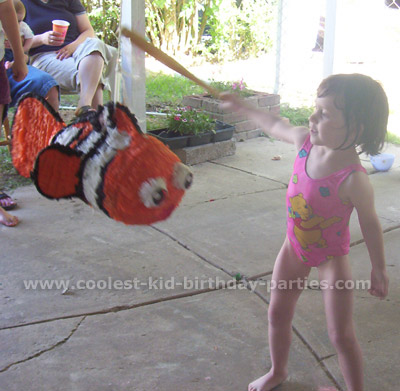 Eight 11X14 size cakes made the Hawaiian Luau Party cake. I put four on the bottom and four right on top of those to give it a good base. Then we made a round cake in a Pyrex bowl and put that on top for the island. The cake sides were first frosted white and then the blue was added to the top as water. The island was made out of brown sugar (I added some white sugar to make it the right color). Then we added Polly Pockets who were swimming and tanning. We added a drink umbrella to shade one of the Polly's.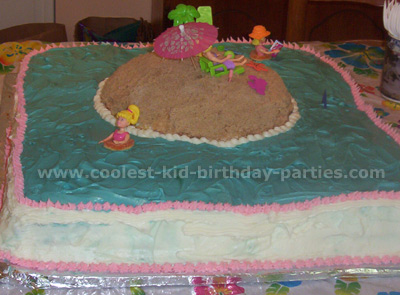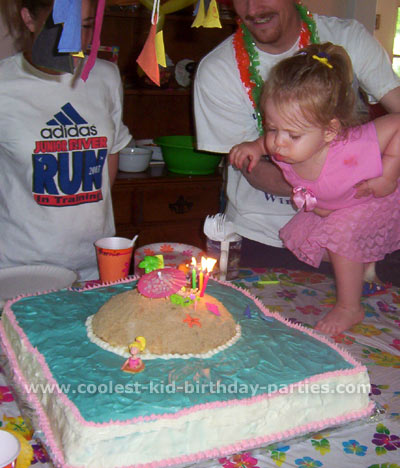 Hawaiian Luau Party food: my husband grilled Hamburgers and hotdogs. We also had fruit salad in a cutout watermelon. We had a punch drink. The children got to take home the Lei's, balls, seashells, and plastic shovel and pail. The parents appreciated the gifts because they could be used during the summer and did not contain any candy. We gave the parents Hawaiian looking back-scratchers.
The most important part was that all the children had a lot of fun and it was really relaxing for all the adults at our Hawaiian Luau.