Say "Aloha" to this great Hawaiian Luau party, always a fun-filled and colorful birthday blast!!
First off, to set your cool luau scene, check out these great Luau theme party supply packs:
Hawaiian Luau Invitations
Cut a piece of colorful tag board in the shape of a surfboard that fits exactly inside a snack-size Ziploc bag. On the front of the surfboard write something like: "ALOHA!!" Then, on the back write: You're invited to join (kid name) in his/her beautiful island tropical hideaway for a Luau Party!!" Add the Island location, time, date, RSVP, etc. You can also ask everyone to come dressed for the tropics (you can add a flower hair comb for the girls and a flower wrist bracelet for the boys to wear for the party).
In each bag place a small amount of sand, some sea-life confetti, small shells, etc. Seal them up and place them in envelopes (preferably blue).
If you want to take this idea to a higher level (and the invitations will be hand delivered), after writing, laminate the surfboard to ensure that it's waterproof. Then float it in a clear sandwich bag filled halfway with water and blue food coloring, some sand and small shells. You can then glue a fridge magnet onto the bags for the guests to put on their refrigerator.
Another option for a Luau party invitation is to take the invitation, roll it up, tie green seaweed around it (green raffia or ribbon) and put the message in a clear bottle. Add about 4 tablespoons of sand and small shells for more of the sea effect.
If you don't want to get too serious with zip-lock bags and bottles, just create surfboard-shaped Luau party invitations and write all the needed information on them.
And yet another luau party idea is to purchase tropical island postcards and use them for your Luau party invitations. You can add "airline tickets" (as if you are inviting them to fly to a tropical paradise) or a tropical brochure showing all the great attractions of Hawaii. They can be simple postcards that on the front have a picture of a beach on them (palm tree and the beach shore). Then write on the postcard as if you are really in Hawaii, something like "You won't believe what a wonderful time I'm having here in Hawaii! Inviting you to a wonderful Hawaiian Luau party at (party info)"… write destination, time of arrival and departure, and all the rest.
Hawaiian Luau Decorations
You'll want to decorate the Luau party area with all kinds of bright colorful decorations, as well as colorful balloons and streamers (colors like orange, pink, light blue, green, yellow, etc.).
It would be nice to have a white tablecloth and scatter sea shells, starfish, colorful fresh or tissue flowers, colorful candies (like runts, skittles, starbursts, etc.) or put different color tablecloths on different tables for a festive look. You can have a centerpiece of tropical fruits such as pineapple or coconut (which you can tie balloons to).
You can also take fish netting and hang up on the ceiling or use as table covers. Take out all your kids' Lilo and Stich and luau theme related toys and accessories and put them all around the house, Luau party area, yard, etc. (You can also put island and beach-related items such as sea-shells, starfish, plastic crabs, etc.).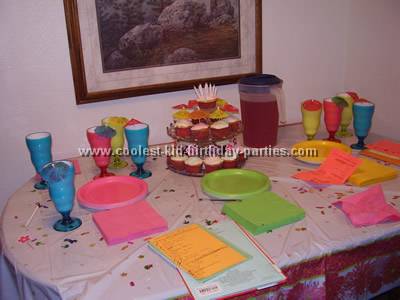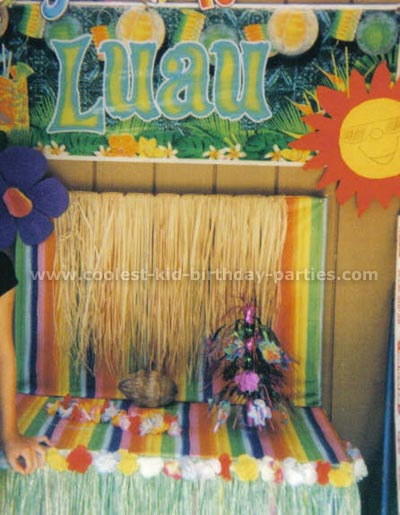 If you can't get your hands on a real surfboard, make one out of a folded ironing board covered with a blanket or just cut one out of huge furniture boxes. Place it by the door.
If you're having the luau party in your backyard, put up this cool Hawaiian Tiki Hut
and decorate the Luau party area with colored holiday lights and paper lanterns (which you can make with all kinds of colorful lunch bags half filled with sand with a candle inside. The bags glow magnificently once you light the candles).
Another great Luau party decorating idea is to hollow out half-cut oranges and use them as candle holders.
Also, you can make a sandbox and fill it with sand toys, seashells, etc. and also fill a kiddy pool with water for a splash in the "ocean."
Hawaiian Luau Costumes
A homemade Luau costume is easy to make and always lots of fun.
Take a look at all the coolest homemade Luau costumes.
As kids arrive to the Luau party, give them a flower to put on their ear; left ear means married, right ear means single (you'll probably be going for the right ear).
You should plan on giving a few flower leis to each kid for a fuller festive look.
To make your own hula skirts take brown paper bags from the local grocery store and cut them in strips almost to the edge leaving a two inch area for decorating. Then glue two together to make it look more like a grass skirt and hot glue silk flowers and leaves to the top of the skirt.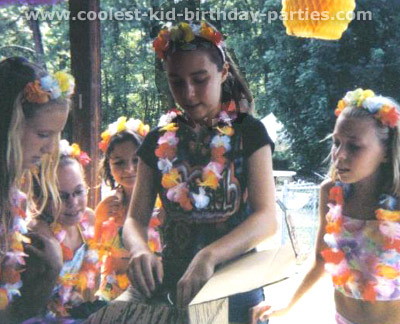 Hawaiian Luau Icebreaker Activities
Ocean in a Bottle
For this luau party activity, each kid gets a baby food jar (or any other little jar or clear water bottle for that matter). They then add small sea beads, glitter, water, baby oil and blue food coloring to create their own ocean!! (Hot-glue the tops on so the ocean doesn't spill on your floor…)
Luau Hawaiian Coloring Pages
A great ice-breaker for all parties are Luau coloring pages! You set a table with markers, crayons, or anything else the kids can paint with and let everyone color in the coloring pages until all the guests arrive.
We've created a whole page full of free and original printable Luau and Hawaiian themed coloring pages, check them out!
See All Printable Luau Coloring Pages
Pasta Jewelry
Make necklaces, bracelets and anklets on your own out of pasta. To make colorful pasta pour ¼ cup of alcohol into a bag, add about 10 drops (more or less, this depends on what shade you want) of food coloring to the alcohol and add ½ cup of pasta and seal the bag. It will take about 5 to 10 minutes until the pasta absorbs the color (every couple of minutes turn the bag to evenly coat the pasta). Then scoop the pasta out with a slotted spoon and let it dry on a paper bag for about an hour (Rigatoni pasta are good beads for necklaces).
Paper Leis
Kids can make their own paper leis! First, trim the tops of colorful cupcake liners (so that they look like scalloped-edged flowers). Then cut many colorful drinking straws into 1-inch lengths for spacers (you can make them in various sizes if you wish). Using a wide-eyed embroidery needle and twine, alternately sew through the centers of a bunch of flowers and string on straw sections. When the strand is long enough to wear, tie together the ends and have the kids wear them! This is a great activity for your Luau party.
Homemade Hawaiian Luau Cakes
Take a look at all the coolest homemade Luau birthday cakes.
To make an Hawaiian Island cake take a regular rectangle or circular cake, cover half the cake with blue frosting (white frosting tinted with food coloring), to look like the sea, and cover the other half of the cake with white frosting covered with brown sugar and graham cracker cookie crumbs for the sand of the island. Put Hawaiian dancers and palm trees.
Another great Luau party birthday cake that'll truly fit this theme and'll have the kids blowing their tops off is the volcano cake. There are many ways to create a volcano-shaped cake out of different-shaped pans, like a bundt pan. After you bake them and create the mountain shape, cut a hole in the center. Then use chocolate frosting to sculpt the volcano and place vanilla pudding (tinted red) in the hole, oozing out to look like an eruption. By crumbling Oreo cookies you can get the effect of dirt, blue frosting for water and green frosting for grass.
You can also try coconut or banana cream pie! For your desserts section… put up a sign saying "Dessert Island". Another great idea is to serve ice cream or tropical tasting sherbet in hollowed out half-cut oranges.
Hawaiian Luau Party Food and Drink
Luau Party Food
Here are some ideas for your Luau party cuisine. Put small signs on each just to make sure everyone understands what they're munching on.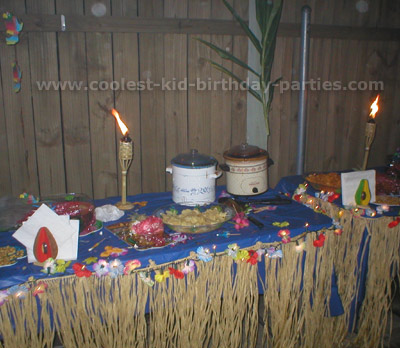 Skewer pieces of fruit, cheese, and meat with all kinds of colorful and fancy toothpicks and arrange them on a "pupu" platter (which is Hawaiian for appetizer).
Fruit Kebabs
Pineapple Chicken
Have a nice BBQ – with teriyaki chicken, ribs, etc.
Hawaiian pizza (with pepperoni and pineapple)
Sea-shell macaroni salad
Tuna salad sailboats (put tuna salad in hot-dog buns and add a tortilla chip for the sail)
Coconut Shrimp
Island Sweet Potatoes (boiled in their jackets and laced with brown sugar and butter).
Macadamia crusted chicken breast (with Hawaiian macadamia nuts)
Octo-dogs (Hotdogs that look like tiny octopuses. Cut all the hotdogs in half – but not all the way – only so that they open. Then you slice halfway up four times on each half so that you have eight dangling sections. Place in boiling water and watch them curl up like arms!!!)
Fish-shaped tuna sandwiches (Use a fish cookie cutter)
Pasta shells
Seaweed pasta (Green linguine)
Fish sticks
Jellyfish sandwiches (Peanut Butter and jelly-fish)
Tip: Fill pineapple boats (slice fresh pineapple in half and cut out the inside of the fruit), then add tuna salad or chicken salad, etc.
Luau Party Drinks: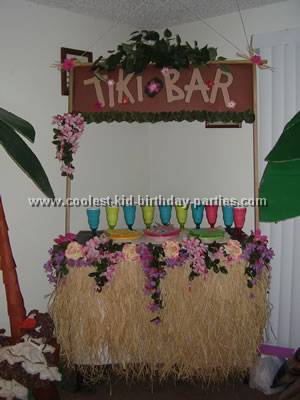 Luau fruit smoothies – blend all kinds of fruit in the blender (with water, ice, milk or yogurt), and top with whip cream, wedges of fruit, colorful straws and an umbrella.
Hawaiian Island Punch – Freeze a can of Hawaiian punch until it becomes slushy, pour into a punch bowl and add ½ a gallon of pineapple sherbet and 2 2-liter bottles of ginger-ale. Mix, and there you have an awesome tasting punch! For the island, take a bowl and fill it with water, then semi-freeze it. Before it gets solid, stick in Hawaiian and hula figures with palm trees and place in the Hawaiian punch you made when it is completely solid.
Blue Punch (Put gummy fishes or gummy sharks inside. You can also freeze the gummy fish and sharks in cubes of ice)
Pop Rock Punch (This is another variation of the Blue Punch). After you've placed a filled glass in front of each guest, add some seaweed dust (a few Pop Rocks candies) to each cup. It will then crackle, pop, and split when it comes into contact with the liquid.
Luau Party Treats:
A cut out Watermelon shell with watermelon, melon, pineapple, and more tropical fruit pieces inside (or you can choose to put fruit pieces on skewer sticks).
*Banana Boat treats – to prepare this awesome treat slit each banana open lengthwise and put ice cream, mini marshmallows and chocolate chips in the slit (add whip cream if you want). Your guests will go bananas for this treat!!
Hawaiian Macadamia nuts
Coconut chunks
A bowl of colorful candies: skittles, M&M's, starburst, runts, etc.
Goldfish crackers
Blueberry Jell-O (After making the Jell-O, refrigerate and let it partially set. Then put gummy fish and gummy sharks inside. When the Jell-O is ready, top each cup with a thin layer of 'sea foam' (cool whip) and some more gummy life preservers.)
Bowls full of gummy fish and gummy sharks
Dole Pineapple Fish (You can find them pre-cut in the can)
Shell-Shaped Chocolates
Tip: Put some of the treats in little beach pails with shovels in them, half hollowed-out coconuts or upside-down Hawaiian straw hats.
Hawaiian Luau Party Favors
You can create your own favor packs using sand pails. Stuff them with grass skirts, leis, sunglasses, sun block, fish squirts, little towels, beanie type sea animals, little watercolor sets, sea life bubble bottle necklaces, gummy fish, etc.
Hawaiian Luau Games and Activities
Here's a whole page with the coolest Luau birthday party game ideas, such as:
Tropical Relay Race
Limbo
Bobbing for Fish, Shells and Crabs
Erupting Volcano
Pass the Coconut
Coconut Bowling
and many more (including visitor-submitted game ideas)…
Also, check out this page we created showing how to create a cool erupting volcano.
You should also read these VERY important tips to help you survive (and enjoy) birthday games time!
Your Hawaiian Luau Parties and Ideas
Some of our visitors have gone the extra mile and written up their complete Luau party story with photos and everything they did. We call these stories "Party Tales" and they serve as a great inspiration! Take a peek at other people's Luau theme Party Tales and you're sure to find lots more outstanding Luau party ideas:
Share your kid birthday party ideas here…
---
Kid Birthday Parties › Kid Birthday Party Ideas › Hawaiian Luau Party