Here's an awesome collection of Hawaiian Luau birthday party game ideas, perfect for throwing the coolest ever Hawaiian Luau party.
Tropical Luau Relay Race
For this Luau birthday party game this is what you'll need: Two grass skirts, 2 pairs of Bermuda shorts, 2 pairs of sunglasses, 2 Hawaiian straw hats, 2 lei necklaces, 2 beach bags, 2 beach chairs. Divide the group into two teams and line each team up in a row.
Place all the objects listed above into the beach bags and give one to each team. Then place chairs a reasonable running distance in front of each team. The first runners dress in ALL of the items, run around the chair, return and take all of the items off again. The next player does the same, and so on until the entire team has had a turn.
Bobbing for Fish, Shells and Crabs
For this cool birthday party game, purchase several plastic fish, shells, and crabs and write the numbers 1, 2, or 3 on each of them. Then put them in a LARGE Plastic tub filled with water. Create three corresponding prize bags each one having the numbers 1, 2, or 3 on them and fill them with candy bars, gum, favors or other inexpensive items. Two players at a time hold their hands behind their backs and they must use their teeth to grab an item. They then collect a prize from the bag that matches the number on the item they caught.
Full Coconut
Split up into two teams. Give each team a hat filled up with leis, mini beach balls, toy fish (basically anything that can fit in the hat and is related to the Luau theme). Each team needs to get in a line and they have to go one at a time with the filled hat on their head (if something falls out they have to go back and start over). They have to go to the end around an inflatable palm tree (with the hat still on of course) do a hula dance and then go back to the end of the line giving the filled-up-hat to the next person. The team that gets done first wins. You can give out cheap but great prizes, have fun!
Hula-Hoop Contest
Kids'll get a whirl out of these! Hand out hoops to everyone and let them practice. Then take two kids and have them hula hoop against each other. Then pose the challenge to two other kids. Once everyone has had a chance, have the winners of the first round face off against each other, and so on, until there's a hula hoop champ.
Erupting Volcano
First you need to make a volcano made of sand or dirt inside some kind of large container (like a baby bathtub) or a sandbox. You should wet the sand or dirt so that the volcano will be really big and dig a deep hole inside. Beforehand, prepare a bottle of vinegar and dye it with red food coloring. Give each kid a plastic cup filled with baking soda. Let one of the kids pour the baking soda into the volcano and then add the red vinegar over the baking soda. This creates and awesome eruption with lava spewing all over the place! (Tip: Have extra baking soda and vinegar on hand – the kids usually want to do it again and again!! Also, check out this page we created showing how to create a cool erupting volcano.
Hang Ten Poses Birthday Party Game
Have everyone's photo taken while they strike a dramatic surfing pose! To set the stage, put on some inspiring music, then spread a blue tarp or blanket on the ground, and then a surfboard (or a folded-up ironing board) on top of it. Guests can then take turns "riding" the board while you snap photos of them to add to their favor packs, or send with thank-you notes.
Pass the Coconut
Play the classic game of "hot potato", but with a coconut. The players sit in a circle with one player holding a coconut. The music (a Hawaiian tune or music from the Lilo and Stitch soundtrack) begins and the coconut is passed around the circle until the music stops. The player holding the coconut when the music stops is out. The music begins again and the playing continues until there is only one player left.
Limbo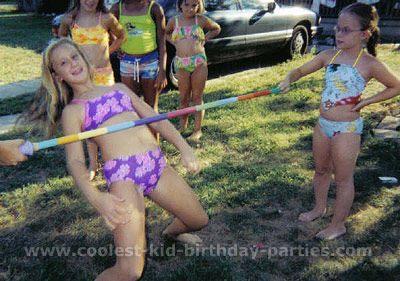 There's one game that's an absolute must for your luau party, Limbo! See how low your guests can go.
"How low can you go?"…. A limbo contest is a natural at any Hawaiian, Luau party. Set up a bar that can be raised or lowered, or have two people hold the bar. Play some Lilo and Stich or Hawaiian music in the background and have everyone take a turn going under the bar.
Everyone must go under the bar facing forward and leaning back! This is one of the harder birthday games, but the lower the pole is lowered the harder everyone laughs! You can also do this under a stream of water from a hose or try having a flashlight limbo game, where you turn of all the lights and use a flashlight as your limbo stick.
Frozen Kiwi
This can be quite a funny and simple Lilo & Stitch birthday party game. First off, freeze two kiwi fruits. Then divide the group into two teams, having each team stand in a row, and see which team can pass the frozen kiwi (under the chin) the fastest!
Pin the Coconut on the Tree
Just like 'pin that tail on the donkey', same rules apply. Just make a Palm tree out of cardboard and paint, and add two coconuts (made out of cardboard near the top) and leave a space between them. The kids have three cut-out Coconuts that have a tick-tac on the back… They just have to get it as close as they can… Make sure that you make you tree the right size for the kids. It comes in hand to have a child with you while you're making it to make sure its not too big or small…
Hot Coconut
Just like hot potato but with a COCONUT! Have all the kids stand in a circle with Hawaiian music playing (and with Hawaiian skirts on). They pass around a coconut, and whenever the music stops, the person holding the coconut is out. Play this until you have only one person left who is the winner. Have someone responsible for turning on and off the music.
Musical Hula Hoops
Place hula hoops on the ground in a circle. Play Lilo and stitch music as the children go around the hula hoops (like musical chairs) when the music stops they grab a hula hoop and start hula hooping. The first one who stops is out and the hula hoop is taken away. Then go again until you are down to two hula hoops. For a larger group you can start with one less hula hoop, so the person without one is out and then also do the hula hooping contest to get another person out.
Take a look at our complete Hawaiian Luau Party section for more of the coolest party-planning ideas.
---
Kid Birthday Parties › Kid Activities › Luau Birthday Party Game Ideas