Kids birthday party ideas and photos by: Tiffany from Surprise, AZ
For my son Zane's 5th birthday we gave him a military party. My son is very interested in the military and it only seemed appropriate to celebrate his kids birthday party with his favorite things. We received so many good party ideas from this website.
We made our own party invitations similar to yours with a personal touch.
It read "Zane wants YOU to attend his party". We also told the kids that gear would be issued and grub would be served and to report for a secret mission at our base.
When the kids arrived they were given a helmet, watch, compass, canteen, and official dog tags with their name written on them.
Then they got their face painted camouflage and had to pick a blue or red star pin. I made these to determine our teams for the "training".
The party decorations were mostly things we had for Zane's room. Ammo boxes and military tents and netting from a military surplus store. I used several pictures of tanks and jets and hung them around the house. We also hung an American flag and marine flag.
The kids gathered and we started the "training".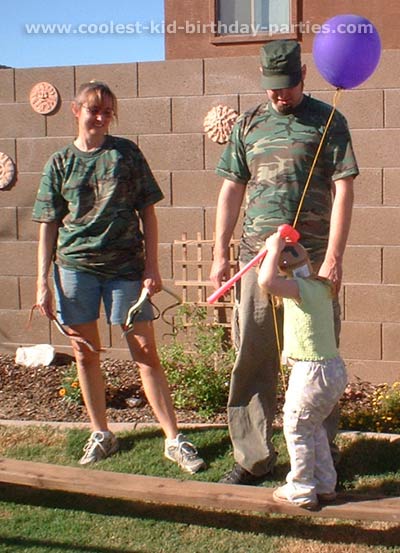 First they had to escape from the enemy prison. Their hands were tied behind their backs and they had to escape by rolling around and finding a key, which they then grabbed with their teeth.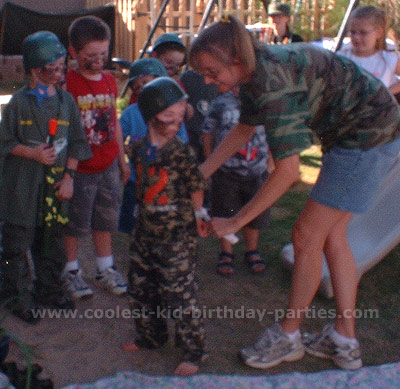 The kids had so much fun doing this some did it two or three times.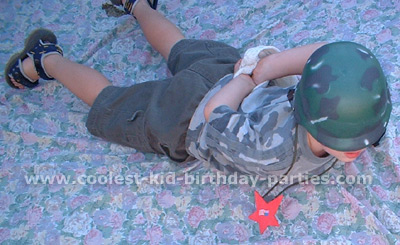 Grandma had made a great obstacle course in the yard.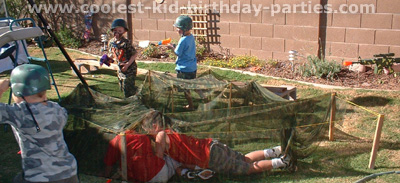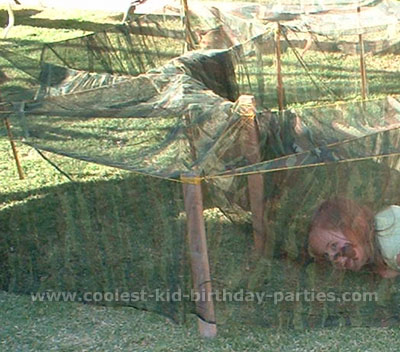 We also had them tossing grenades (beanbags) from a "fox hole" at the enemy tank.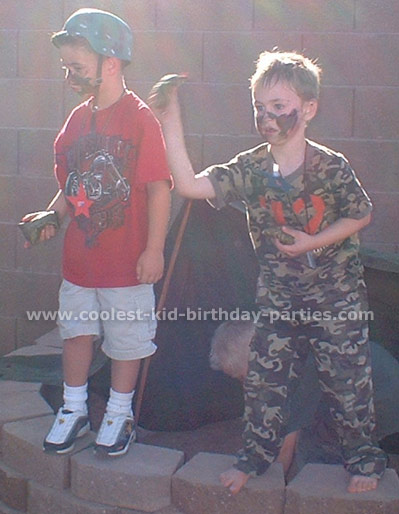 They didn't want to come in and eat but they did. We had purchased some real MRE's from the army surplus store and put it in a real mess kit for the kids to see… and taste how a soldier in the battle field would eat. They thought it was neat…not too tasty though. Hot dogs and hamburger were more to their liking.
We had a cool party cake I made into a tank. The color was hard to get "army" green but it was fun to make.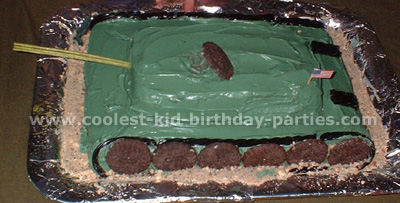 I made the turret gun out of sparkler candles and when they were lit it looked like it was really firing.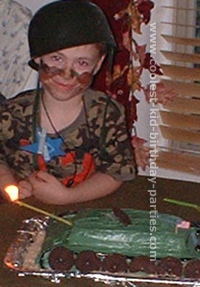 We opened party presents and the kids had to go (even though none of them wanted to return to being a "civilian" again). We let them all keep their gear and made mission folders out of some of your coloring pages and a checklist for the kids to check off their mission objectives.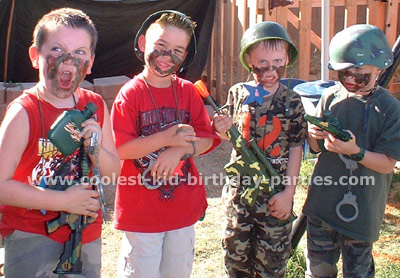 They ALL loved the military party, so did the parents :) !