For my son, Joshua's sixth birthday he had a Pirate party that was inspired by Pirate of the Caribbean. We had his birthday at a park beside the beach so I could do a treasure hunt and have the kids dig for treasure in the sand.
Costumes
For the Pirate of the Caribbean costumes I cut triangles of black material and vests and stitched half with white bias around the edge and half with black to stop them fraying. We had two teams of pirates – the blacks and the whites.
Using puff paint I painted skull and crossbones and after 24 hours you iron the back of the material and it makes the skull and crossbones puff up and stand out on the material. I then stuck on some google eyes. I also stitched a pile of eye patches and again put bias around the edges of patch and attached either white or black elastic to go around the head.
For my three boys I bought some black and white striped material and made some elastic-waist trousers. They wore red shirts to brighten the outfit up.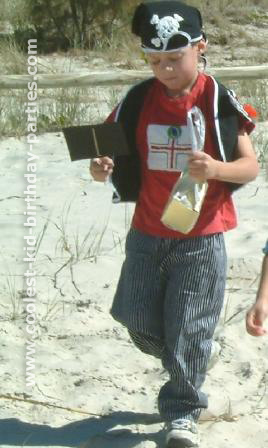 Party Invitations
For the Pirates invitations I stained a whole pile of paper with tea and then printed on them on the computer. I rolled the invitations and wrapped a ribbon around them and my son gave them out at school. I did print a map on the back of the invitation as we had it at a park by the beach.
Pirate of the Caribbean Games
Dress the pirate – Kids were divided into two teams and they did it like a relay, first person from each team ran to stop 1 and put on a vest, ran to stop 2 and put on a patch and ran to stop 3 where they were helped by an adult to put on a bandanna and then raced back to team where the next person was tagged. The team that won was given tattoos.
Pirate Treasure / Scavenger Hunt
To give you an idea, here are the clues that I created. I again used two teams and assigned my sister and sister in law to a team. They followed the first clue to find the second etc, and they all ended up on the beach where their name was on a flag, which they then dug up to find a gold treasure chest (made of gold shiny card) with some gold chocolate coins and candy necklaces. While we were playing dress the pirate I had my mum bury the treasure chests on the beach. One problem was that there were a few children who pulled the flag out of the sand and took it over to my mum to show her before they dug up their treasure chest (by doing this they lost the spot); so a few took a bit of extra digging to find them.
Pirate of the Caribbean Activities
Decorating the Treasure chest
We then went up to the park and I had fake jewels and glue and the kids decorated their treasure chest and had a drink.
Pin the Patch on the Pirate
I enlarged a picture of a pirate, painted it and cut out patches from black card (play as pin the tail on the donkey).
Musical Islands
Same as musical chairs except we played with cardboard cut out islands painted green.
Cannon ball Plop
We had pre-made water bomb balloons filled with water and with string attached. We tied them around the ankles of the children (one per ankle) and on GO they had to try to pop each others balloons and the last person with a balloon left unpopped was the winner.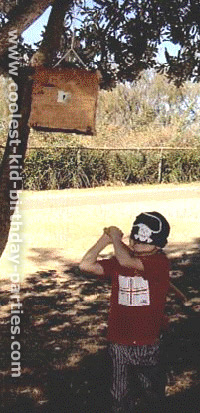 Unfortunately we didn't have rain for months and the grass was dead and hard and popped the balloons very easily.
Pirate of the Caribbean Pinata
I had made a cardboard treasure chest, papier-mached it and covered with fringed crepe paper and filled with candy necklaces and bracelets, erasers, pencils, lollipops etc.
Prizes
Pirate swords, pirate hooks for boys, for girls were matching dress up rings, necklaces and bracelets.
Pirate of the Caribbean Food and Drink
Shark blood punch, lemonade with frozen red lemonade ice cubes which made the water gradually go pink, BBQ sausages served in a hotdog roll and put in long brown boxes (to resemble a pirate ship) and with a pirate flag on a skewer put through it.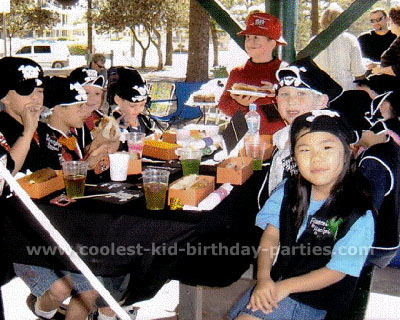 We had lollies and chips on the table and we had two treasure chest cakes filled with lollies and gold chocolate coins.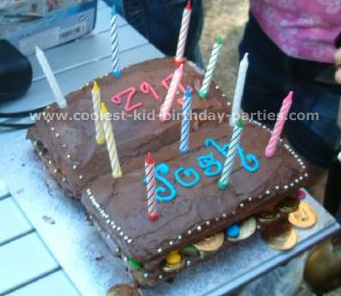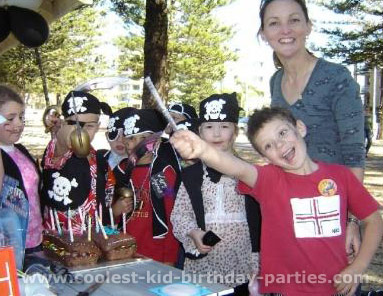 Pirate of the Caribbean Biscuits
Arrowroot biscuits iced white with an icing patch drawn on, a smartie for the other eye, snake lollies for mouths and an icing drawn nose we iced a bandanna the same color as the patch and my boys put those little silver cacaus (spelt incorrectly) as spots on the bandanas.
Pirate of the Caribbean Decorations
I had a big pirate flag hanging from the roof over the picnic table along with black and white balloons. Also, I had painted a large pirate ship, which was attached to one end of the table.

Also, I made up name badges with pirate names example: Joshua Deadly Deeley, Mad Max, Tristan the Terrible. I wrote with puff paint on black card and stuck a feather on them. And then attached a safety pin on them with masking tape.
It was a great day; the Pirate of the Caribbean Party was a lot of work but good fun.
My son is anticipating his next birthday.
Pirate of the Caribbean party ideas and photos by: Karen from Gold Coast, Australia