Valentine party ideas and photos by: Tara from Lexington, SC
Here are my party ideas.
The invitations were of course cutouts of hearts with the party info, and then sprinkled with glitter for an added touch. We also included little sweethearts candies in the envelope!
First we decorated my daughter's room with cutouts of pink and red hearts on the walls and floor. Then we hung pink and red streamers from the ceiling, complete with little hearts glued on.
Decorations: Pink and red balloons with long flowing ribbons completed the room. We had a small table with a valentine's tablecloth, heart plates, plastic cups that the girls decorated with heart stickers, and a heart bouquet centerpiece that the girls made together!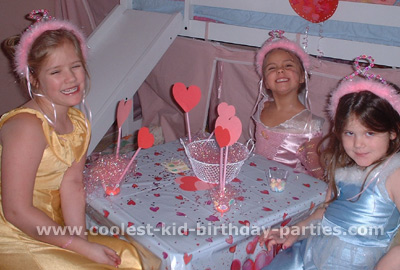 Games: making mini heart bouquets from pink straws, clear plastic cups, and heart cutouts.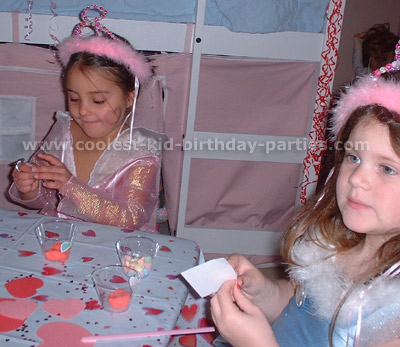 There was time for Dress up, face painting, and we took a photo of the girls modeling their princess attire!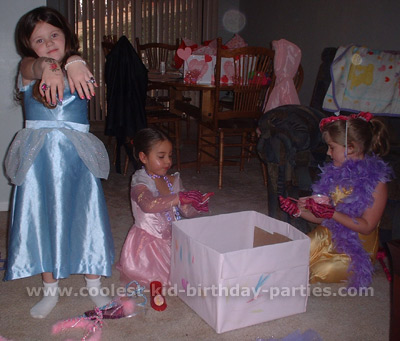 We baked heart shaped cookies and decorated them with colored sprinkles; drank strawberry sherbet punch, and each place setting had a dainty white doily for each child.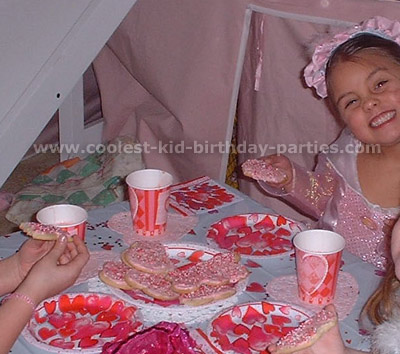 Each child took home a photo in a pink fuzzy picture frame to remember the party! It was truly a day to remember! I hope my valentine party ideas helped you!