Last April my son wanted a Larry Boy/Veggie Tales birthday party for his 6th birthday. I asked him what kind of cake he wanted (not having a clue exactly what he wanted) and he said "Bob and Larry!
Bob and Larry Cakes
Making Bob (a tomato) was easy, just a 9″ round with red frosting and some green sugar & frosting for the stem and then made his eyes and mouth.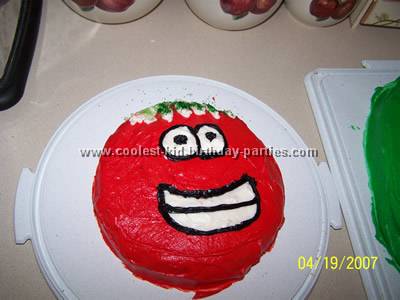 For Larry (a cucumber) I made a 9 x 13″ and just rounded off the edges, covered him in green frosting and did eyes, nose and mouth with white and black frosting. I had made the red and green myself (prefer homemade for decorating consistency). But I used white and black frosting tubes for detail.
Veggie Tales Birthday Party Games and Activities
Then, I printed a "Pin the tooth on Larry" game and Veggie Tale Bingo from the web and got some really great ideas/favors from both the BigIdea.com site and KidzonEarth.com site. We also played "ring around the Plunger". (Larry Boy has plungers for ears/used a brand new plunger and kids had to get rings on the handles for points.) In addition, we danced to some Veggie Tales songs. Then we had a "Bob Tomato" (paper mache) piñata that I had made from directions I found online.
The piñata was made using newspaper strips and white glue on a punch ball balloon. I started a week before the party and covered the balloon three different times with strips with a day in between for drying. Once it was all dry, I then painted him red. Next time I'll only do two coats of strips because that thing was like a rock! The boys had a great time but I felt bad for "Bob".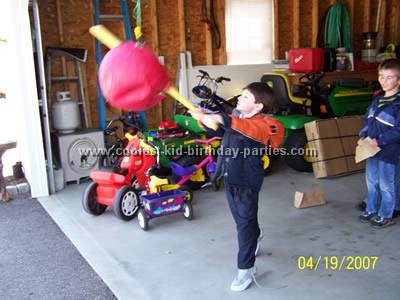 A great time was had by all and I found most of my ideas from this site. Thanks for a great service! I always come here first for ideas when planning the kids' parties.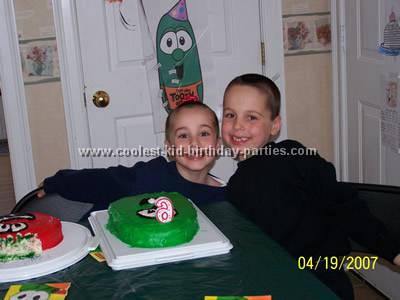 Veggie Tales birthday ideas and photos by: Lisa from Richmond, RI