Airplane birthday ideas and photos by: Caroline from Scarsdale, NY
My airplane party was a simple party for a 2 year old that was mostly adults!
I had airplanes hanging from the ceiling, an airport on the floor (mat with runways and 6 wooden airplanes), streamers framing the doorways/windows and on the chandelier, airplane coloring pictures with crayons at the kids table, paper airplanes for adults and kids to throw around.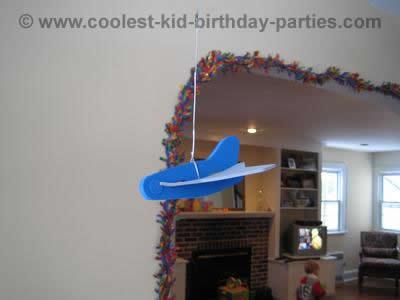 The invitations were homemade boarding passes.  I also had a sign near the loot bags that read "Baggage claim". The loot bags had playdough, airplane cookie cutter, small airplane toys appropriate for age and a box of band aids.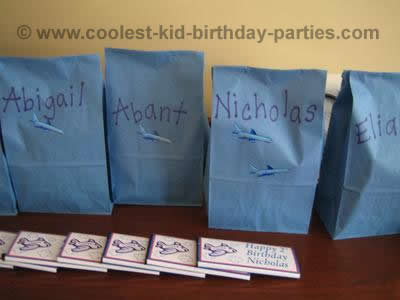 For the table's centerpiece I made chocolate airplane lollipops and put them standing up in glasses as well as 2 large toy airplane models.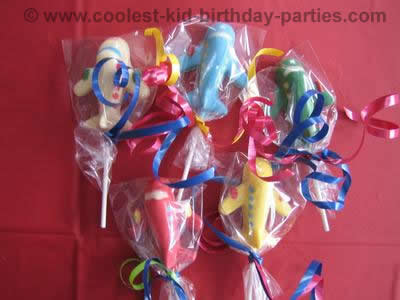 When everyone left kids got the loot bags, an airplane from the ceiling and adults got the Hershey bars with the wrappers I ordered.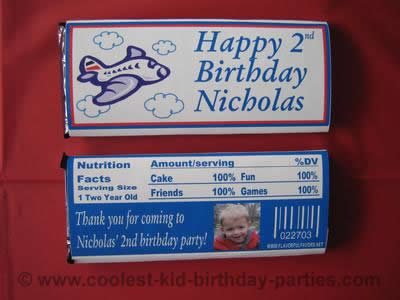 The cake came out really yummy but for some reason, when I went to smooth out the sheet cake frosting (it was homemade vanilla buttercream), it all wrinkled up. I couldn't get rid of the wrinkles so I bought cotton candy and put "clouds" all around so everyone wouldn't be staring at the wrinkles!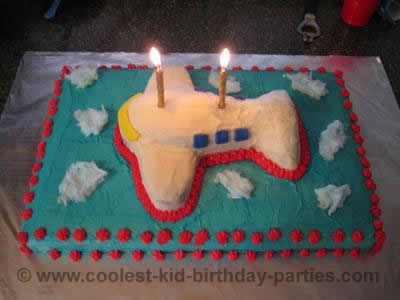 It was all very, very simple but looked so cute.
---
Kid Birthday Parties › Your Party Tales › Airplane Party