Birthday idea and photos by: Tabitha from Indianapolis, IN
Our son couldn't decide what type of party he would like for his 7th birthday, so we convinced him to let us surprise him with our birthday idea (we knew he would love).
We chose a secret agent/spy party. He loves Spy Kids and Cody Banks, so we thought it would be prefect.
For the invitations, I used some inspiration from a poster I had once seen. I tore a small slit into a piece of white paper. I used the slit to grab a bit more of the paper and tear a triangular-shaped opening into the paper, making sure to leave the torn piece attached. My son held the paper up to his face and peered through the hole while I took a close-up picture. After adding some top-secret text on the computer, I printed this as the front of the invitation. This came out to be a successful birthday idea.
There are several ransom-type fonts that look nice. Inside the invitation, secret agents found their instructions to report to the (our family name) Spy Agency (our house) at a given time. For this birthday idea, be sure to include…"this message will self destruct!"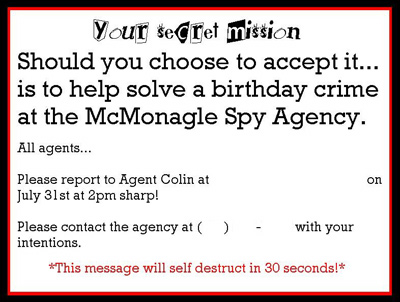 Before the party, I created secret agent ID cards for everyone attending the party. I used clear contact paper to "laminate" them. On the day of the party, I had a table set up in our driveway decked out in a red tablecloth with an M.S.A sign. The sign said, "Welcome to the M.S.A. (or family name) Spy Agency. All agents report here."
Each agent signed his/her name to an ID, was fingerprinted, and had a secret agent picture taken wearing a black hat and black sunglasses. I had preformatted a sheet of printable address labels, so I only needed to add my digital pictures to a document and print. This birthday idea was a hit!! Instant photo stickers to put on the IDs!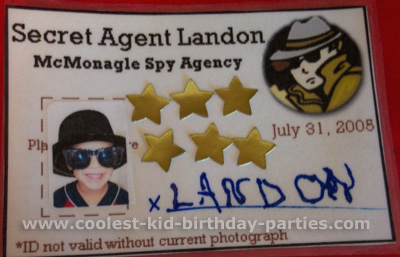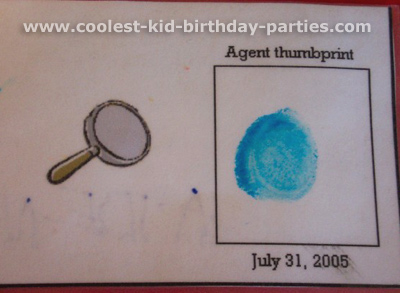 For other decorations, I hung Wanted posters that I found and some I created all around. On our front door I hung a sign that said, "M.S.A. Secret Headquarters, Shhhhhhhh!"
Throughout the party, a spy music CD that I burned was playing. It included music from many old TV shows and movies, as well as some more recent ones. I was looking for anything with that spy kind of sound like: Dick Tracy, James Bond, The Pink Panther, Spy Kids, Mission Impossible, the Austin Powers theme, Kim Possible, The Man from U.N.C.L.E., Dragnet, Get Smart, Men in Black, The Backyardigans secret agent song, and many others. Having music at a party is a great birthday idea, as it helps build the atmosphere.
Once everyone had an ID card, we began the training (games). At the end of each training session, the agents received stars (stickers) on their ID cards based on their performances.
The first training game was a target practice game. Each agent was armed with three water balloons and standing behind a line facing the sidewalk. On the sidewalk each agent had three targets drawn with chalk. The agents who could completely erase their own targets with the fewest water balloons scored the most stars, and the agents who erased the least scored the fewest stars. All agents received stars for completing the training.
The second training game was a disguise race. Tops, bottoms, accessories, and hats were put into four piles around the yard. Each agent had to put one piece of each type of clothing on and race back to the finish line.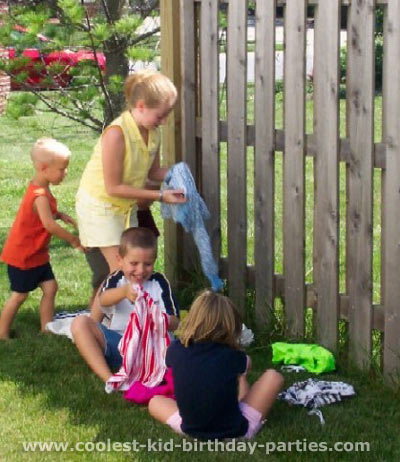 The agent who arrived first received the most stars, and the agent who arrived last received the least. All agents received stars for completing the training.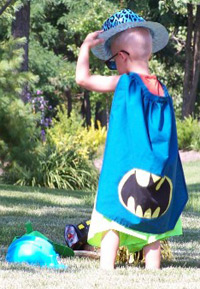 The final training game was a timed obstacle course. At the end of the three games, the agent who received the most stars received a toy secret agent beeper and cell phone.
Each agent received a treat bag with his/her ID card, a magnifying glass, a notepad, a crayon, a mini squirt gun, and a pair of disguise glasses with the nose and mustache attached. The treat bags were brown paper lunch sacks taped closed with a printable address label that said top secret (a simple birthday idea to carry out).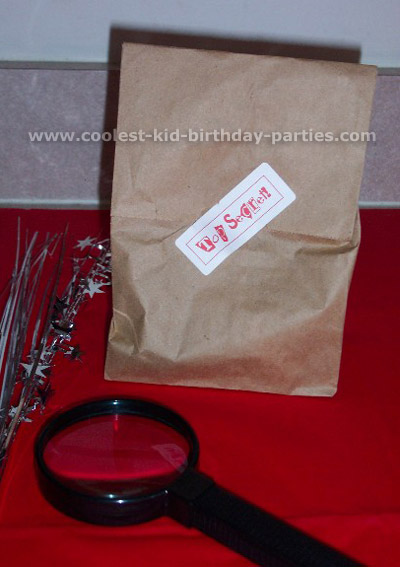 For the cake, I got my inspiration from a birthday idea on another website. Her cake was awesome. It had the message written backwards, a black fondant covered bomb with a sparkler, footprints stamped with edible ink, and a pair of black sunglasses. I wanted to achieve a similar effect, but I wanted to change it up as well.
I had a bakery print an edible image of my backwards message for me. Then, I frosted a frozen lime with the bottom cut off to look like a bomb. We didn't need to eat it. I just wanted it to look right and not pose a risk by being on the cake.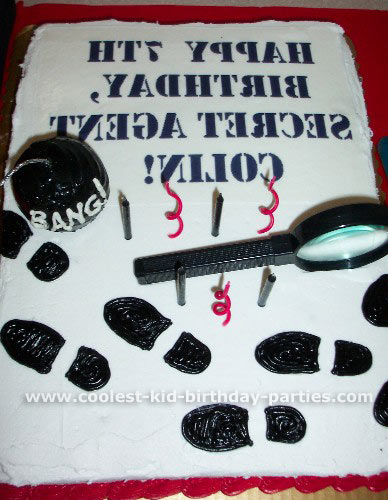 We didn't have any sparklers, so I found this silver direction that looked like a fuse. I frosted black footprints across the cake and added some black sunglasses.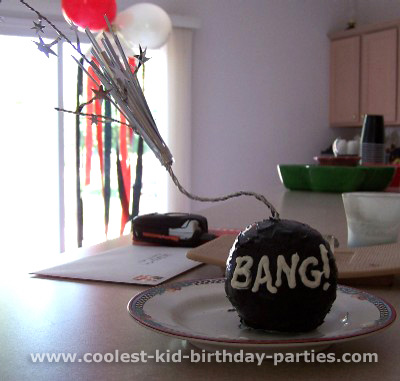 The guests all reported having a good time, and they all left as trained Secret Agents. :)