Cars birthday party ideas and photos by: Min from Brigham City, UT
I created the invite for the Cars party from a picture I had on my computer and the simple art software I had. The party was in our backyard and for all our family so I had to make it fun for a wide range of ages.
Decorations: I put up yarn through the trees and stapled construction paper cut out flags all along.
I made the black and white checkered "race" flags by creating the block pattern in Excel and printing off the pages, cutting them out and stapling them to drinking straws. We blew up the balloons at the beginning of the party, everyone wanted to help and we had a large balloon play area.
Games: I created a race track out of cardboard (and lots of duct tape) and had it held up with a ladder.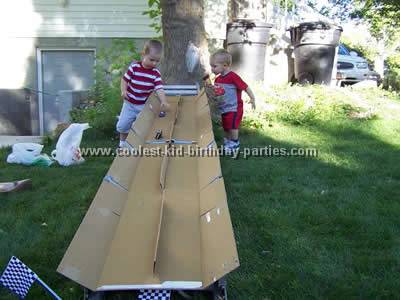 I got a great deal on cheap plastic cars at the dollar store that they got to take home as their party prize. For some squirt gun fun I created a shooting gallery with construction crew (like plastic army guys). The object of the game was to stand on a line and try to squirt the guys until they tipped over. Of course the water fight ensued after the game but that was totally fine since it was a hot Sept day.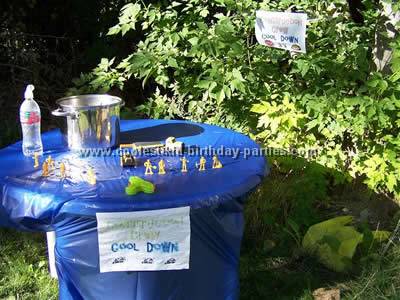 The cake was inspired by another I found on this site, I just made modifications.