Start your engines and get ready for some cool NASCAR / Racing party ideas that'll get everyone all revved up!
Before we lower the checkered flag, though, you'll need to set the scene with supercharged party supplies.
Take a look at the selection below – it pretty much covers all the NASCAR, Racing, Hot Wheels and Disney's Cars party designs available:
NASCAR / Racing Invitations
For invitations you can scan your driver's license onto the computer (if you don't have a scanner – here are lots of already scanned driver's licenses).
Erase the information, put a picture of the birthday kid and party information. You can write things like:
"Start your engines… put the pedal to the metal and shift in high gear, Billy has just zoomed through another year!! Race on over to the (your last name) Racetrack (place), Race time and date, RSVP to official sponsor".
Address each invitation to "Driver Bobby", etc, and ask each kid to bring their favorite cars to the party to race with.
NASCAR / Racing Decorations
Decorate with lots of black, white and red balloons and streamers. Take a look at these checkered pennant flags
. You can also make your own flags by cutting up a plastic black and white checkered tablecloth into rectangles or triangles and then gluing the flags onto wooden dowels.
At the entrance to the party area, put up a checkered banner that says something like "Welcome all Race Fans".
There are lots of great ready-made props available for this theme. You can take a look at them and with a bit of imagination, create them on your own. You can create your own homemade traffic light by taking black construction paper and gluing on green, red and yellow circles.
Or, for an excellent photo opportunity, have the kids pose alongside a giant cardboard racecar
– you can make these props on your own using a refrigerator-sized box (use the pictures for thank you cards). You can also make and hang lots of racecar cutouts.
For more great party ideas, create a racetrack in your own backyard. Use old tires to create an oval racetrack (you can go to a car repair shop or tire store and see if they have old tires they don't want). Take black duct tape to draw out the racetrack and with yellow duct tape create the broken yellow lines of the track (you can also do this with sidewalk chalk).
Put banners all around the racetrack – again, you can possibly go to a tire store like Goodyear and ask if you can borrow Goodyear banners. Sprinkle orange cones around the track as well.
Cover the tables with black, gray or white tablecloths. With duct tape or markers draw on the tablecloths as if they were a racetrack. Take out all of your kid's race cars and disperse them around the table (and the entire party area).
Collect milk cartons, paint black and white checkers on them, then stick bags with sand in them and have black and white balloons with helium tied to the bags of sand. You can put these on the sides of the path leading to the party area and as centerpieces on you table. You can also tie balloons to old tires.
Another one of those cool party ideas to stuff clean tires with pillows (in the middle) and use them as chairs to sit on.
Using cardboard, create all sorts of road signs, such as a stop sign, yield sign, one way, detour, speed limit (which can be the number of your kid's age), other signs like: "Pit Stop", "Gas Station", "Auto Repair", etc.
Costumes
As the kids arrive you can give them these neat race goggles that can later be worn during the games and activities and taken home as favors. Also check out these homemade costumes for more ideas:
Take a look at all the coolest homemade Nascar costumes.
NASCAR / Racing Icebreaker Activities
Car License & Registration
Once the kids arrive send them to the registration table, where they will have their car licenses made. If you can, place your computer and printer at the table. With a digital camera, take pictures of each child that arrives. While you download the photo onto your computer and print out, hand the kids precut 4″ by 5″ cardboard or cardstock paper (the license) for them to fill out. On one side have a little registration form (name, address, date of birth, weight, height, eye color, hair color, thumbprint, signature, etc.). You will need to have an adult to help them, possibly weighing them and measuring their height (and of course have them go through an eye examination!). Glue the picture onto their licenses and laminate with clear Con-Tact paper. Then use a hole-puncher to make a hole in the corner of the license and tie a piece of red yarn for the kids to put around their necks.
License Plates
One of the coolest party ideas for this theme is to let the kids make their own license plates. Provide the kids with foam craft sheets cut out in rectangles (about the size of an average license plate- about 5 in. by 11 in.). At craft stores you can find foam stick letters and numbers that are already made (or cut out your own) and let the kids decorate their license plates. You can also provide markers, glitter, stickers, etc. so that the kids can decorate even more.
Tire Tread Testing
Cover a large table with newspapers. Take lots of toy cars and provide washable paint in lots of different colors. Give out papers and let the kids dip the car and truck tires into the washable paint and roll over the papers to test the tread. You can then take the finished paintings and hang them on a line across a fence to dry. These make really nice pictures the kids can take home.
Race cars
The kids can make their own race cars out of paper and cardboard boxes (the boxes need to be big enough for a kid to stand inside). Cut out a hole in the bottom of the box (a little bigger than the kid's waist). Then hand out markers, stickers, construction paper, scissors, tape, paper plates for wheels (attached with Velcro so that they can be changed), bumper stickers, aluminum foil to make the car look shiny, etc. Encourage them to add fun accessories as a steering wheel, yellow circles for headlights, red rectangles for tail lights, side mirrors, etc. Each kid can name their own racecar (for example "Lightning Bolt", "Thunder Jack", etc.). If the box doesn't have handles, cut out holes for handles so that when the kids put the car around their waist they can hold it up by putting their hands in the handles (or you can staple two elastic strips from one side of the box to the other for the kids to put on their shoulders). Later on, the kids can use these cars to race with. At the end of the party you can also give out awards to everyone for their creative car designs. You can make up categories (craziest, most creative, fastest, sleekest, etc.).
Homemade NASCAR / Racing Cakes
Take a look at all the coolest homemade Nascar birthday cakes.
NASCAR / Racing Party Food and Drink
Party Ideas for Food:
You can call the food section the "Pit-Stop Café". Here are some cool party ideas for food:
Racecar Hot dogs- Put the hot dogs in their buns, use toothpicks to secure on round carrot pieces for wheels, attach an olive for the driver, and a triangle of cheese on the back for the tail. Then, with ketchup, you can pipe onto the hotdog a number.
Grilled Tires – Burgers
Wheel Pasta – Use the type of pasta that looks like wheels.
Bolts and screws salad (add raisins and nuts to the salad)
You can serve concession stand foods like the sort you would normally find at racetracks.
Tip: You can serve ketchup in new clean plastic oil bottles.
Party Ideas for Drinks:
Power Drinks – Gatorade, etc.
POWER Shake: This recipe serves eight people. Take a cup of smooth (low-fat and low-sugar) peanut butter, four ripe bananas, and six cups of nonfat frozen yogurt. Cut bananas into pieces. Place a fourth of each ingredient in a blender (this is to prevent overflow). Whirl until smooth, and duplicate steps for the left over ingredients. Pour concoction into glasses and serve (if you want it more like a drink and less like a shake use nonfat milk instead of frozen yogurt).
Party Ideas for Treats:
Tires – Oreo, donuts, basically anything round with a hole in it.
Traffic Lights – take graham crackers, put a bit of chocolate frosting on each and then add red, green and yellow candies (M&M's, gumdrops, jellybeans, etc.) for the traffic lights.
Race cars- Use car cookie cutter to make racecar Jell-O Jigglers.
NASCAR / Racing Party Favors
To create checkered flag bags, take white paper bags and with a square-shaped sponge, smudge black squares. You can also make traffic light bags using round sponges dipped in red, green and yellow. You can even have the kids make these during the icebreaker activities.
Some party ideas for favors can include black checkered plastic cups, silver trophies, stickers, car shooters, mini racing cars, whistles, mini Oreo's (tires), stop-watches, flashing safety lights, sunglasses, racecar gummies, etc.
NASCAR / Racing Games and Activities
Here's a whole page with the coolest NASCAR / Racing kid party game ideas, such as: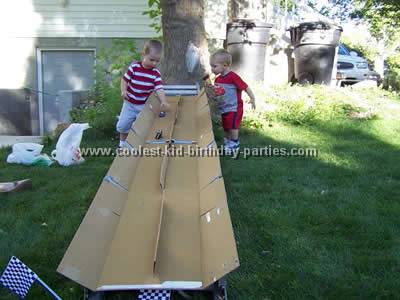 Tire Race
Red Light – Green Light
Slot Car
Nuts & Bolts
and many more (including visitor-submitted game ideas)…
You should also read these VERY important tips to help you survive (and enjoy) birthday games time!
Your NASCAR / Racing Parties and Ideas
Some of our visitors have gone the extra mile and written up their complete NASCAR / Racing party story with photos and everything they did. We call these stories "Party Tales" and they serve as a great inspiration! Take a peek at other people's NASCAR / Racing party ideas and you're sure to find lots more outstanding Nascar / Racing party ideas:
Share your kid birthday party ideas here…
---
Kid Birthday Parties › Kid Birthday Party Ideas › NASCAR Racing Party Ideas