Garden party ideas and photos by: Sandra from Peoria, IL
My son wanted a garden party for his 7th birthday. We found no help at any of our local stores, so we went out on our own.
We made the party invitations – postcard style. The background was a photo of the grass in our back yard. I just added some clip art of insects and all of the necessary information to them.
His cake was worms in dirt. I used devils food cake, chocolate pudding, and crushed Oreo cookies. I mixed all of this to a big mess (it looks like a huge clump of mud). I put it in a clear bowl and used a toothpick to push gummy worms and sour bugs into the cake. I added some more on top (push them into the mud a little to make them look like they are crawling out of it). The kids loved the cake!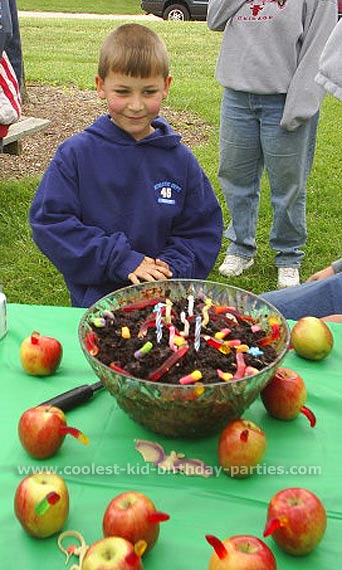 All around the cake I put apples with worms in them. This is how I did this: I broke toothpicks in half and dipped them in lemon juice. Then I put a half of a gummy worm on one half and stuck the other half into the apple. It looked just like worms were coming out of the apples. Just remember to let the kids know to take the toothpick out before eating.
For games we had a bug hunt. I hid plastic bugs around our party area and some on the playground. Whoever found the most won a bug keeper.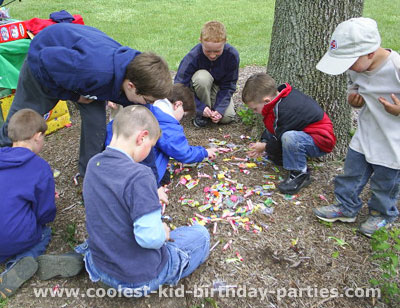 The next game was a bug match. I took photos of bugs and gave the kids each a set of bug names. Whoever could match the most won a bug catcher.
We also played pin the stinger on the bee. The winner of that game won a magnifying glass.
Our goodie bags (jelly jars) were filled with a small magnifying glass, plastic bugs, and bug bait (candy).
For thank-you notes we cut out paper in the shape of a bee and let our child write his own thank-yous on them.
The kids (even the girls) loved this garden theme party. They had almost as much fun at it as I had planning!