Harry Potter party ideas and photos by: Lydia from Patterson, CA
My son and I spent a whole year planning his Harry Potter birthday party, picking up items for goody bags, plates, decorations etc., from clearance bins and dollar stores and making some of our own decorations and treats. We also purchased the Harry Potter CD to help set the mood and for the games if needed.
Harry Potter invitations were printed and worded by me; requesting their attendance at the "Gryffindor Common Room" located at my address, to celebrate Bren's birthday and promising goodies from "Honeydukes" candy shop [chocolate frogs, peppermint toads, fizzing whizbees (poprocks) witches brew (halloween candy that is HORRIFICALLY mouth puckering, and other "I dare YA" candy like Berty bot's every flavor beans].
We made and posted official looking "NO PARKING – Gryffindor only" signs for the front of our house since the neighbors usually have a HUGE garage sale on the same weekend.
This year Harry Potter costumes were Gryffindor cloaks made from black garbage bags, split up one side and almost all the way across the bottom (leaving the corner intact for the hood of the cloak and the cut end for ties). This was great since one size fits all.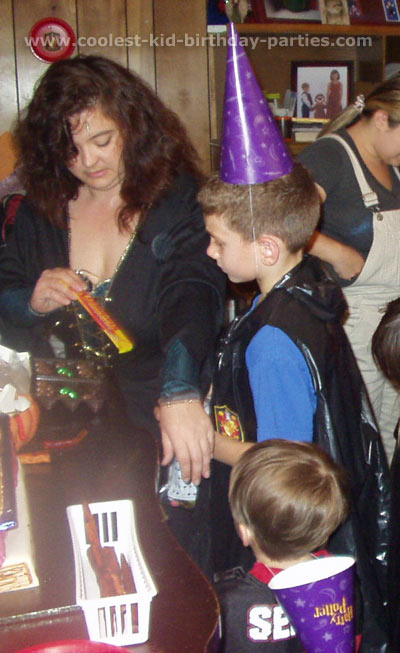 We printed out Gryffindor patches on sticker paper and placed them on the right side of each Harry Potter cloak. My son handed these to his guests as they arrived. They were directed to a table that had some fantasy stencils (meant for blow pens) and colorful feathers (inexpensive craft-type) with pieces of the fun craft paper, the kind that comes black and when you scratch it, it reveals colors underneath. This kept everyone busy while the rest of the guests arrived.
When everyone arrived we had the kids make a circle on the floor for a Harry Potter game that would earn them their wands. It was a version of Hot Potato (with no losers). One guest sat in the center blind-folded, I handed a home-made wand (melted marshmallows, added powdered sugar until I got a stiff dough, rolled them into twig-like wands, brushed them with brown food color and let dry hard) to a person in the ring, music from the movie was played, when the music stopped, the blind-folded person had to guess who had the wand. Each player, played until they were joined with their personal wand (little ones weren't blind-folded to make it easier for them to win in a reasonable time).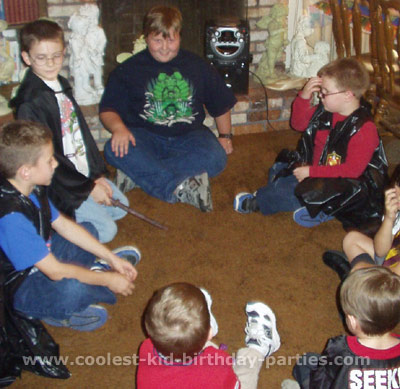 We lined up at the candy display were I (witch costume) filled goody-bags with candies that promised to be fun and shocking. They were directed to find a place at the party table. Without any prompting, the challenges of "I Dare YA" started, and was followed by with tears of laughter at the twisted faces they made from the candies.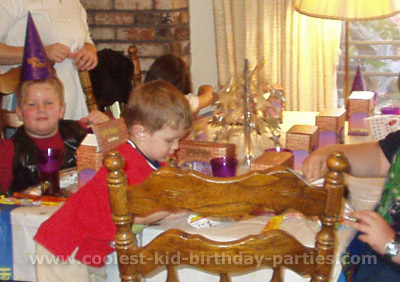 Time for Harry Potter cake! The Harry Potter cake next to the candy display – it's the stack of books with a castle on top. We lit candles, sang birthday songs, and the kids chose chocolate or white cake. Followed by more candy challenges to see who could keep them in their mouths the longest.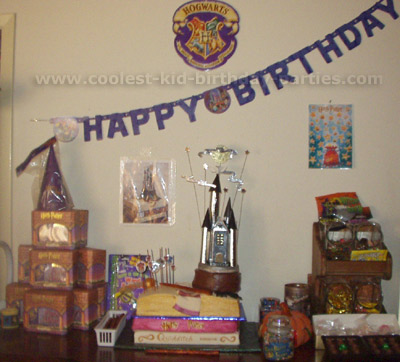 My son's cake is always in development throughout the year. It was a lot of work, but it was worth it. The castle was made from paper towel rolls, plastic wrap tubes and boxes from children's Tylenol, that had silver wrapping paper glued to them. More Gryffindor and Harry Potter stickers were attached to the candles. Harry Potter scarf, glasses, and golden snitch (also made from the marshmallow dough, painted with food colors) sat on top of a cake made from the open-book pan from Wilton . "Harry Potter" was stenciled with food coloring on one of the books (from one of his HP craft toys) the other book was completely painted with red food color. Oh ya! the pages! I firmed up the Harry Potter cake in the freezer then scratched lines in the firm icing then dry brushed with gold luster dust (cake decorating supplies have them, Wilton makes them now too).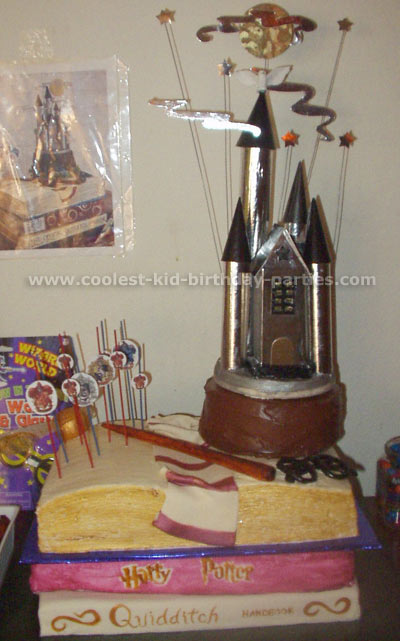 Our parties usually end with silly-string wars. I can usually get these inexpensively just after Halloween, in clearance. We did this outdoors this year. Learned the hard-way, hard to get off an acoustic ceiling. That stuff flakes off like white powder. A prize is awarded to the guest who can wad-up the biggest ball from all the silly-string (clean-up with a twist of fun). This year they surprised me and separated into two teams and presented me with 2 balls of nearly equal size. I only had one glow-in-the-dark wizard set prize!?!? They all settled for more shock-um candy for their goodie bags and appointed the person who organized the teams to receive the Harry Potter prize. Whew! Glad they took care of that one on their own. I was speechless.
The Harry Potter Party was about 2 1/2 hours long. We moved quickly to each activity, time flew for adults and children alike, we all had sooo much fun with Harry Potter!