There's nothing HOTTER than a Harry Potter kid party to celebrate your child's birthday. (And I'm taking a wild guess that this party theme is going to be around for quite some time…)
Start off by comparing these cool Harry Potter party supplies:
Harry Potter Invitations
Make your Harry Potter party invitations with an antique white or beige card stock paper. Write something like:
"We are pleased to inform you that you have been accepted into the Hogwarts School of Magic and Wizardry to celebrate the birthday of ______ on the date at time. It is located three-quarters of the way between Gates 9 and 10 (write down your address), there you will find the magical door visible only to Hogwarts students and their families. Proper school attire should be appropriate for indoor or outdoor wizardry classes. Wizard's or witch's work robes and hats are optional. Please RSVP by owl or by Muggle phone to the Headmaster at (Your Phone Number) by Specified Date.
Then seal the kid party invitation either by rolling the paper into a scroll and tying with gold or purple ribbon, or if you want to get fancier, melt some red wax and fasten to the invitation (possibly adding an "H" to the wax while it is still soft).
Here's a similar but different variation:
To make these Harry Potter invitations, use brown paper and design them with the Hogwarts seal and the seal of the four houses (you can easily find and downloaded them from the Internet). At the top of the invitation, create a letterhead with the Hogwarts seal and in large letters across the top "Hogwarts School of Witchcraft and Wizardry". Along the bottom of the invitations put the four seals of each house: Gryffindor, Hufflepuff, Slytherin and Ravenclaw.
The wording of the invitation: "Dear (child's name), We are pleased to inform you that you've been invited to Hogwart's School of Witchcraft and Wizardry for special mid-term classes in honor of Head Boy Jeremy's 9th birthday. Your class schedule will include orientation and matriculation, transfiguration, potions and herbology, care of magical creatures, divination, and defense against the dark arts. There will also be a special birthday feast featuring treats from Three Broomsticks and Honeyduke's Sweet Shop in Hogsmeade. Classes will begin at the stroke of 12:30 in the afternoon on Sunday, February 15. Shopping at Zonko's Joke Shop will conclude classes at 3:00pm."
"Please take the Hogwarts Express train to Hogwarts Academy currently disguised as the Muggle home at (our address). There you will find the magical door visible only to Hogwarts students friends and families. The password is "flibbertigibblet". The surrounding area is well-protected by Memory Charms, so it will be safe to practice magic indoors and outdoors weather permitting. Please respond by OWL to (my e-mail) or Muggle telephone system (our phone number) with a yes or no response. We look forward to your arrival at Hogwarts. Sincerely, (my name) Deputy Headmistress of Frolic and Feasts, Hogwarts Academy."
Another idea for Harry Potter invitations is to make Wizard Maps by rounding the edges of parchment paper with scissors. Write all the kid party details using invisible ink felt pens (available at craft stores), roll the invitation up, insert into a mailing tube, along with a decoder pen, and mail to Muggles. (Instead of using felt pens, you can write on white paper with a white crayon, and include a color crayon telling the kids to color over the paper to magically reveal the party details!)
Harry Potter Decorations
An excellent way to start is by finding some pictures and clipart that'll give your imagination an artistic boost.
Hanging from the ceiling have lit candles that appear to be floating. These can be done by using battery operated tea lights inside a paper tube and then suspended with pins and fishing string from the ceiling.
First off, take out any Harry Potter related toys and accessories your child may have and decorate the kid party area (putting them on shelves, tables, etc.).
You can decorate the kid party area to look like the Great Hall at Hogwarts by using a roll of corrugated cardboard with a stone wall print to decorate the walls (just cut it to fit the walls and then secure it with tape or thumb tacks). Use poster board to make signs for "Diagon Alley", "Professor Snape's Potions class", "Hagrid's Hut", "The Great Hall"… And match the locations to your activities.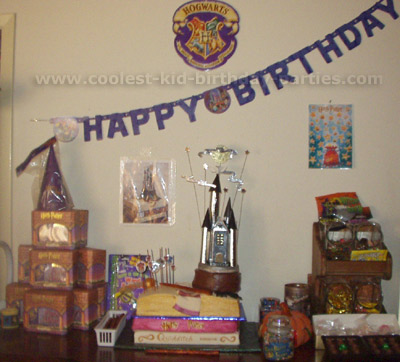 You can also make a cardboard sign reading "Forbidden Forest – Entry is Forbidden to Hogwarts Students!" and post it amongst trees in your backyard, or in a garden you don't want kids trodding on.
Decorate the shelves in your house or the kid party area with old clear glass bottles and jars filled with odd or creepy looking things. Label the jars with the names of potion ingredients, such as: Beetle Eyes (pepper balls, black beads or poppy seeds), Eye of Blind Dog (cocktail onions), Bloodworms (cooked spaghetti in water dyed with red food coloring), Owl Liver (chopped canned mushrooms), Gecko skin (pickled ginger), pig pituitary (capers) etc. For fun, you can leave the labels blank on a few of the jars and have the kids make them up.
If your Harry Potter kid party is outdoors, you can put candles in brown bags filled 1/3 way up with sand to light your walkway and give a more magical effect. You can also decorate brown and white helium balloons as owls using a permanent marker and felt ears, and tie them to your mailbox with dental floss transparent thread.
If you want to be authentic, you can have set up five rectangular tables covered in velvet and if the kids are old enough, set an assortment of crystal, silver, gold, and / or black candlesticks with candles in gold and silver, or black colors. You can then add cutout stars and glitter scattered on the table.
Costumes
Take a look at all the coolest homemade Harry Potter costumes.
Harry Potter Icebreaker Activities
Strange Jelly Bean Harry Potter Ice Breaker Activity
As the kids arrive, welcome them into the party area where you have a table set up with strange-flavored jelly beans. Jelly Belly has jelly beans called "Bertie Bots Every Flavor Beans", these are real jelly bellies with really strange flavors such as pepper, grass, sausage, etc. Pass one flavor around in a bowl and give the kids an opportunity to try each flavor. Some flavors are kind of nasty :-), but it suites the whole Harry Potter theme. The kids love checking out the different and unusual flavors.
Shield Making
Using felt, cut out small shield shapes for the children to decorate. Provide glue, glitter, pens, additional pieces of felt to cut out shapes, etc. When the shields are finished, attach them to their capes with tape or a safety pin.
Sorcerer's Stone Glitter Globe
You will need little jars (possibly baby food jars.) Fill the jar almost to the top with water and stir in a few drops of glycerin (sold at most pharmacies) and 1/2 a teaspoon of glitter, star and moon confetti, etc. The glycerin increases the density of the water and causes the glitter to fall much slower. Have each kid mold themselves their very own sorcerer's stone from polymer clay (such as Sculpey III) and have then press plenty of glitter onto the clay surface. Then have them drop their stone in the glitter globe and tightly screw the lid onto the jar and invert the globe and VOILA!! A sorcerer's stone glitter globe that can be added to the kid party favor pack!!
Homemade Harry Potter Cakes
Take a look at all the coolest homemade Harry Potter birthday cakes.
Harry Potter's favorite cake is chocolate! You can simply frost cupcakes with chocolate frosting and draw a lightning bolt with yellow frosting on top (you can also add sprinkles for more color).
Wizard Hat Delight: make or buy brownies and take a round cookie cutter to make them round. Then take the scraps that are left and push them into an ice cream cone. After that, take ice cream and fill up the rest of the space of the ice cream cone. Then take the cones and flip them upside down onto the round brownies. Voila!! Wizard hats!! (Put all of them in the fridge and serve on the day of the party).
Harry Potter Party Food and Drink
Harry Potter Kid Party Food:
Remember to label each dish!
Bat-Wings – chicken wings in barbeque sauce.
Wizard (or "witch") Stew – You can make your kid's favorite soup, stew or other hot dish and serve it from a cauldron or large pot! As you give out each kid's portion, sprinkle salt and pepper over it and chant or have the kids chant a magic spell for fun! (Example: "A dash of ginger root and a bit of dried swamp flowers, keep this magical soup hot for hours!")
Professor Snape's Pizza
Golden Snitches (chicken nuggets, or Donut Holes)
Dragon Legs (chicken drumsticks)
Fizzing Whizbees Levitating Balls (meatballs or falafel balls)
Hermione's Magic Wands – assemble your kids' favorite fruit on (make sure to cut off the sharp tips).
Hogwarts Celery Sticks – Take celery stalks and fill them with peanut butter (you can keep the feathery ends of the celery stalks for decoration). Then place "bugs" (raisins) all along the length of the stalk for a surprise you'd find only at Hogwarts!
Slytherin "Snack"ers – You can choose several different shapes and flavors of crackers and serve on a snack tray. Add to the tray Dudley's Delight which is many kinds of cheese cubes with colorful toothpicks in them. Decorate with vegetables.
Hedwig's Silly Sandwiches – everyone will love these crazy sandwiches. Just make your kid's favorite sandwiches and cut them with all kinds of different cookie cutters.
Harry Potter Kid Party Drinks:
Spellbound Magic Drink – Your guests will be spellbound when they witness your ability to turn an ordinary beverage into an enchanted drink that crackles and spits! Pour any kind of beverage into everyone's cup and then add a few Pop Rocks to each, it will then crackle, pop and spit. The little magicians will love it!!
Magic Potion – You'll need one pack of (0.13 oz) unsweetened drink mix (you can chose any flavor, but try bright colors). Mix each pack of drink mix with one and a half cups of water and pour into an ice cube tray to freeze solid. On the day of the party, pour chilled lemon-lime flavored carbonated soda into clear glasses and put 1-2 flavored ice cubes in each glass. The ice cubes then dissolve and the drink will magically change color and flavor before the kids' eyes.
Dragon Snot – add green sherbet to sprite.
Harry Potter Kid Party Treats:
Snake eyeballs (grapes)
Lizard tongues (baby carrots halved lengthwise)
Jell-O (make all kinds of colored Jell-O shapes using star and moon-shaped cookie cutters)
Chocolate Toads (melt semisweet chocolate, and with a clean paintbrush lightly paint the tops of gummy frogs with the chocolate)
Ghostly onion dip (with chips)
Eyeballs, fingers, tongues and hearts (make edible "eyeballs" by peeling radishes and leaving thin streaks of red skin on them to represent blood vessels. Then scoop out a small hole in the radish and put a green olive – pimiento side out – in each hole. You can put "eyeballs" on a serving tray and add baby carrots as goblin fingers, cucumber slices as Lizard tongue, red Jell-O squares as hearts of eels, etc. Be creative!!
Droobles Best Blowing Gum (blue gum)
Hogsmeade Chocolates (frogs, bats or rats)
Florean Fortescue's Fruit (grapes, cantaloupe, watermelon or other fruit cut into bite-sized pieces)
Peppermint Humbugs (peppermint candies)
Harry Potter Party Favors
You can put all your kid party favors in upside-down wizard hats. Things you can put inside are: round Harry Potter glasses, magic wands, owl bean bags, Harry Potter stickers and tattoos, silly putty (that represents Dragon eggs), dragon figurines, etc.
Harry Potter Games and Activities
Here's a whole page with the coolest Harry Potter child birthday game ideas, such as:
Hooting Owl
Bertie Bott's Every Flavor Beans
Search for the Sorcerer's Stone
Professor Snape's Potions Class
Gross Potions Class
Moaning Myrtle
and many more (including visitor-submitted game ideas)…
You should also read these VERY important tips to help you survive (and enjoy) birthday games time!
Your Harry Potter Parties and Ideas
Some of our visitors have gone the extra mile and written up their complete Harry Potter party story with photos and everything they did. We call these stories "Party Tales" and they serve as a great inspiration! Take a peek at other people's Harry Potter theme Party Tales and you're sure to find lots more outstanding Harry Potter party ideas:
Share your kid birthday party ideas here…
---
Kid Birthday Parties › Kid Birthday Party Ideas › Harry Potter Kid Party