Sweetest Party Invitation
In designing the Sweet Shop birthday party invitation, I wanted to set the tone for the entire party (i.e. warn the parents about the impending sweets). This invitation took some labor to produce but I got a lot of compliments on it. The front circle was attached by a brad (not shown in the picture) which allowed it to swivel upward and reveal the invitation details on the circle below it.


Decorations
When guests arrived, they were welcomed by the sign and candy display below. The actual costs involved in creating this welcome display were quite low as the major materials were free or very cheap (Styrofoam, acrylic paint, glitter, a balloon, cellophane, and a cardboard carpet tube). If anyone is interested in directions for making any of these decorations, email me at info@thefavormaker.com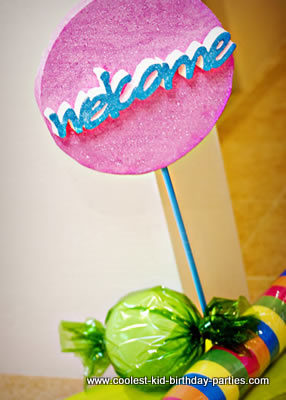 The sweet shop birthday party storefront shown below once again was made from Styrofoam, acrylic paint, glitter, oh yeah, a few lollipops too.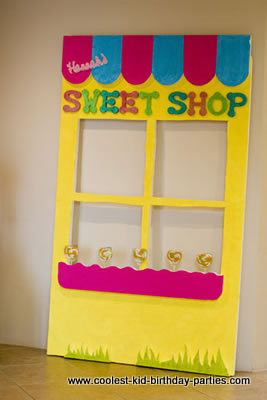 The featured image at the top is a close-up of the top of the sweet shop sign. You can see the depth of the Styrofoam better here.
Lollipops
The Sweet Shop birthday party decorations you see below are my favorites. I cut four circles out of 2″ thick Styrofoam, painted them, and covered them with clear glitter. I inserted long dowels covered in ribbon into the bottom and secured with a low-temp glue gun (don't try the high temp or you'll melt your Styrofoam instantly). Then, I embellished each one with a ribbon in a contrasting color and put them in tall 28″ cylinder vases filled with… you guessed it… SUGAR!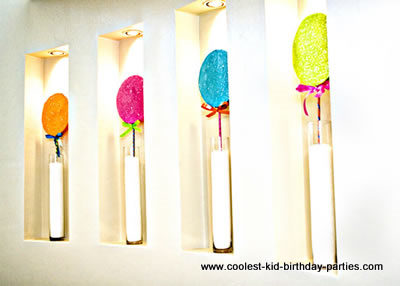 I also made a lollipop and Styrofoam word sculpture I made. I was still getting the hang of it.
After collecting apothecary jars from places like Michaels, JoAnn Fabrics, and Home Goods, I was ready to add the sugar. Candy Warehouse, WalMart, and Dollar Tree were great finds for bulk candy at low prices. You can see the photo below. It's my favorite!
Party Table
To get some height on the Sweet Shop birthday party table, I put a shipping box in the center and covered it with a lime green satin fabric I found at JoAnn's.
You'll also see a photo below of the candy buffet. My husband was nice enough to give up his poker room since we had unexpected rain and had to move everything indoors the night before. I covered up his plasma TV with some hot pink velvet fabric to resemble a wrapped candy and dressed up the poker table with a tablecloth and organza bows. Paper lanterns in bright colors hung from the doorway to resemble gumballs.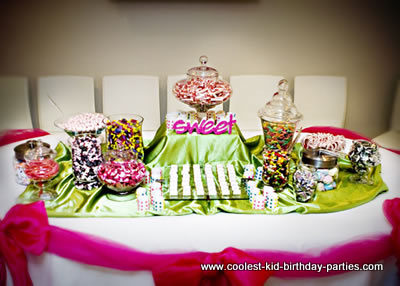 After removing at least 25 bottles of liquor from the bar shelves, phew!, this made a nice display for our favor buckets.
Party Favor Buckets
I actually enjoyed making these Sweet Shop birthday party favor buckets… for the first 15 minutes. They got pretty tedious after a while. I purchased clear acrylic paint cans at Paper Mart and then designed a logo after the NYC sweet shop Dylan's Candy Bar and printed them on clear glossy label paper for the front of the tins. Because paint cans require something to pry off the tops, I wanted to attach a large washer so they could easily be opened. I drilled small holes in the sides of each tin and threaded ribbon into each hole, tying a knot on the inside. I slipped a washer onto the ribbon and secured to the other side. The ribbon made a nice carrying handle and a place to keep the washer for easy opening.


With all of the sugar I was handing out, I thought I'd make moms happy (or at least not completely mad at me) by including toothbrushes as part of the party favor. My daughter helped me come up with the saying for the frame below. The frame was an inexpensive wooden frame from Michaels which I painted with acrylic paint and decorated with puffy stickers in a candy theme.
Sweet Suckers
The suckers were part of a game like those you see at carnivals. I painted the tips of three of the suckers and stuck them down into a sheet of Styrofoam before covering them with over 1,000 gumballs. Kids who drew a sucker with a painted tip won extra prize tickets (see below).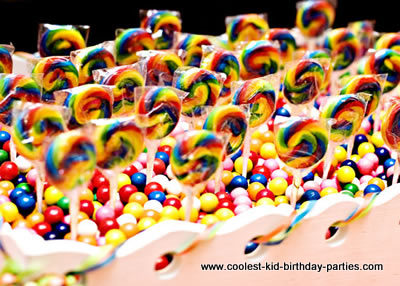 Having the Sweet Shop birthday party at 2:00 rather than at lunch time allowed me to provide snacks rather than a full lunch. I made kettle corn to put out on the tables (email me for the recipe- it's easy).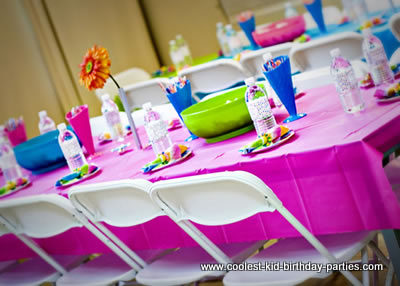 Candy bracelets make awesome napkin bands! The water bottle labels were personalized on the back with nutrition facts. Those are available in our store at www.thefavormaker.com.
I hung paper lanterns from fishing line and more Styrofoam candies in the doorways. The wall decals I made by printing on clear vinyl and cutting them out to make wall clings. I'm considering offering those in our store sometime soon.
Sweet Shop Birthday Party Games
When guests arrived at the Sweet Shop birthday party, they were each given a bag with their name and a variety of candy-themed crafts, game instructions, as well as prize tickets to get them started. We played three different games with plenty of opportunities for kids to win tickets. Read on for descriptions of the games and how we used the prize tickets…
Scavenger Hunt
The first Sweet Shop birthday party game I came up with was a scavenger hunt. I found pictures of different types of candies on the internet and made sticker sheets with pictures of each one. I then hid those sticker sheets around the house. In kids' bags, they were each given a scavenger hunt sheet (shown below) with a list of candies they needed to find. As they went around the house finding candies, they removed one of the stickers from the sheet and placed it on their paper. The first person to cover all of their candies with stickers won five prize tickets and everyone to complete it won two. Download a copy of my Sweet Shop Scavenger Hunt here: Download Sweet Shoppe Scavenger Hunt
Prize Tickets
So what are all of these prize tickets you see in the photo below? When I told my daughter we were going to have a "sweet shop" party, she thought we were actually going to be SELLING the candy! She was completely devastated when I told her we were actually giving it away. To compromise, I allowed her to have her very own "candy shop" where she could SELL special candy and prizes like pencils, pinwheels, candy lip gloss, etc. for ticket that kids won playing game. This part of the party was everyone's favorite!
Candy Walk Game
Below is the second Sweet Shop birthday party game we played. I based the idea on the famous "Cake Walk" game you play at carnivals and fairs. I call this the "Candy Walk". First, I printed out various pictures of candies and laid them all out in a large circle. Then, I made a second copy of the candies which I shuffled and kept with me. I played music and as the music played, kids walked from one candy to the next until the music stopped. I would then draw a card and whoever was standing on that particular candy won a prize ticket. We played over and over until tons of tickets had been handed out.
Pass the Candy
The third Sweet Shop birthday party game we played, I made up based on the game "Hot Potato". I call this one "Pass the Candy". I had kids sit in a large circle and pass around a giant candy (simply a white balloon wrapped in cellophane and tied with ribbon) while music played. When the music stopped, whoever was holding the candy had to shout out a kind of candy such as "NERDS!" or "MALTED MILK BALLS!" If the child could say the name of the candy before the music started, he/she would receive a prize ticket.
More Delicious Activities
In addition to three games, I also had candy-themed craft kits I put together in their bags to work on throughout the party. Below is a candy airplane the kids made out of chewing gum, PepOMints (orange flavor), smarties and a rubber band. I made stickers to cover the chewing gum "wings" and put them in a kit with the other materials and instructions. You can download a PDF version of the instructions I typed up here: Download Candy Airplane Activity


I also ordered Sand Art necklaces shaped like ice cream cones from Oriental Trading. Rather than filling them with colored sand, I ordered bulk pixy sticks from Candy Direct and left them out on the tables to fill the necklaces. This is a candy party after all!
Sweet Themed Snacks
I can't help myself when it comes to sticking with the theme of a party. I made "lollipops" from Ritz crackers sandwiched with spray cheese (unhealthy, I know) and a pretzel. You could use peanut butter instead but with allergies, I didn't want to take any chances.
I typically enjoy making a fun cake but with all of the decorations I was making, I got a little lazy. Instead, I opted for making cupcakes and letting the kids decorate them themselves. I still felt that I owed Hannah a cake of some sort so the night before the party, I found myself making her a giant cupcake by baking cakes in round pans and metal bowls. For a last-minute idea, I think it actually turned out okay!
The Candy Shop
After kids decorated their cupcakes (and ate them of course), it was time to shop! Hannah "worked" her candy shop by counting tickets and helping kids pick out their prizes. After they shopped in her store, they helped themselves to the candy buffet.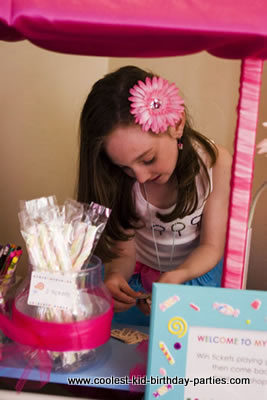 There was plenty of sugar to go around!
I always like to send a reminder of the party when I do my thank you cards. I also added a copy of the thank you card that went home along with a group photo taken by Leah Simmers Photography. Leah took all of the wonderful photos and this blog wouldn't have been possible without her. She is simply amazing. Thank you Leah!
I had a hard time choosing Sweet Shop birthday party photos. I had to leave out so many. You can see more photos on my blog…
Sweet Shop Birthday party ideas and photos by: Jennifer from Tucson, AZ