For my son's 6th birthday, we decided to have a puppy themed party. This was inspired by the newest member of our family, Jumbo, a black Labrador puppy my boys are crazy about.
The invitation was just printed on board paper with the picture of my son and some puppies including Jumbo and it read "Who let the dogs out? Come for an afternoon of fun as we celebrate Joaquin's 6th birthday! plus date, time & place"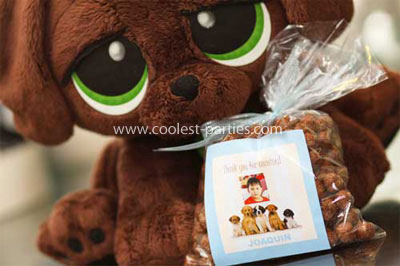 For the decor I bought dog balloons and decorated the tables with "dog treats" in "dog dishes". The treats were actually bread sticks, round chocolate cereals and gummy candy. The water bottles also had stickers of my son and some dogs.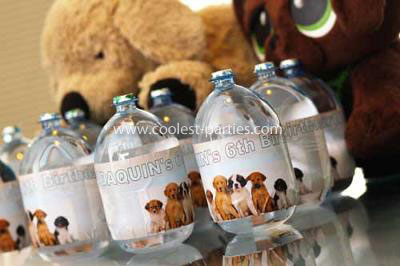 For the food, we had hot-dogs (get it?) on sticks with marshmallows, mac & cheese, chili con carne & nachos with everything on it!
The music: "Who let the dogs out?" played when guests started coming and "How much is that doggy in the window"- a nursery rhyme/song we played to signal the end of the party and we were giving out the party favors.
For the kid's activity, I bought ceramic/clay dog figurines that the kids could paint on.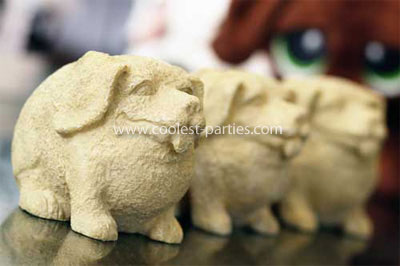 They let their imaginations run wild as they made rainbow colored dogs! (I just want to say in hindsight that I should have provided the kids with aprons. Some of them ruined their party clothes!)
We also had pin the tail on the puppy. I printed a picture of a puppy from the internet, had a local store blow up the image to poster size. I got yarn of different colors and attached tape to it to make the tail. I used different colors so each child would know which tail was theirs.
The cake was simple.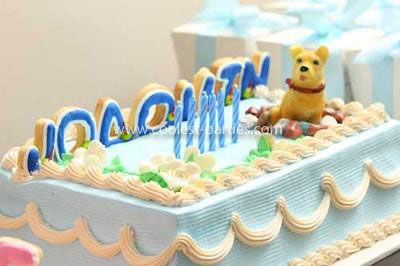 I made my son's name using cookies that I frosted and just put a store bought dog figurine on top.
When the kids were about to go home, we played the song "How much is that doggy in the window" We told them that we will give them something to love and take care of when they go home.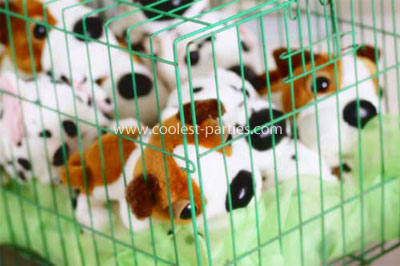 They got to choose a puppy (stuffed toy) from the pound. For this, we borrowed Jumbo's cage, cleaned it and put organza tulle to make it look festive.
After choosing their puppy and naming it, they received a Certificate of Adoption, some "dog food" – (again chocolate cereal), milk, a personalized dog tag/necklace, and a bag full of snacks, stickers and chocolates.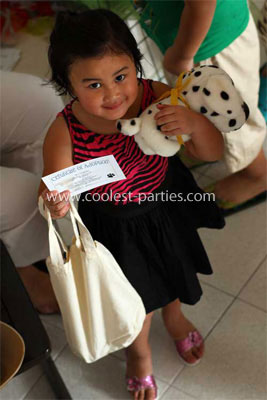 They also received a framed picture with them carrying their puppy and Certificate of Adoption. I was able to print it right away using my Canon Pixma printer.
After the guests left and cleaning after the party, we were dog tired! But the smile on my son's face made everything worthwhile!