When my grandson Cruz was turning 4 years old, he told us he wanted to have a "hunting" birthday party. At first, we were puzzled how to accomplish a hunting party for a child. We decided to go whimsical and also incorporate a little education in the process.
For the invitations, my daughter took Cruz's photograph in hunting clothes – bright orange shirt and cap, camo printed pants and boots, holding his foam missile rifle with his foot resting atop an inflatable deer. She then had the following printed below his picture on each invitation:
Be a "deer" and come celebrate Cruz's 4th birthday
at the Isaly Hunting Lodge
McDonough Park
May 28th from 2 – 4
Check in with the "Game Warden" at (XXX) XXX-XXXX
Hunting Theme Party Decorating Ideas
The park we were at had a shelter and picnic tables we could use. Orange, green and brown were the main colors we used in the decorations.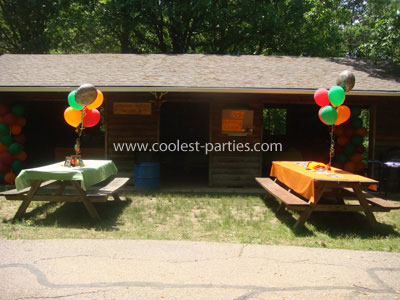 Table covers in orange and green, balloons, miniature toy animals and battery powered lanterns created a bright place to eat the grilled hot dogs that we served with crisp veggies, dip, chips, peanuts and assorted salads. A special additional treat was grilled venison that had been marinated in teriyaki sauce. Several children and most adults sampled the deer meat that was cooked, served and provided by Cruz's Uncle Chad, who is the real hunter of the family!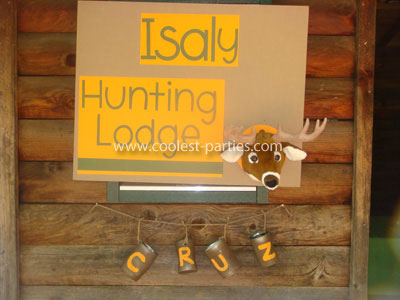 We made a three-dimensional "Isaly Hunting Lodge" sign and hung roughed-up soup cans painted a rusty brown and personalized with "C-R-U-Z" to welcome everyone;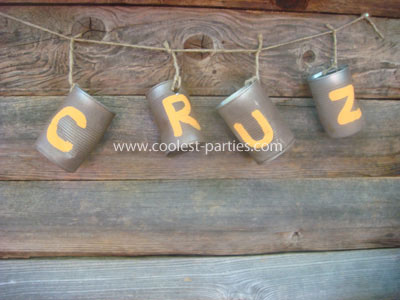 and a "Happy Birthday Cruz" sign hung in the shelter that was made of camo material, cut, stuffed with quilting material and sewn to resemble fish with a letter on each one.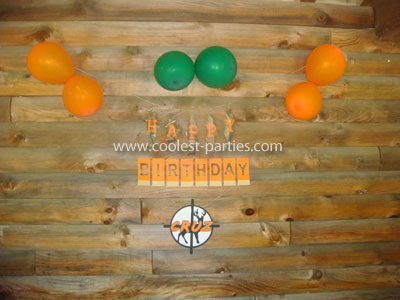 They were hung by fishhooks from a sisal rope. Giant shotgun shells finished the message. Several pictures and posters of animals were placed around the lodge, and pamphlets about hunting safety along with miniature toy animals were placed on the tables.
Before the party, we set up a tent just for the children to play in. We covered it with an inexpensive camo tarp we purchased from Wal-Mart, and it became everything from a cave to a cabin. We placed an inflatable deer and an inflatable bear against trees. We purchased the inflatables from Cabella's and Bass Pro. They came with Velcro tipped foam missile (NERF) rifles. We had orange, green and brown balloon trees and helium balloon bouquets placed around the shelter.
Hunting Theme Games and Activities
We set up an archery target, a tub of water for fishing and the "ranger's" area for hunting and animal education.
Activities included "Hunting Safety Class" conducted by Uncle Chad the "ranger," who demonstrated animal calls and taught the children about gun safety.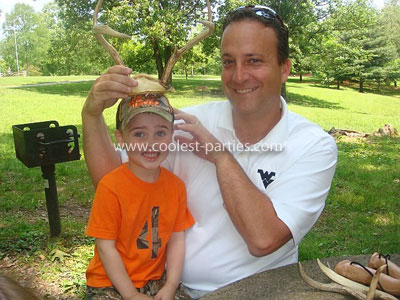 He showed them deer antlers and a deer skull he had found in the woods.
They really enjoyed hearing the turkey, coyote and duck calls. Then the children "applied" for a hunting license. We had obtained authentic hunting license applications from a local store, so we completed the questions on each application and then presented the license to each child. They proudly wore them around their necks for the rest of the party!
They were now ready to "hunt." We divided them into groups so nobody would have to wait for very long, and they took turns shooting foam missiles to Velcro circles on a deer and a bear.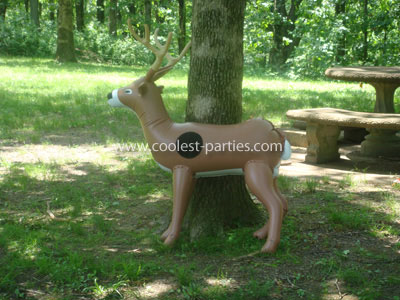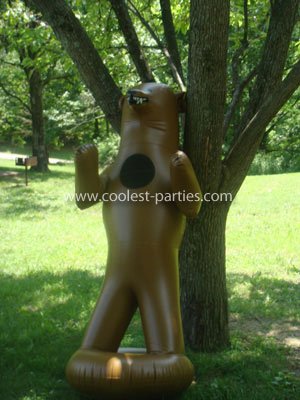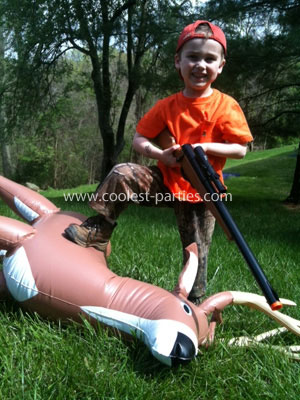 They could also shoot suction-cup arrows on a target.
One of the parents instructed the children how to shoot a bow and arrow. Most caught on quickly, and were very proud of themselves!
Many of the younger children enjoyed "fishing" in the tub of water for plastic fish. They all really enjoyed all the activities and just playing around the "lodge" and tent. Prizes included orange hunting caps, orange hunting vests and camo sunglasses.
It was then time for hot dogs! They ate heartily, but couldn't wait to go back to playing. After they were all finished, Cruz's father, mother and several parents took them on a nature hike. They were all excited when they found a turtle!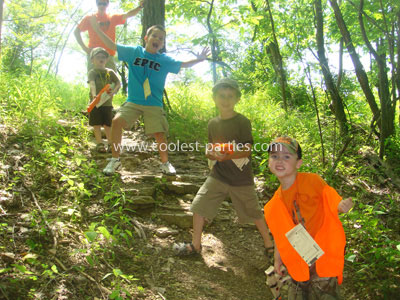 When they returned from the hike, it was time for birthday cake. I made this hunting themed cake with a whimsical hunter and a nervous deer!
If you just want a fast glimpse, here's a picture (you can click on the above link to see more pics):
I made a two-layer chocolate and white cake covered in butter cream icing tinted green and piped to resemble grass and plants. I trimmed the cake to resemble a hillside. I made marshmallow rice krispie treat trees covered in green fondant, and a hunter, a bear, a deer, a log, and a squirrel out of fondant and placed them on the cake. Cruz loved his cake and all the kids wanted a fondant item from the cake! We also served cutout deer cookies and ice cream. It was a hot day, so we served lots of fruit punch and water.
After Cruz opened his presents, we presented each child with a camo goody bag filled with binoculars, a flashlight, a compass, a water gun, an animal coloring sheet, trail mix, gummy bears, and hunting and fishing booklets from the Dept. of Natural Resources. Most of these items were purchased from Oriental Trading Co. and the local dollar store. The coloring sheets were copied from the Internet, and the booklets were free.
This party took a lot of planning and brainstorming, but the set-up only took about an hour, and the clean up was easy. It was a great party that no one wanted to leave! Cruz had a great time, and he's convinced now that he's a real hunter – with a license to prove it!
I must say that I couldn't find anything on the Internet like it! Most hunting party ideas were for adult parties. We stressed safety constantly, even though we were only using toy rifles and bows!