My son is a big Star Wars fan – though he enjoys characters from both sides (Empire & Rebel Legion). He is also a big Lego fan so we made his 6th birthday party a Lego Star Wars party. The invitations, decorations, games and food tried to incorporate all these elements.
Star Wars Party Invitation Idea
The invitation was the scene from Empire Strikes Back where Darth Vader welcomes Hans Solo, Princess Leia and Lando Calrissian to dinner. I intended to build the white backdrop completely out of Legos but we didn't have enough so I used my daughters Playmobil Castle. I did build the table and chairs out of Legos and placed the appropriate Star Wars characters around the table (I used my son's action figures). I created the invitation in Photoshop – adding the line "We would be honored if you would join us", as well as the pertinent party details.
Decorations: To keep costs down we used all black and gold table cloths, plates, silverware, and cups. A rope was strung from one tree to another in the yard and stars (gold tinsel stars and gold shiny stars found on clearance at Party City) and planets (different sized bouncy balls I got at the dollar store) were hung from the ropes to add a galaxy feel.
Games: As guests arrived they were encouraged to work on a Star Wars word search that was made for free online. When everyone was there we began the games.
Building a Lego Ship Party Activity
Being a Lego Star Wars party our first game was Lego related. Guests were divided into teams of four or five kids. Then each team was given a Lego Star Wars character (my son already had these), an "official" document and a small bucket with some smaller Legos. They used this bucket to collect the rest of the parts they needed. Groups were instructed that their character (Clone/Snow Trooper/Bounty Hunter) received orders from above that they were to kidnap someone from the Rebel Legion (Ashoka, Luke, Leia). However, in order to successfully complete their mission they would need to search the galaxy for the remaining necessary parts to build a new ship. The list of parts could be found in the "official" document (which listed what Lego pieces they needed – i.e. 5 Red Bricks, 10 Yellow Bricks, etc).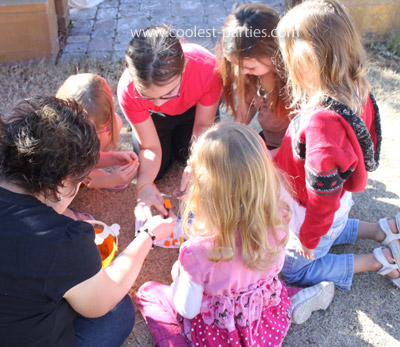 The team could work together or divide and each person get a specific item on the list. Once they found all the Lego Bricks they were to build a ship. No specific directions on how to build were given – this was completely up to the team on what the ship should look like. The only requirement was that the two characters needed to fit in the ship. They didn't even need to use all the pieces if they didn't want too.
When the ship was ready they referred to the original document for the name of the planet where their character should be found. Earlier I placed name cards around the yard near the characters to be kidnapped. The team then flew their ship to kidnap their character and return home.
Building a Light Saber Party Activity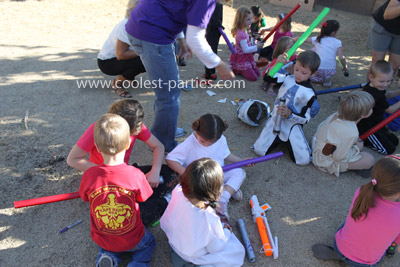 We moved on to making light sabers. I found this idea online and improved upon it slightly:
* 1 1/4″ PVC Pipe (each piece cut to 10 in)
* 1 1/4″ PVC Pipe Caps
* Pipe Insulation (each piece cut to 2 ft) Be sure to get the insulation that isn?t cut/split
* 4 ft Wooden Dowels that fit inside Pipe Insulation (each piece cut to 2 ft)
* Gray Duct Tape
* Colored Duct Tape – red, green, purple and blue (found only at ACE Hardware)
* Black Electrical Tape
* Black Sharpie
* Small rectangle stickers (bright neon colors) in a packet in the office supply area of Walmart
I pre-assembled and wrapped the base of the light saber (PVC pipe and cap) with gray duct tape. The dowels were also pre-inserted into the insulation to assist in making things go quicker. I had intended to pre-wrap some of the blades of the light saber (red, green, purple or blue) but ran out of time so I asked parents to help do that while the kids decorated the handles with the black electrical tape, stickers and markers.
As the kids were building their light sabers a few surprise guests showed up – Clone Trooper, Snow Trooper and Darth Vader (all part of the Dune Sea Garrison/501st Legion). The kids were in complete awe – they very respectfully interacted with the individuals and had photos taken. Darth Vader inspected the light sabers. It was a great surprise.
Jedi Training Academy Party Activity
Each child proceeded to the Jedi Training Academy to complete their training. Each cadet started by studying Balance – walking across elevated boards while wearing Yoda (my nephew had a stuffed Yoda) in a backpack.
Then they had to Face Their Fears by crawling through a cardboard refrigerator box that was draped with black plastic tablecloths and rubber snakes, spiders, streamers, and tree branches inside. I even included a picture of Darth Vader at the end. Cadets then practiced throwing thermal detonators (bean bags) at approaching Imperial Ships (pictures of ships printed from the computer and attached to an inverted V shaped piece of cardboard with holes cut for the bean bags to go through). From there they had to wade through the trash compactor to find a secret code (code was placed inside a plastic egg and wrapped in foil so it could be found easily) and then deliver the code to someone on the Jedi Council (older cousins & neighbor).
The trash compactor was also a refrigerator box with recyclable items inside (newspaper, empty cereal boxes, etc). Each word of the code was color coded to assist the cadets in determining what the code said at the end – which was Happy Birthday (name). The final test was with their light saber. They had to keep a balloon in the air as they walked a circle around a cone. When they were done the Jedi Council (older cousins/neighbor kid) awarded each child with a medal. The medals were created on the computer and printed out on a heavier cardstock. They were then strung with ribbon.
Star Wars Party Food Ideas
The party was mid-afternoon so we simply served snack foods and drink at the Mos Eisley Cantina: Pretzel Rods, Utz Cheese Balls, olives, strawberries and apples. We had a Yoda punch (lime sherbet w/Sprite) and Capri Sun bags.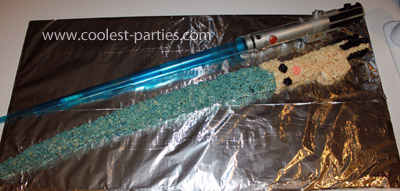 Cake: I personally find that a lot of kids don't eat cake therefore I generally do something different. I made a rice crispy treat light saber (used food color to make the light saber handle black and the blade blue).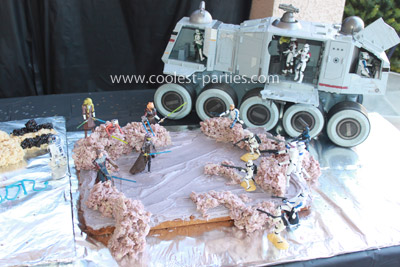 I also made a huge chocolate chip cookie (rectangle shaped) and added rice crispies to build up walls, etc. Then I place my son's Turbo Tank and Action figures on and around the cookie as if there was a battle raging. I had nothing left over.
Party Favors: The main party favor was the light saber. They also received a brown lunch bag which contained a Ziploc bag of the cheese balls (thermal detonators), a glow stick bracelet and a Star Wars tattoo.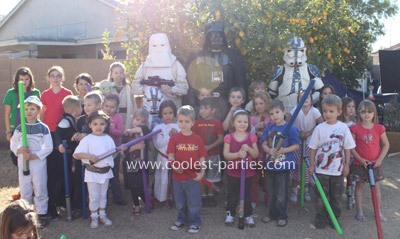 We had 26 kids plus a few siblings and adults. Everyone seemed to enjoy themselves a lot – especially just running around play fighting with their light sabers at the end of the party. We chose not to open presents in front of everyone.